Film Reviews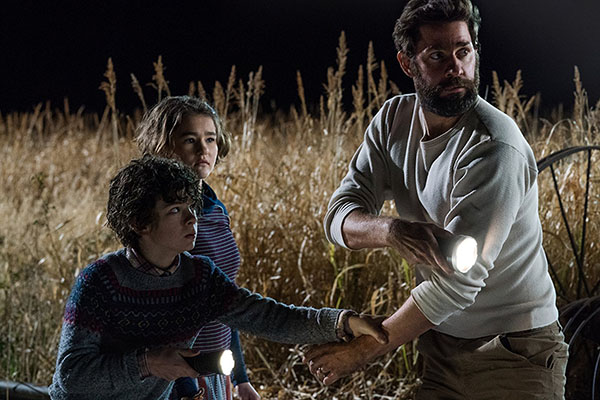 'A Quiet Place' gives horror a new sound — silence
Written by

Diane Carson
The horror film "A Quiet Place" is exactly that — very quiet, meaning viewers increase their attentiveness to every sound — the wind in the trees, the crunch of a footstep, water running over rocks. This glorious call to our senses comes courtesy of co-writer/director John Krasinski's technical achievements, including dazzling camera angles and striking compositions, plus superb performances.  
No spoilers here, so I'll say only that a screen title immediately declares Day 89 of what becomes apparent as a post-apocalyptic world. The genius of this dire situation is that the monsters respond only to sound. Three children and their parents must, therefore, remain unnervingly silent. They have, quite cleverly, devised strategies: sand on paths to mute walking, painted feet on stairs and boards to avoid squeaky spots, and lights as signals in place of verbal calls. It quickly becomes apparent: you can't be too careful when dealing with these lightning fast predators. 
Throughout the film, minimal use of Marco Beltrami's music increases the tension. Quiet is so much more disconcerting than pounding soundtracks. We have time to watch, to anticipate, and to fear. And Krasinski knows how to build to almost unbearable anticipation, especially with the entire film devoted to one imperiled family. He's also learned from the best directors — I think of Hitchcock — that an unexpected, awful event in an early scene will keep the audience breathless and on edge. So too is the dreadful waiting for what may or may not occur regarding an exposed nail and a pregnancy. We're putty in his hands, tense for 90 minutes. 
Above all, the actors rule. Krasinski plays father Lee, with Emily Blunt his wife Evelyn here and in real life. As the daughter, the deaf actress Millicent Simmonds, amazing in "Wonderstruck," brings a charismatic presence to daughter Regan with Noah Jupe fine as young son Marcus.   
For all its many pluses, the presentation does succumb to a familiar sexist indulgence, that is, reducing the woman to excessive states of terror and tears while the husband shows more grit and composure. That said, the wife does show admirable resilience and determination, though predictably in defense of her children. It does give me great pleasure to note that it takes an extraordinary horror film to earn my admiration. "A Quiet Place" is that good.
John Krasinski, Noah Jupe, and Millicent Simmonds in A Quiet Place (2018). Photo Credit: Jonny Cournoyer - © 2018 Paramount Pictures. All rights reserved.