Film Reviews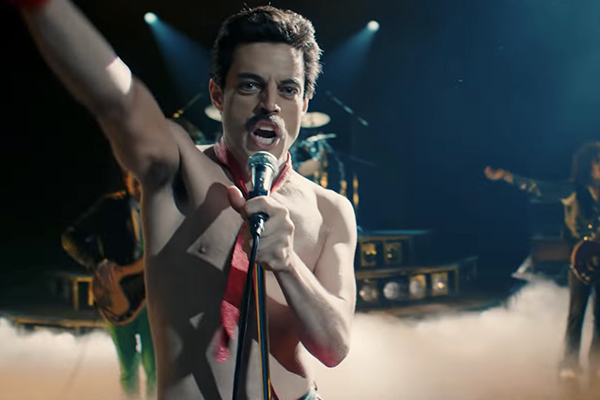 'Bohemian Rhapsody' Soars Like Mercury
Freddie Mercury lived. He lived boldly, brilliantly, wildly, and he died far too young of complications from AIDS. The band, Queen, collaborated with their own drama queen on their music, its presentation and its evolution. 'Bohemian Rhapsody' re-vivifies this life.
The movie, which moves chronologically, begins in 1970 with Mercury still living at home with his parents in London. His father tells him that he needs "good thoughts, good words and good deeds." Mercury changes his ethnic name, and his band, once known as Smile, becomes Queen. As lead singer, Mercury manifests his potential, and the music develops from humble rock to the operatic title tune to the audience participation-driven "We Will Rock You." The film rises to historical heights with Queen's performance at Live Aid in 1985.  
Freddie Mercury is brought to life by Rami Malek, also seen in the excellent 'Short Term 12.' Malek has a physical sinuousness that mirrors Mercury's on-stage and off. To imitate Mercury, Malek wore a dental apparatus to approximate Mercury's wide jaw, which he claimed gave him more space in his mouth, and therefore, more vocal range.
He is well-supported by Lucy Boynton as Mary, his close friend; and Gwilym Lee as Brian May, Ben Hardy as Roger Taylor, and Joseph Mazzello as John Deacon, the members of Queen. Tom Hollander plays the strait-laced Jim Beach, who is one of the film's producers. 
Anthony McCarten's screenplay could have spent more time on Mercury as a cracked composer and better developed the singer's complicated sexual identity. Credit for the film's admirable look goes to cinematographer, Newton Thomas Sigel. 
'Bohemian Rhapsody' -- a biography, a musical, a history -- succeeds on all fronts whether Freddie Mercury is an unfamiliar face or the object of long fandom.