Film Reviews
Film Reviews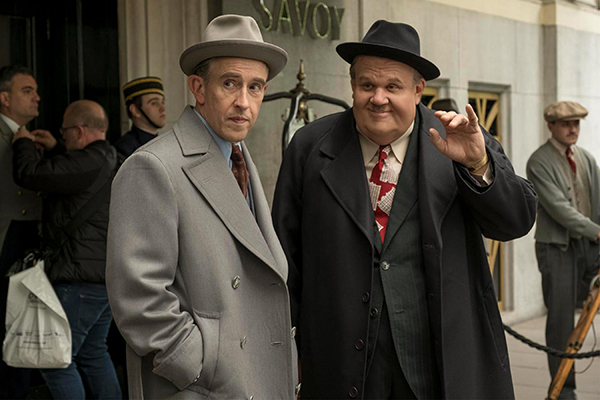 'Stan & Ollie' is Comedy Genius
By KDHX
Film comedy fans will instantly know that the title 'Stan & Ollie' refers to the unparalleled duo of Stan Laurel and Oliver Hardy. From 1927, when director Hal Roach first paired Laurel and Hardy in a movie, this unrivaled team delighted audiences for two decades with over 107 remarkable shorts and features, successfully transitioning from silent to sound film.
Each was a well-regarded performer before teaming up. Laurel came to America from Britain as Charlie Chaplin's understudy; Hardy was already a veteran vaudeville and film star. But together they made history. After WWII, however, their fortunes sagged. In 1953, their clever manager, Bernard Delfont, booked a music hall tour of Great Britain. In a refreshing change from biopic conventions, director Jon S. Baird depicts both the personal interactions and the public performances of Laurel and Hardy – "analyzing their 35-year relationship through the prism of the tour," as stated to the press. "You can see the humanity in a moment," Baird suggests. I would add the profound decency as well.
There are vivid emotional moments: sad, funny, warm and bittersweet. Writer Jeff Pope notes that, "The premise of the film is how they became as close in their real lives as they were in their fictional lives." When the actors' wives join the duo late in the tour, a full portrait emerges. Critical to the success of the characters is Steve Coogan as Laurel and John C. Reilly as Hardy, both skillfully conveying the complexity of these two men's loving and fraught relationship. It is so rare and wonderful to see such a depiction of masculinity on screen.
On stage and off, Coogan and Reilly are perfection, their rendition of the "Double Doors' routine superb in its timing. The equally impressive "Way Out West" dance, performed several times, is magic – especially when shown alongside actual Laurel and Hardy footage during the credits. Coogan and Reilly's version impeccably mirrors the original.
Nina Arianda as Ida Laurel and Shirley Henderson as Lucille Hardy offer their own biting, amusing verbal exchanges. As manager Bernard "Bernie" Delfont, Rufus Jones steals his scenes, manipulating the duo into appearances, glossing over paltry pay and talking up small audiences. Cinematographer Laurie Rose gives the historical period convincing ambiance, with 1930s Hollywood decidedly more glamorous than 1950s Britain. 'Stan & Ollie' is a delightful, lyrical tribute to a pair of comedy icons.