Film Reviews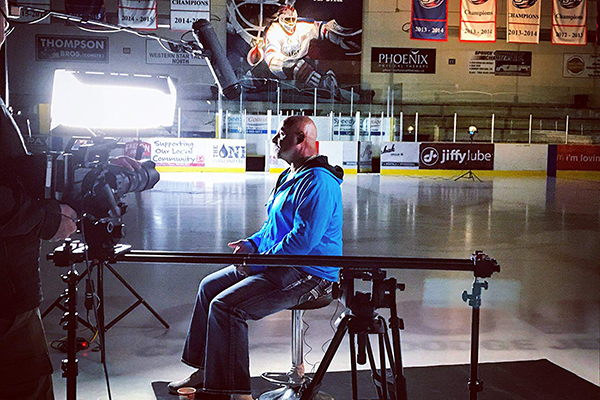 'Making Coco: The Grant Fuhr Story' Profiles This NHL Superstar
Written by

Diane Carson
For anyone who wants more ice hockey (and who doesn't after the Blues' Stanley Cup victory?), there's "Making Coco: The Grant Fuhr Story." Described by Wayne Gretzky as "the greatest goaltender who ever lived," Fuhr played, 1995 to 1999, for the St. Louis Blues, though he spent the lion's share of his career with the Edmonton Oilers, 1981 to 1991.
That's where this film begins to then chronologically detail Fuhr's life on and off the ice, most of it on the ice because, as "Coco" Fuhr says, "When I'm on the ice, I control everything." Well, close enough that Fuhr set and still holds two NHL records: in an 82-game season, for most games started by a goaltender in a single season – 72 – and most games played by a goaltender in a single season – 79. There's more: his longest undefeated streak by a rookie goaltender – 23 games; consecutive starts in a season – 76; most assists by a goaltender – 14; and the first man of color inducted into the hockey Hall of Fame, 2003. And I haven't yet mentioned his having both knees and both shoulders reconstructed.
His accomplishments are incredible, but "Making Coco: The Grant Fuhr Story" enriches the statistics with director Don Metz and editor Pollyanna Hardwicke-Brown interviews with a who's who of coaches and players: Wayne Gretzky, Glen Sather, Paul Coffey, Brett Hull, Mike Keenan, Martin Brodeur, Mike Claiborne, Chris Pronger, Kelly Chase, his manager Brian Farrell, and more. Above all, well-chosen archival footage of Fuhr provides all the evidence needed to confirm spectacular, even acrobatic, goaltending. 
Coco's story, however, is not a Disney movie. While still thrilled by his five Stanley Cup winning seasons and six all-star games, Fuhr also speaks candidly about his divorce, his cocaine use, his NHL suspension without pay, and his calling fans jerks, which led to his demotion to the junior league Quebec Moncton Wildcats. Most touching, Fuhr repeatedly tears up talking about his parents, the white couple who adopted, loved and supported him. 
"Making Coco: The Grant Fuhr Story" presents an entertaining, informative profile of an NHL superstar. A special event premiere takes place Tuesday, October 1, at 7:00 p.m. at Ballpark Village, with a Q&A with Fuhr and Kelly Chase after the film. It will then play at select Marcus Theatres from October 4 through October 10.