Film Reviews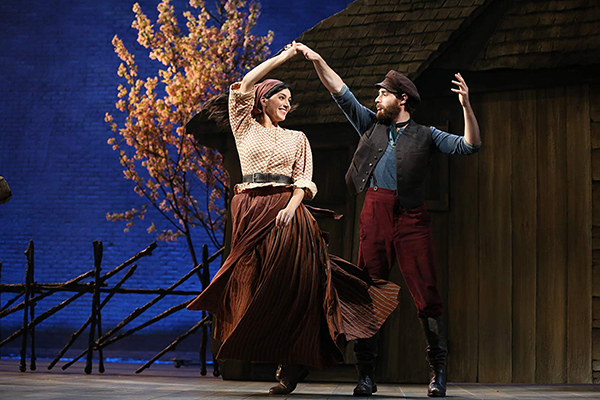 'Fiddler: A Miracle of Miracles' Shows How To Make A Musical and a Documentary
Written by

Martha K. Baker
Even if you don't like musicals but like documentaries, "Fiddler" has something to show you. If in the mix, you also like modern history, "Fiddler" shows you that, too. The result is kind of a miracle in itself, that is, a documentary that plaits parallel threads into a remarkable braid.
"Fiddler on the Roof" opened on Broadway on September 22, 1964, 55 years ago. The documentary tells the origin story before the curtain rose on the musical with an original budget of $250,000. Someone sent Sheldon Harnick a book of stories by the Russian Sholom Aleichem. "Fiddler" is the story of Tevye, a father of daughters whom he must marry off and the patriarch of a family forced off its land. 
Harnick set out to write the lyrics to Jerry Bock's music about old Jews in old Russia. He and Bock shared a Tony. The two reminisce about the early Sixties and how those days colored the musical, which came out the same year as Betty Fridan's The Feminine Mystique, which had a few things to say about being married off.
The documentary's director, Max Lewkowicz, runs the musical from start to finish along historical lines, taking the songs as if each represents a time in history. That means that, as a writer with Valerie Thomas, he is weaving many stories, including a quick biography of Jerome Robbins.
They describe stars from Broadway to film, from Zero Mostel to Topol; they describe productions from Broadway to Japan to a high school comprising Hispanic and African-American students, and to an all-Yiddish production. 
They interview cast members -- from Austin Pendleton in the original to two fathers and sons: Hershel and Michael Bernardi, who each played Tevye, and Zero and Josh Mostel. Joel Grey, Harvey Fierstein, and Lin-Manuel Miranda speak up. Hal Prince, Stephen Sondheim, and Calvin Trillin, Itzhak Perlman – they all have something to say. Even Fran Lebowitz.
The result is a trip down memory lane, with the memories choreographing and orchestrating a story that the documentary proves is universal, ageless, and classic. "Fiddler: A Miracle of Miracles" delights because – how can it not, for the musical has been performed every day somewhere in the world since it opened.