Film Reviews
Film Reviews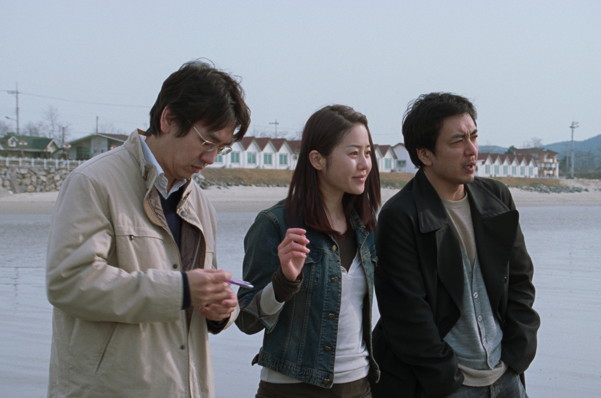 'Woman on the Beach' follows an unprincipled South Korean director
By Diane Carson
South Korean director Sang-soo Hong has a knack for observing a romantically involved couple and a friend or two in a remote or isolated location. As they reveal details of their very specific personalities, what at first seems a microscopic study reveals universal implications for attempts to forge complex human connections despite a myriad of psychological and emotional complications.
This time, in "Woman on the Beach," Hong vividly reveals narcissistic, duplicitous, irascible film director Jung-Rae Kim in his manipulations of friend Chang-wook Won and his casual girlfriend Mun-suk. A fast talker, Jung-Rae convinces Won, with Mun-suk in tow, to accompany him to Shinduri on South Korea's west coast so that, with quiet, he can write his next film, "About Miracles." The theme, he says, is "the mysterious connections that secure everyday life," though it doesn't take long for Jung-Rae to reveal his abrasive, unprincipled self. Jung-Rae soon feels emotionally threatened, Mun-suk is easily seduced, and sweet, abandoned dog Dori stands in as a metaphor for these shallow, lost individuals.
Because Mun-Suk has worked in Germany, international politics factors in, as well as the nature of Korean men. Ironically, Mun-suk emerges as the most honest. Asked what she believes in, she answers that she only thinks about herself, but even that is not entirely true as an unexpected scene of female bonding reveals. "Woman on the Beach" almost becomes, surprisingly, a feminist appeal. 
Technically, Hong prefers to shoot from a medium or medium long distance with a static camera. In shots with two or three individuals, the one favored by the composition shifts focus to that person in a revealing but understated manner. It's as though we viewers have taken a seat at the table or observe from nearby. In effect, this becomes an implicit, shrewd invitation to engage. Perhaps enhanced by today's need for more person-to-person interaction, Hong's stylistic approach strikes me as perfect for these trying times.
In Korean with English subtitles, "Woman on the Beach" streams beginning June 26 on the Grasshopper Films website with a link to Webster University's film series. That link is: grasshopperfilm.vhx.tv/products/webster-film-series-presents-woman-on-the-beach. For more information, you may call 314-246-7525 or on the web at: Webster.edu/filmseries.
Related Articles