Film Reviews
Film Reviews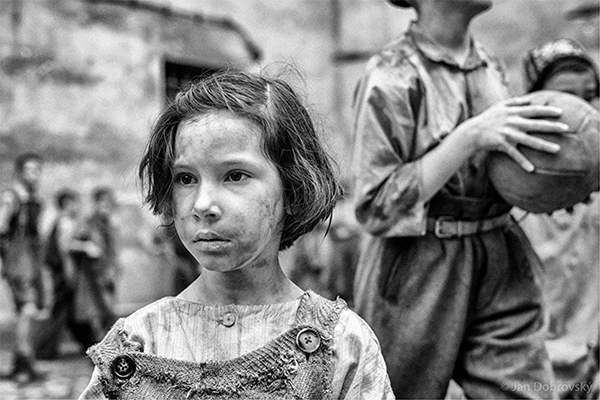 'The Painted Bird' Pictures Abject Cruelty
By Ronnie Wisdom
The film version of Jerzy Kosinksi's 1965 novella proves as hard to watch as the slim book was to read. Anyone drawn to read that book knows what the story offers, so why see it? And anyone who has not read the book but peeks at the plot might be dissuaded.
The story is about a small Jew as he seeks succor or just to survive in Eastern Europe near the close of World War II? Why be reminded of what horrible, ugly, uneducated people can do to the persecuted, to those perceived as "other"? 
The title refers to the fate of a bird painted and tossed into the sky. There, aloft, it is mauled by other birds and pecked to its spiraling death. And that's exactly what the boy -- unnamed until the last minutes of the story -- feels like as he's poked and prodded, bullied, starved, mocked, and teased by the ignorati, the toothless, the anti-Semitic, the racist. He must feel like a caged Mexican niña on the USA border or like a child in Nicolae Ceaușescu's Romania or like Tamir Rice. 
And that's one of the reasons to watch "The Painted Bird" -- to acknowledge the path of cruelty as it stretches back and forth. Another reason is to see this astonishingly well-crafted film, directed by Václav Marhoul. Marhoul boldly decided to film in 35 mm, to film in the nostalgic black and white of WWII films and snapshots. The result is the abject beauty as only black and white photography provides. Look at the scene as the Boy sits in a tree, where he is cared for by a Russian soldier in a rare moment of kindness, and look at the clothes hanging on a line as seen through a window frame from the distance of a drone.
But also listen. Although the boy is mute, when others speak, the lingo is gibberish, for Marhoul did not want to target a specific country. The film's quietude augments the songs of birds, the slough of wind, the pierce of bullets. 
Among the large cast (Fellini-esque sans comedy) are actors Stellan Skarsgaard, Harvey Keitel, Barry Pepper, and Julian Sands, but the face most impossible face to look away from belongs to the Boy, played by Petr Kotlar. The whole of "The Painted Bird" is hard to take your eyes away from, hard to unsee, hard not to connect the damned dots of cruelty over the past 75 years.