Film Reviews
Film Reviews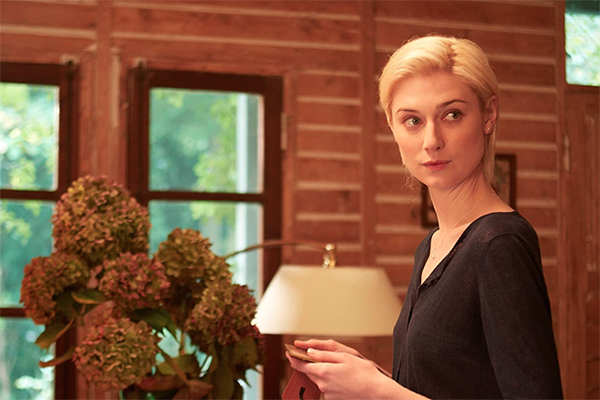 'The Burnt Orange Heresy' Is Open To Discussion
By Ronnie Wisdom
It's a mystery, a love story, a caper, a flirtation, a discussion-starter, a bowl of cold Pabulum. All of the above. None of the above. "The Burnt Orange Heresy" is one of those films that will make you feel either "had" or fed, energized or ennervated.
The title refers to the title of a work of art by an old artist, a recluse played easily by Donald Sutherland. Jerome Debney -- his sweater tied around his neck as artists do -- resides on the estate of Joseph Cassidy, an art dealer in Como, Italy. The Everglades was the setting of the 1971 book by Charles Willeford on which "The Burnt Orange Heresy." It's a good thing that the film setting moved to Italy, for that site merits quite a few gorgeous shots, sensual relief when the hyper-intellectual aspects of Willeford's plot alley-oop over your head. Willeford co-wrote the script with Scott B. Smith.
The art dealer, played surprisingly well and appropriately threateningly by Mick Jagger (yes, that, Mick) challenges an art critic (Claes Bang) to steal one of Debney's last works. "Never let a thing's worth obscure its value," the dealer says to the critic. 
The film opens with the critic's dog-and-pony show, titillating and seductive, complete with a reference to the fly as a symbol of sin in art -- and in this film (wait for it). He draws in an art lover, the mysterious Berenice (Elizabeth Debicki). She claims she just attended to eat the free chips. They proceed to effect sexual congress in a tangle of bare chests and heaving loins. But who is this woman? Is she really from Duluth? Is he who he says he is? Or is the whole affair hooey? Is it, as the art critic says of his lecture, "lies, lies, lies"?
Director Guiseppi Capotondi wasted little energy on "The Burnt Orange Heresy." The result is a flaccid film -- the love-making, the picture-stealing, the lecturing, and the fire-setting. But it does raise interesting questions about art, so the discussion afterwards might prove more interesting than the film itself.