Film Reviews
Film Reviews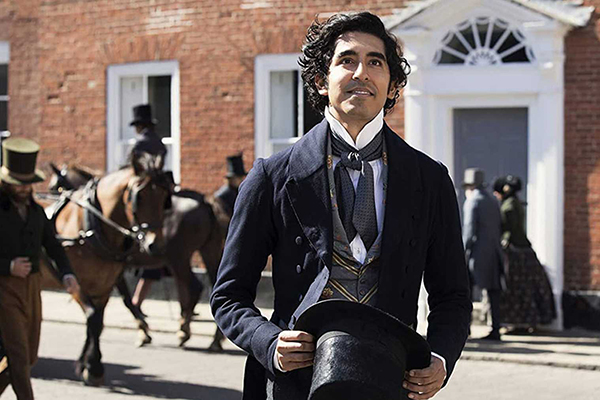 'The Personal History of David Copperfield' Colors That Story On Film
By Ronnie Wisdom
Do not look to Armando Iannucci's signatures in this colorful version of Charles Dickens' "David Copperfield." Director Iannucci ("In the Loop" and "Veep") and writer Simon Blackwell  ("In the Loop") are known for cursing and biting satire. Here, however, they lean on Dickens.
His 8th novel, published in 1850, was entitled The Personal History, Adventures, Experience and Observation of David Copperfield the Younger of Blunderstone Rookery. It is known to English majors as a bildungsroman, or a coming-of-age story. Having read the book first helps fill in the gaps of the film's squeezed plot. Copperfield acts as the narrator of his own life, a shadow of Dickens'. He began fatherless in the care of his loving mother and housekeeper, Peggotty. Mother marries murderous Murdstone. David toils in a bottle factory. Along the way to becoming a writer, Copperfield lives with an impecunious family, the Micawbers, admires a classmate named Steerforth, and meets Uriah Heap, that scoundrel. And on and on -- serially.
Iannucci's film skims over the plot, adding colorful components. First, the dandy cast is multi-ethnic, starting with dark Dev Patel, magnetic as Copperfield, and light Tilda Swinton, cool as Aunt Betsy Trotwood. In between are Hugh Laurie (Dr. House), Peter Capaldi (Dr. Who), Rosalind Eleazar, Ben Whishaw (with a 3 Stooges' hair style as Heap), and Benedict Wong as Mr. Wickfield. 
Second, Zac Nicholson's cameras dance then swirl overhead. Blackwell's script avoids Dickens' pathos but honors his humor, listing "opossum" among Latin words, tolerating a concertina concert, and keeping the caesura in Dora Spenlow's name.
"The Personal History of David Copperfield" is colorful, but cramming a beloved, 800-pp. novel into a 2-hour film does not work totally. The cast may have had fun exercising, but the audience will be left longing for a few of Iannucci's signature F-bombs to spice up this interpretation. 
The film plays in local movie houses.