Film Reviews
Film Reviews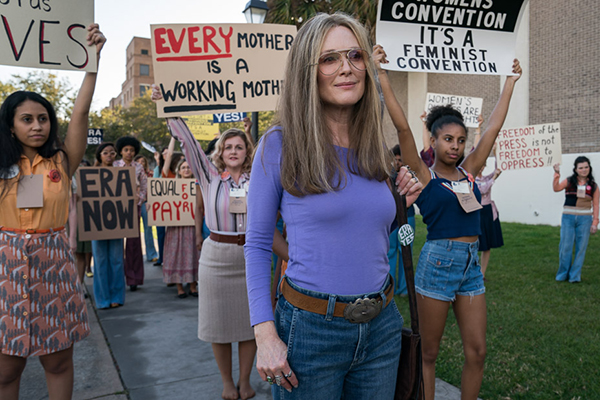 'The Glorias' Follows Steinem On The Road
By Ronnie Wisdom
Twin a feminist icon with a theater icon, and you produce one remarkable film. Director Julie Taymor ("The Lion King" on stage and screen) based her screenplay for "The Glorias" on Gloria Steinem's 2015 memoir, My Life on the Road. As a theatrical director, she knows the power of metaphor, of design, of production.
For "The Glorias," buses, trains, and cars career as images that Taymor exploits as symbols of  Steinem's movement in the women's movement. Taymor begins where Steinem began, being raised by her sweet, unrealistic father (Timothy Hutton) and her sad, spirit-broken mother (Enid Graham) -- neither prepared to parent their two daughters. Steinem started her professional life as a journalist, whom editors wanted to fetch their coffee and assigned to cover fashion. Steinem wanted to cover the 1963 March on Washington so she could profile James Baldwin.
Her first important investigation involved going undercover as a Playboy bunny, reporting on the horrid conditions of that exploitation in "A Bunny's Tale." From there, with a group of like-minded women, she co-founded Ms. magazine, wrestled her fear of public speaking, and fought against being an icon, given how many of her sisters were and are involved in the fight for women's rights.
What Taymor does with Steinem's story is to multiply the Glorias so that four actors cover stages of Steinem's growth: Ryan Kiera Armstrong, Lulu Wilson, Alicia Vikander, and Julianne Moore. At varying times, the four converse with each other; the most dramatic scene occurs with little Gloria is terrified as adult Gloria is terrorized in a taxicab by misogynists.
Other valuable cast members include Lorraine Toussaint as the cage-rattler Flo Kennedy, Kimberly Guerrero as stalwart Wilma Mankiller, Bette Midler as energetic Bella Abzug, and Janelle Monáe as sturdy Dorothy Pitman Hughes.
Taymor significantly contrasts black and white with color film, edits her narrative with vintage newsreels, and juxtaposes imaginative scenes of "Macbeth"'s witches with collages of the early readers of Ms. The closing scene of the 2017 international Women's March presents the real Steinem addressing women, furious in their pink hats, to manifest that we are The Glorias.
Yes, "The Glorias" is a bit too long, but it's so moving, so satisfying, so valuable as biography and film that it can be forgiven -- through tears. 
Streaming on Amazon Prime.