Film Reviews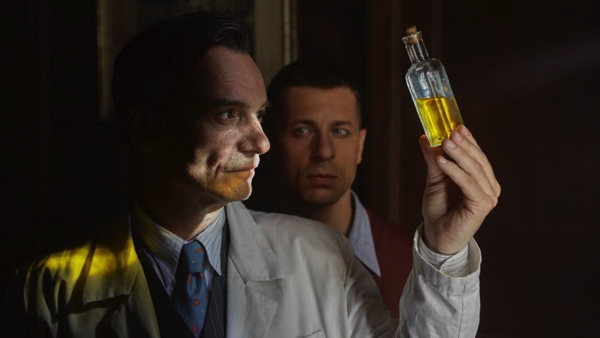 Q-Fest celebrates international queer culture through the art of films
Written by

Diane Carson
Cinema St. Louis' Fourteenth Annual QFest, streaming from April 16 to 25 as a virtual event due to Covid, includes twenty-four films from that represent eight countries: France, Greece, Israel, South Korea, Japan, India, and the Czech Republic, in addition to the U.S. Viewers may choose from six narrative and four documentary features, plus short films.  
The festival's mission statement, spectacularly realized, aims to use "the art of contemporary gay cinema to spotlight the lives of LGBTQ people and to celebrate queer culture." Here I have time to provide a mere sampling of the choices. I begin with award-winning Czech director Agnieszka Holland's "Charlatan," based on a true story. Rumored to be the conman signaled in the title, in fact this doctor/herbalist treats all who come to him, a humane response in WWII and after that will lead him, a closeted homosexual, into trouble. With flashbacks from 1958, this beautifully shot story comes to life through superb acting.
An historical standout is "Keyboard Fantasies: The Beverly-Glenn Copeland Story." It documents a 1986 rediscovered, now reissued folk-electronica hybrid (as it's described) album. Also highlighting music, premiering at Sundance, Marion Hill's "Ma Belle, My Beauty" finds three friends reuniting in the south of France, grappling with relationship conflicts. The multifaceted score blends Bertie's New Orleans songs with French, Latin, and North African melodies, complementing the diverse characters and themes.
Further reclaiming history, Michael Seligman and Jennifer Tiexiera's documentary "P.S. Burn This Letter Please" reveals New York City's drag queens' legal challenges and difficulties as well as the triumphs of these courageous individuals. Also on the schedule: "Queer Japan," two programs of shorts, François Ozon's "Summer of 85," Caleb Michael Johnson's "The Carnivores," Sébastien Lifshitz's "Little Girl," plus the classic, restored 1971 "Pink Narcissus," and more.
All the films have English subtitles as needed. There's so much in the QFest. For more information, including informative descriptions and trailers for every film, you may visit the website at cinemastlouis.org/qfest.
Related Articles