Film Reviews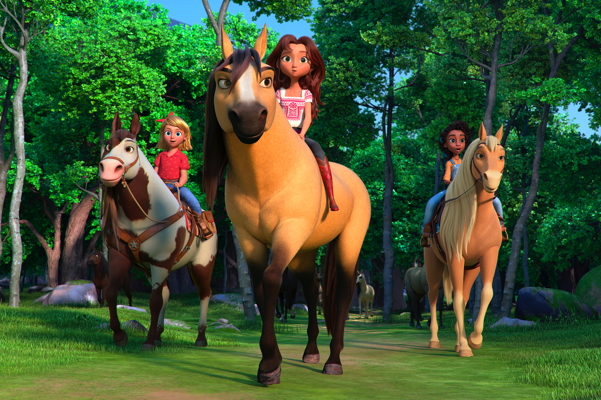 'Spirit Untamed' offers an uninspired tale of a feisty girl and her mustang
Written by

Diane Carson
Given the sophisticated breadth and depth of Pixar animation, DreamWorks has a tall order to offer an entertaining, appealing story for anyone other than small children. That becomes immediately clear in "Spirit Untamed," a heavy-handed, albeit well-intentioned animated tale of spunky, resourceful, fearless young Lucky Prescott.
Unknown to Lucky, her mother Milagro suffered a catastrophic horse accident years before in the frontier town Miradero. With Lucky a bit too feisty for her staid East Coast relatives, it is to Miradero, to unite with her father Jim, her Aunt Cora takes Lucky on a summer vacation meant to keep her safe. That is decidedly inconceivable.
In fact, Lucky becomes enamored of one particular mustang, Spirit. Danger awaits as the loathsome rustler Hendricks and his cohorts put Spirit and his herd in jeopardy, with Lucky and her two girlfriends riding in hot pursuit. There's no question what the outcome will be, with gravity-defying chases and routine confrontations of good versus evil driving the story.
Based on DreamWorks 2002 animated film "Spirit: Stallion of the Cimarron" and their Netflix series "Spirit Riding Free," "Spirit Untamed" lacks inventiveness in its story ideas and creativity in its animation, with the mustangs resembling horses drawn by a child, especially the eyes. How much better would it have been if the equally big-eyed Lucky exhibited common sense, instead of monotonous rebellion for its own sake, and if she had modeled some intelligent problem solving instead of reckless impulsiveness. To be fair, I endorse the supportive friendship among the three girls, the interracial group of characters, and the condemnation of animal abuse, a positive lesson for all viewers. However, this level of anthropomorphizing animals should have been abandoned long ago.
As a horse lover and a horse owner, I looked forward to "Spirit Untamed." The superficiality of the story and the inane dialogue dashed my expectations. This is only for the very young who may uncritically enjoy the energy of the characters and Lucky's unfettered rebelliousness. "Spirit Untamed" is showing at area cinemas. Check listings.
Related Articles