Film Reviews
Film Reviews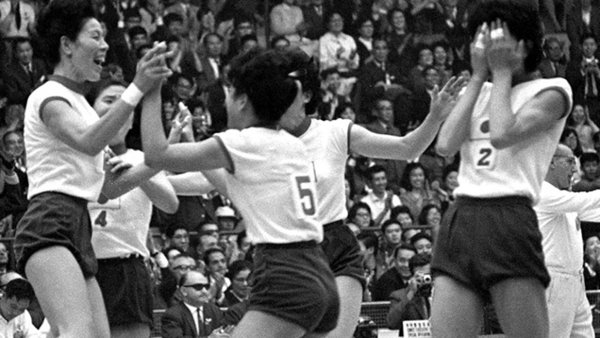 'Witches of the Orient' profiles the amazing 1960s Japanese volleyball team
By Chuck Lavazzi
Ten years ago, French writer/director Julien Faraut saw sixteen-millimeter footage of Japan's 1964 Olympic volleyball team. Faraut says that their grit and determination so impressed him, he knew he had to make the film that became "The Witches of the Orient," an unfortunate nickname taken from Soviet press, a title that incorrectly identifies their astonishing, admirable elite athletic talent.
After a year searching for these exceptional volleyball players, Faraut brought them together at a luncheon to reminisce and reflect. Still humble, admitting they did not invite the spotlight, they kept telling Faraut they were not special. This documentary proves that, in fact, they absolutely were, working all day at the Kaizuka textile factory before beginning training, a connection teased out by juxtapositions of their repetitious factory work with their diving for and serving volleyballs over and over and over. In that regard, their coach, Hirofumi Daimatsu, a WWII Burmese jungle survivor, who gave them amusing nicknames, shows no mercy as he drills them to exhaustion, all of them embracing the demands to achieve elite performance.
Lest this sound like one more straight-forward, unimaginative sports documentary, let me quickly correct that impression. For fifteen years an archival film researcher at the prestigious French Sports Institute with ten documentaries to his credit, Faraut's experimental style guides the visual presentation and music with Grandaddy's Jason Lytle compositions, Portishead's Beth Gibbons' voice expressing players' exhaustion, and Electronic K-Raw selections. Showcasing equally unique, multilayered editing, four archival sequences of training and competition integrate animated sequences. Faraut says he remembered "Jeanne and Serge" cartoons and "Attack No. 1," a Japanese series inspired by this team's unprecedented, 258 game winning streak,
Moving from the 1950s to the 1960 World Championships in Rio to the 1964 Olympics, this is an astonishing journey. Faraut acknowledges, "I was personally very inspired by the strength of these women, their tenacity and their immense modesty." He adds he hopes this film pays them the greatest tribute. Indeed it does. In Japanese with English subtitles, "Witches of the Orient" is available through KimStim with a direct link on the Webster University film series website.
Related Articles