Film Reviews
Film Reviews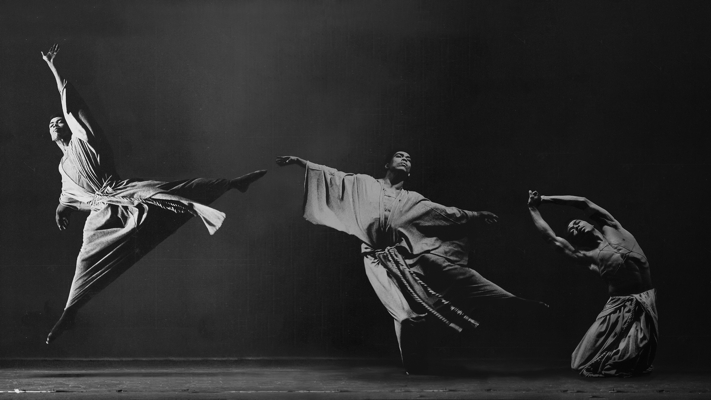 'Ailey' honors this astonishingly creative, revolutionary choreographer
By Chuck Lavazzi
The documentary simply titled "Ailey" presents brilliant choreographer Alvin Ailey through well-researched black-and-white archival video, audio excerpts from Ailey, and informative contemporary interviews with inspired devotees. With this, director Jamila Wignot interweaves the essentials of Ailey's life story while foregrounding landmark performances, notably Blues Suite (1958), Revelations (1960), and Cry (1971), dedicated to his mother and motherhood at large.
Wignot respects Ailey's very private life as a gay Black man, resisting the too often intrusive inquiries into details of artists off stage. She does provide the essentials: from tough times with a single mother in a segregated 1930s Texas where he picked cotton to inspiration from his first theater experience at fourteen, from astonishment at the Katherine Dunham dancers on the legitimate stage to his 1958 founding of the Alvin Ailey American Dance Theater. Excerpted here, asked if he felt he needed to sacrifice anything to stay in dance, Ailey asserted, "Everything."
Among a who's who of Ailey dancers, friends, and composers, perhaps Ailey 1970s Rehearsal Director Mary Barnett says it best, noting that Ailey was "able to say through the choreography, 'I Am.' He transcends dance, opens consciousness." The electrifying choreography captures Afro-Caribbean, blues, and spiritual essences and proves that, as noted regarding his seventy-two dance works, "This is what he took up as his crusade. Alvin's protest was on stage." Dancer Linda Kent observes that his choreography channeled pain, struggle, and sorrow but also passion, strength, communal joy, and the everyday experiences of being.
Rehearsal sessions for a 60th anniversary tribute to Ailey provide updated context, with the dancers a marvel of elegant, energetic movement. Clips from the Kennedy Center Honors for Ailey add further celebratory moments. Wignot writes that Ailey truly deserves to be described as one of those exceedingly rare innovators who, "tenaciously follow their own voice and in doing redefined their chosen forms." She proves without question the truth of this assertion as her poetic film transported me to a renewed admiration for Ailey's genius and the athletic grace and power of the dancers. "Ailey" is screening at Plaza Frontenac Cinema. Check listings.
Related Articles