Film Reviews
Film Reviews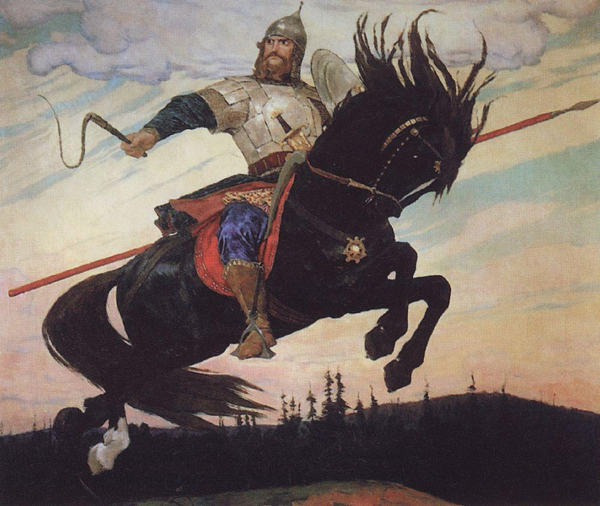 'Ilya Muromets (The Sword and the Dragon)' dramatizes a Russian heroic folk tale
By Diane Carson
A 1956 Russian film based on heroic oral folk tales might invite a rather wild indulgence of visual style and theatrical acting. That's exactly what director Alexander Ptushko delivers in "Ilya Muromets (The Sword & the Dragon)." In elaborately, even outrageously dramatizing the knight Ilya's gruesome war against the Tugars, Ptushko unleashes his imagination with inspired fantasy features.
Thousands of soldiers repeatedly swarm across the Steppes, battling in multiple skirmishes, engaging in combat with peasant hordes, and with a fire-breathing, three-headed dragon, hence the title. Every element increases the feeling that this production is as rare as it is over-the-top: the costumes, the staging, the conflicts, and the delivery of pompous dialogue.
The epic fable involves myriad fanciful events. Consider: a man and his horse transformed into a mountain upon their death, Ilya incapable of protecting his wife due to his paralyzed legs, Ilya's recovery effected by drinking juice of a magic herb, a colossal mound of gold, ships on land propelled forward, among numerous other curious moments. In addition, not only must Ilya devise one deceitful ploy after another in the service of defeating the Tugars, but he must also valiantly reclaim his kidnapped wife and win over his defiant son.
In gorgeous CinemaScope, the uniformly stylized presentation is reminiscent of Ray Harryhausen's "The 7th Voyage of Sinbad" and "Jason and the Argonauts," though here live action as opposed to animation dominates. The music complements the amazing visuals. But know, for sure, that the special effects bear no resemblance to today's digital creations. These emphasize more the admirable characters and commendable values, much as the most enduring heroic folk tales do. And all the moral choices advocate what, at our best, we continue to endorse as the best guidance for a healthy individual and society.
In Russian with English subtitles, "Ilya Muromets (The Sword & the Dragon)" screens at Webster University's Winifred Moore auditorium one night only, Thursday, March 3, at 7:00 p.m. For more information, you may go to the Webster film series website.
Related Articles