Film Reviews
Film Reviews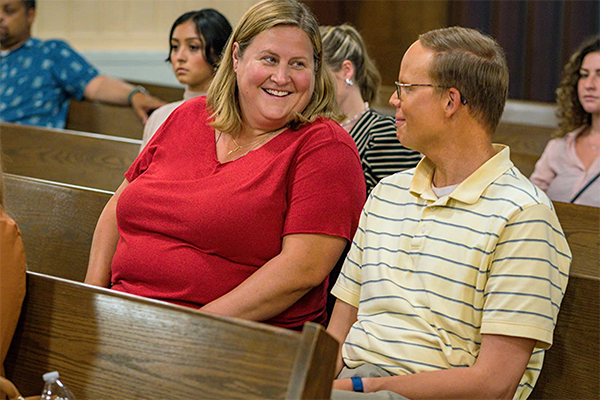 'Somebody Somewhere' sings in life and death
By Martha K. Baker
Admirers of Bridget Everett's bawdy, bosomy, song-belting stage show may fear that her work in this streaming series will be corseted. In many ways, it is -- up until the last of the eight episodes. Throughout, however, Everett portrays 40-ish Samantha, a character a little like herself. Sam goes  home to Manhattan, Kansas, from Manhattan, New York, from the Big to the Little Apple.
The death of her sister Holly brought Samantha home. Sam is still sleeping, but not well, on Holly's davenport. Sam's dead-end job, scoring standardized tests, finds her in tears one day. Joel, a colleague, offers to cover for her. Then, he reveals that they were in show choir together in high school, and he invites her to choir practice.
That turns out to be a euphemism for a talent show in a church governed by gays (don't tell the preacher). The rest of the series covers Sam's new life in Manhattan as daughter, sister, store clerk, and friend. And singer. Thankfully, she remains vulgar and sarcastic as she slides into her new, old community.
Sam is surrounded by her farmer father, her alcoholic mother, her randy brother-in-law, and her perfect sister Tricia (Mary Catherine Garrison), who shares her sister's sass. For example, Tricia accuses her business partner in a cutesy shoppe, "You think you're Pinterest, but you're really Hobby Lobby."
Writing credits for the many punchy and, forgivably, vulgar lines go to a troika: Hannah Bas, Paul Thureon, and Patricia Breen. Directors are Robert Cohen, whose directing credits include "The Goldbergs," and Jay Duplass, known most recently for "The Chair." Coincidentally, "Somebody Somewhere" echoes Amy Schumer's current series, "Life & Beth," in being about a grieving woman trying desperately to find love or, at least, common ground.
The cast of "Somebody Somewhere" includes the jaunty Murray Hill, also seen currently in "The Marvelous Mrs. Maisel." Jeff Hiller, who brings a certain element of Jack MacBrayer to the role of Joel, ranges from sweet to sympathetic. But "Somebody Somewhere" depends on the broad shoulders and volubious badoongs of Bridget Everett. As the bad apple in the Little Apple, Everett hides in her own shade as she grieves, belts songs (clean and dirty), and finds church on a bus. 
The Somewhere of the title is Manhattan, Kansas. Everett is definitely the disarming Somebody.