Film Reviews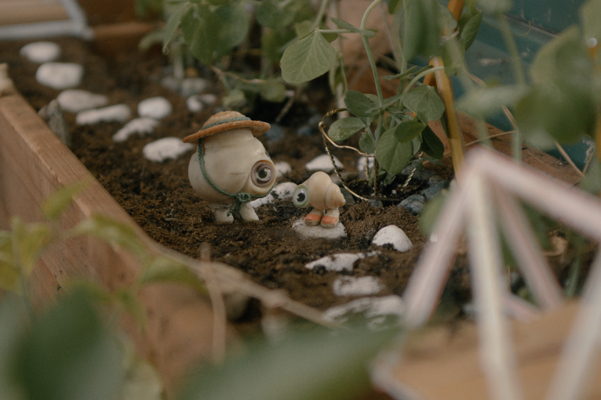 'Marcel the Shell with Shoes On' has wit, humor, and insight
Written by

Diane Carson
Even before Marcel the Shell became a star in his own film, "Marcel the Shell with Shoes On," he had gained numerous fans with his 2010 YouTube video and popular books. This probably surprised him the most since this hermit shell stands a mere one inch tall and is invariably humble, but sometimes a very unusual idea works surprisingly well.
That is certainly the case with Marcel, who began with writer Jenny Slate's inventing Marcel's tiny voice for herself, as she explained for this year's Telluride Film Festival audience. She and director Dean Fleischer Camp, who designed Marcel's appearance, found themselves at a weekend wedding where, to quote Jenny, sharing a hotel room with four other people, she "felt so cramped and so small, and as a joke, I started talking in this little, tiny voice." She enjoyed that people had "to strain to listen." As important, Dean realized that Marcel "is loved by millions for the simple reason that he loves himself," never complaining, always appreciating and enjoying his experiences though he has sad moments, described by Jenny as "the best version of me. . . with a functional, healthy psyche."
Working over a year, a crew of five hundred combined live action and stop motion animation. The story in this quasi-documentary revolves around Dean, temporarily living in Marcel's home, an Airbnb, and filming Marcel and the resident dog. Marcel's dear grandmother Nana Connie is also on hand, with the lovely, distinctive voice of Isabella Rossellini. She accurately observes that Marcel shows "tenderness and vulnerability, and also wisdom." His appeal extends to the fact that, as she added for a Telluride press interview, "we are all human beings, we feel a little intimidated and we feel a little out of place. That's Marcel's voice." With one big eye, little shoes, so ugly he's cute, Marcel's quirky, humorous nature appeals to children while adults welcome his insights.
Grandma Connie adores 60 Minutes' Lesley Stahl, who brings her crew to Marcel for an interview. Marcel also loves nature, celebrates it with Philip Larkin's poem "The Trees," and longs to reunite with his absent family, after having a lot of fun rolling around in a tennis ball, popping up in unexpected places, and advising us all that yelling at each other isn't nearly as enjoyable as connecting with people. "Marcel the Shell with Shoes On" screens at Landmark's Plaza Frontenac Cinema, check listings.
Related Articles