Film Reviews
Film Reviews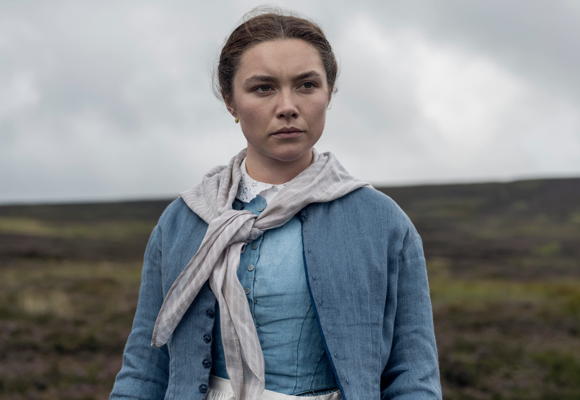 'The Wonder' pits rationalism against religious belief in 1862 Ireland
By Chuck Lavazzi
Director Sebastián Lelio's "The Wonder" dramatizes a story set in an isolated religious community in famine-ravaged, 1862 Ireland. British nurse Lib Wright arrives to investigate reports that eleven-year-old Anna has survived four months without eating. Pitting rationalism against unquestioned religious belief, Lelio illuminates the contrarian, resolute position of a patriarchal panel wielding power versus Wright's unwavering, methodical analysis.
In the discussion after the film's screening at this year's Telluride Film Festival, director/co-writer Lelio said he'd agreed to read Emma Donoghue's novel and loved it. He then described "The Wonder" as two women's journey, one—Lib—having "to face everyone down, thinking she'll uncover the hoax in five minutes." But, he added, it demands much more from "this rationalist colliding with the universe of religion."
Sexual guilt, supernatural elements, and intimidating control all factor into this woman-driven confrontation. Through several tense appearances before the all-male committee that hired her, Lib debates representative, alternative views, including with a priest and a doctor. Connecting this nineteenth century setting to today, Lelio contends, "Fanaticism is nothing more than the lack of a will to change, belief in our own stories with complete devotion. It's very dangerous."
Further raising the issue of allegiance to various perspectives, Lelio begins and concludes on a set, at Telluride saying he loves self-aware metacinema. This framework acknowledges, he asserts, "Yes, this is artifice and, when film declares this, ethically I want you to know you will be seeing artificial speech, etc.—all there for a reason in service of the story. You are invited to believe in that story, but this reminds you it is artifice." Lelio adds, "The film can't be profound. Only the viewer's experience can be."  
Encouraging that takeaway, a magnificent Florence Pugh burrows into the psyche of Lib Wright, a revealing name. In strong supporting roles are Toby Jones, Ciarán Hinds, Kila Lord Cassidy, Elaine Cassidy, and Tom Burke. Ari Wegner's cinematography powerfully transported me to this world while also inviting reconsideration of certainty. "The Wonder" streams on Netflix. Check listings.
Related Articles