Film Reviews
Film Reviews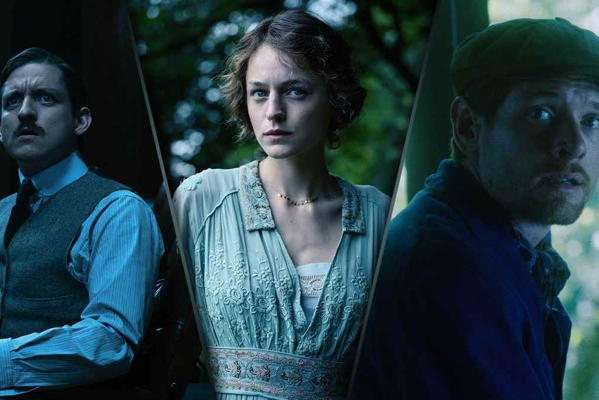 'Lady Chatterley's Lover' foregrounds the passion and eroticism
By Chuck Lavazzi
Published in 1928 in Italy, 1929 in France, D.H. Lawrence's novel "Lady Chatterley's Lover" was first officially issued in its entirety in Lawrence's England in 1960. Penguin Books won the obscenity case filed then against it. Banned in several other countries, including the U.S. Now, French director Laure de Clermont-Tonnerre embraces the overriding passion and scandalous sensuality of that story.
David Magee's adaptation hews faithfully to the original. Constance Reid marries Baronet Clifford Chatterley who, the next day, leaves to continue his WWI service. He returns paralyzed waist down, requiring conscientious care, though Baronet Chatterley never reciprocates with vital affection. After having moved to their Wragby estate, a needy Lady Chatterley becomes deeply enamored of and sexually involved with the groundsman, Oliver Mellors. Though the Baronet, wanting an heir, suggests an affair for her Lady, his obsession with business affairs leaves him oblivious, though the new nurse-maid Mrs. Bolton notices revealing   details.
What distinguishes de Clermont-Tonnerre's new version of "Lady Chatterley's Lover" is her explicit portrayal of overpowering female lust, along with explosive issues still relevant. They include: class divisions, male dominance and victimization of workers, and subservience of women through control of their bodies and behavior, in part because of gossip, ostracism, and shame. In addition, multiple dysfunctional relationships contrast with Lady Chatterley and Oliver, who himself has an ex-wife demanding financial support.
Told from Constance Reid's point of view, the intense erotic awakening emerges forcefully thanks to Emma Corrin and Jack O'Connell as Oliver, both with full nudity. Cinematographer Benoît Delhomme complements the sensuousness on full display with gorgeous lighting and luminous colors alternating with the claustrophobia of the interiors, all shot on the Welsh Brynkinalt estate. For the Telluride Film Festival where I first saw the film, director de Clermont-Tonnerre explained she based scenes on Egon Schiele's and August Rodin's erotic drawings from the same period. She added that this timeless story expresses the need for unfettered freedom from sexual, class, and financial oppression. "Lady Chatterley's Lover" streams on Netflix.
Related Articles