Film Reviews
Film Reviews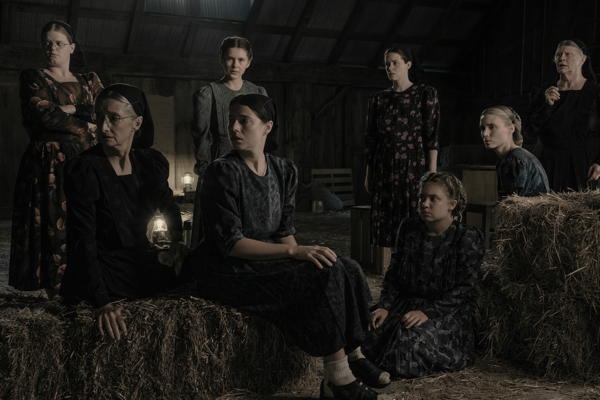 'Women Talking' brilliantly tackles critical life decisions
By Chuck Lavazzi
In "Women Talking" screenplay writer/director Sarah Polley dramatically and brilliantly stages a profound debate among eight Mennonite women who have endured repeated drugging with cow tranquilizer before rapes by the men in their religious commune. In her splendid adaptation of Miriam Toews' 2018 novel, Polley achieves a dazzling tightrope balancing act by giving each argument thoughtful consideration.
Set in 2010 in an isolated, backwards prairie location, in a hayloft the women must decide among three options: do nothing, fight, or leave, with pros and cons thoroughly explored by different women. The marvelous all-star cast includes Rooney Mara, Jessie Buckley, Judith Ivey, Claire Foy, and Frances McDormand (a producer as well), among others. Each expresses a distinctive, nicely differentiated personality. The only man involved in the poignant encounter with philosophical and spiritual consequences, August (an excellent, perfectly subdued Ben Whishaw) takes notes for these eight women whom the men have purposely kept illiterate.
This life-or-death crisis derives from real-life assaults in a 2009 Bolivian Mennonite colony. At the Telluride Film Festival I attended, Polley explained religious elders there justified the repeated, years of attacks as ghosts, Satan, lying to get attention, or "an act of wild female imagination," hence an early title card for the film announces this as "an act of female imagination." Told from the vantage point of the future looking back, the women debate: Who decides? Who speaks and for whom? Who has the right to determine submission or freedom, and at what theological, physical cost?
Complementing the serious issues, Luc Monpellier's evocative, darkly hued cinematography drew on Canadian photographer Larry Towell's black-and-white Mennonite community photos. Similarly, clothes, hair styles, makeup, and all production design contribute to emotionally intense interaction interpreted perfectly by David McCallum's sound. Both intimate and expansive in exploring weighty ideas, "Women Talking" lingers in its intellectual engagement, never cynical or dismissive, ever provocative and stimulating. Sarah Polley has crafted one of the best films of the decade, never mind the year. At area cinemas.
Related Articles