Film Reviews
Film Reviews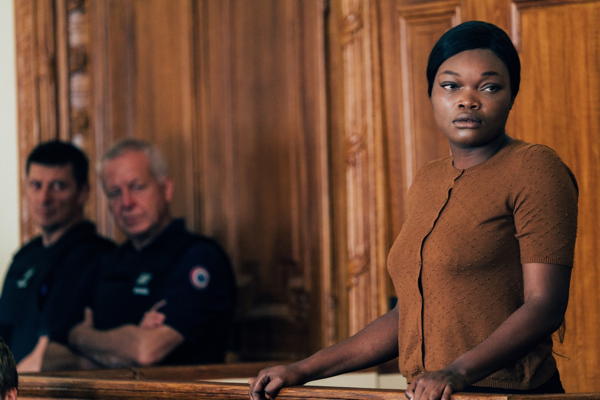 'Saint Omer' dramatizes a French court case of a baby's deliberate death
By Chuck Lavazzi
The central tragedy of French director Alice Diop's "Saint Omer" is as unusual as it is perplexing, based on a real 2016 court case. In the film Laurence Coly takes her mixed-race, fifteen-month-old baby Elise to Berck-sur-Mer, a depressed resort area within a national park on the Opal Coast, northern France. Shockingly, she abandons Elise on the sandy beach.
Laurence knows the high tide will carry Elise out to sea. In Saint Omer, a nearby town, a trial will proceed for days during which Laurence responds to a presiding judge, a hostile prosecutor, and an empathetic defense attorney. Each of them has a different emotional register, especially after Laurence blames her actions on a spell cast on her.
The Parisian novelist Rama is on hand as our surrogate, connecting with Laurence through similar feelings and experiences as an educated, pregnant black woman with a white partner in France. Rama hopes to gain insights that she can channel into her next in a series of successful books. What she will find personally and politically goes much deeper than she bargained for.
In press notes, Diop, a co-writer as well as the director, writes that for "Saint Omer" she adapted the trial Fabienne Kabou, a highly intelligent Senegalese Ph.D. student. Diop also notes that she's "rarely seen the complexity of a black woman filmed, written, or recounted. We are always smoothed over in a right-thinking way, locked into the eyes of those who have the right to make our own story for us. . . locked into stereotypes. . . without really seeing." Through the calm, composed, and challenging presence of Guslagie Malanda as Laurence, this woman will not fail to be seen, making a powerful impact as she confronts the camera directly. Equally strong, Kayije Kagame plays Rama whose own story unfolds in scenes away from the court setting.
Mixing fictional and documentary texts, Diop burrows into the complex emotional truth of this black woman enmeshed in this French world that takes its toll both within and outside the courtroom. An hour into this two hour film, I felt I had grasped the essentials, but the last hour includes some unexpected scenes that add introspective commentary. Already the winner of multiple awards, France's Academy Award submission for Best International Feature Film, in French with English subtitles, "Saint Omer" screens at area cinemas.
Related Articles