Film Reviews
Film Reviews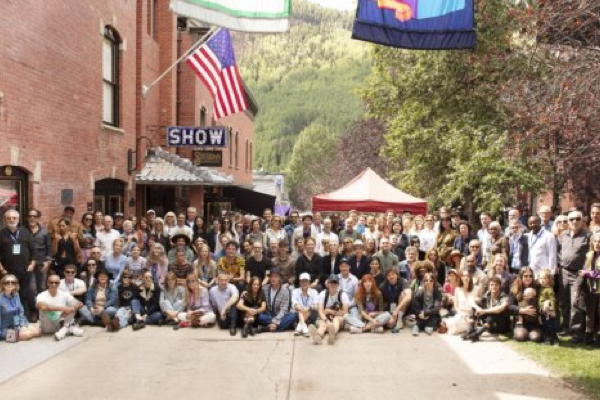 Telluride 2023 Film Festival Celebrates Diversity for its 50th Year
By Chuck Lavazzi
By Diane Carson
The Telluride Film Festival, always held over Labor Day Weekend in that gorgeous Colorado town, celebrated fifty years with a dazzling diversity. The twenty films I squeezed into five days ranged from director Tod Browning's 1927 "The Unknown," starring Lon Chaney and Joan Crawford, to writer/director Justine Triet's intriguing "Anatomy of a Fall," this year's prestigious Cannes Palme d'Or winner.
In it, the murder, accidental death, or suicide of father and husband Samuel leads to an interrogation and subsequent trial of mother/wife Sandra, a professional novelist. The couple's debates over each of their responsibilities reveal a wealth of cultural expectations and lead to a stunning argumentative exchange, among the best on film. Also terrific, the Cannes Film Festival Grand Prix awardee, Jonathan Glazer's "The Zone of Interest," takes place adjacent to the Auschwitz concentration camp. Nazi soldiers and their families celebrate the commandant's birthday, dispute assignments, tend their gardens, choose from the clothes sent their way, and play with their children, with the Holocaust ever a backdrop. Chilling in its presentation of these indifferent individuals' ordinary lives, writer/director Glazer has found a new way to capture the banality of evil.
For sheer entertainment, Alexander Payne's "The Holdovers" watches curmudgeon ancient civilization teacher Paul supervise students staying at a posh New England boarding school over Christmas break. As poignant as it is funny, Paul Giamatti gives a bravura performance matched by the school cook Mary (Da'Vine Joy Randolph) and teenage pupil Angus (Dominic Sessa.) Internalized ordeals are revealed though simplistic resolutions are never proposed. In a quite different school setting, this time in Germany, director Iker Çatak propels the unraveling of an academic community in "The Teachers' Lounge." Racism and institutional bureaucracy and retribution fuel heated personal and professional interaction.
The overwhelming, sensuous appeal of food makes Anh Hung Tran's "The Taste of Things" a visual treat with incisive, implicit commentary on late nineteenth century French aristocracy. I left this wonderful indulgence longing for a gourmet meal. Similarly tranquil and restrained, Wim Wenders' "Perfect Days" shows the dignity of a very quiet Tokyo toilet cleaner who carefully observes, perceptively registers, and calmly reacts to the world around him. Remarkably, in his second film at this year's Telluride Festival, Wenders' 3D documentary "Anselm" immerses the viewer in artist Anselm Kiefer's monumental world of sculptures and paintings, many confronting German history.
Another extraordinary, moving documentary is director Matthew Heineman's "American Symphony." Over a year, Jon Batiste's unequalled achievements in music contrast in staggering ways with his partner Suleika Jaouad's recurring leukemia. Having granted Heineman inclusive, intimate access to his life, Batiste offers a beautiful example of how to set priorities and support those we love while remaining a consummate professional. A bonus after the screening was Batiste performing with Jaouad in the audience.
Still in the arts area, tackling an iconic writer, writer/director Ethan Hawke's "Wildcat" interweaves significant, exasperating episodes from Flannery O'Connor's life with dramatizations of scenes from her short stories. As O'Connor, Ethan's daughter Maya masterfully shifts from Flannery's real trials to her invented incidents. Equally up to multiple roles, Laura Linney plays Flannery's mother and several of the stories' characters.
Also based on reality, Christine Molloy and Joe Lawlor's "Baltimore" juxtaposes three time frames in their presentation of Rose Dugdale's brazen 1974 robbery of nineteen valuable paintings (including ones by Goya, Rubens, and Vermeer), a theft prompted by Rose's goal to secure the release of IRA prisoners. The story unfolds through depiction of Rose's upper class upbringing, her embrace of revolutionary causes, and the actual theft with its dire aftermath. Imagen Poots as Rose powerfully presents this unhinged, rebellious young woman's misguided allegiance.
Director Alicia Rohrwacher's "La Chimera" documents equally brazen thieves, these in Tuscany stealing archeological treasures. A band of deranged and disorganized criminals swaggers around with unanticipated, destructive outcomes. Surprisingly, an animated documentary, Fernando Trueba and Javier Mariscal's and "They Shot the Piano Player," presents a grim event as well, the mysterious 1976 disappearance of famous Brazilian pianist Francisco Tenório Júnior. Investigated by a New York music journalist (the voice of Jeff Goldblum), multiple interviews with colleagues and those close to Tenório lead to a tragic conclusion, the assumption of his murder. Along the way, the origins and celebration of Bossa Nova music buoys the story.
Two films directed by women merit attention. Director Kitty Green, so quietly effective in "The Apprentice," again unites with Julia Garner in "The Royal Hotel," set in a raucous, Australian outback mining town. There Canadians Hanna (Garner) and Liv (Jessica Henwick) accept a bartending job to raise needed money. There aren't many surprises in this misogynistic world as events spiral increasingly out of control. For a very dissimilar situation in "Daddio," director Christy Hall presents an involved, wide-ranging two person dialogue on a cab ride from JFK to Manhattan's upper East Side. Taxi driver Sean Penn and passenger Dakota Johnson pursue an extended inquiry into their relationships and their often contrasting ideas about them. Digging deep, their honesty with each other and their varying viewpoints offer provocative fare.
However, this and Yorgos Lanthimos's "Poor Things," both clearly empathetic albeit in quite different ways, still represent their women first and foremost as sexual beings. Yes, men exploit, restrain, victimize, and attempt to control these women, but they (the women) do not lead with, nor are they defined by, analytical, intelligent, theoretical insights. These and other films I'll analyze further down the road surrender to restrictive biological expectations and stereotypes. Often in gratifying ways, the women assert, struggle, challenge, confront, and argue, but the focus remains on sexual activity. Oh, for the day, when cinema moves past or, at the very least, deliberates the intellect as much as bodies. All in all, the 2023 Telluride Film Festival offered a sumptuous cinematic feast for which there's much more to report, which I will do as films open over the next months.
Related Articles