Film Reviews
Film Reviews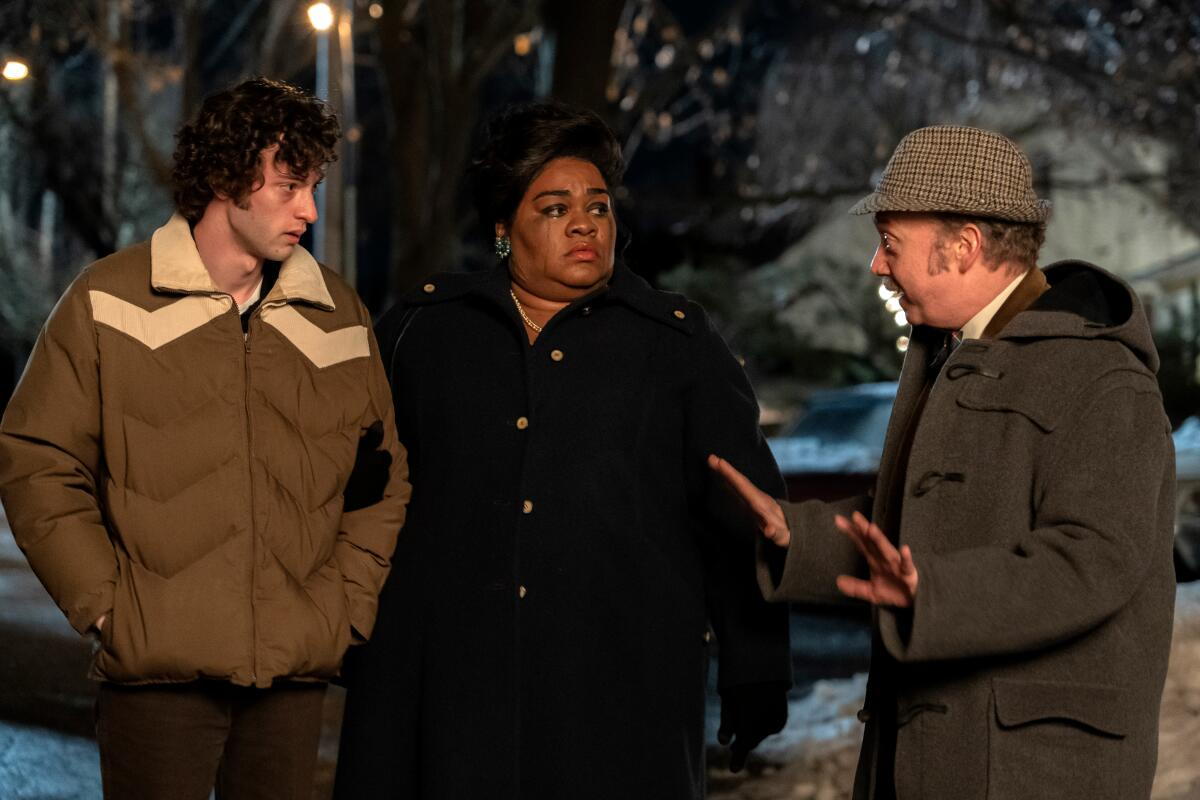 "The Holdovers" mines the pains and joys of its characters
By Diane Carson
Director Alexander Payne has demonstrated a rare skill in mining complex personalities, the façade presented to others as well as the hidden depths of that mask. In exploring identities, Payne reveals the agonizing elements, coping strategies, and positive aspects of his characters. Through all this, he maintains an affectionate, incisive approach to the human condition. 
Working from David Hemingson's fine script, as in his earlier films, notably "Election," "Sideways" and "Nebraska," Payne's "The Holdovers" sensitively and humorously delights. Set in 1971 Massachusetts, ancient civilization teacher Paul Hunham, a true curmudgeon, is outmaneuvered and, therefore, must supervise students at posh New England boarding school Barton over Christmas break. They are 'the holdovers' who, for various reasons, can't join their families. Unexpected, deeply moving revelations multiply, with one particularly problematic student the catalyst.
Paul Giamatti gives an Oscar-worthy performance matched by the school cook Mary Lamb (Da'Vine Joy Randolph) and contentious pupil Angus Tully (Dominic Sessa). Their internalized troubles surface, simplistic resolutions never proposed. First working with director Payne in "Sideways" (2004), Giamatti is the perfect Paul. At this year's Telluride Film Festival's Q&A where I saw the film, Payne said that, in fact, he wrote the part with Giamatti in mind. When Payne wanted to discuss the character handling this spoiled group of students, Giamatti laughed and said they didn't need to talk, remarking, "I went to Yale. I know these guys." Indeed, his insights propel every scene, especially one in which within ten seconds Paul communicates the depths of his shattering loneliness and crushed hope. 
More surprising, in his first film role, Dominic Sessa plays Angus with flawless, nuanced authority. When Payne asked Sessa how he could be so relaxed and focused in his first role with cameras, lights, microphones, crew, and other distractions, Sessa said, "I just ignore all that." Equally impressive, Da'Vine Joy Randolph conveys unfathomable heartache over her son, noting racial elements. At Telluride, Payne said he wanted to give each of these three central characters their own scene, using silence and impeccable music choices. Shot entirely on locations (and it makes a difference), "The Holdovers" is as profound as it is enjoyable, a world to embrace.
Related Articles