Film Reviews
Film Reviews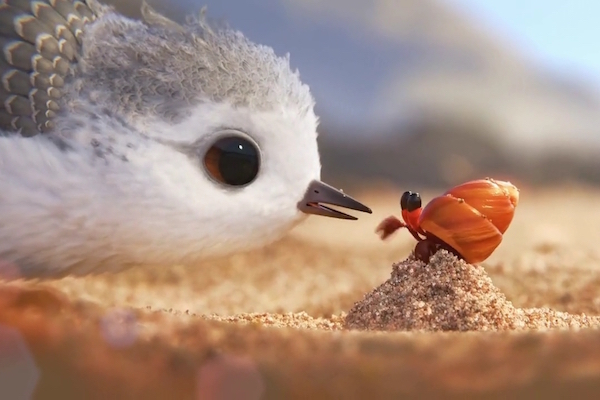 'Oscar Nominated Short Films: Animation'
By
"Short" is right. Most of these films run fewer than 10 minutes with one longer than a half-hour. And "sweet" is right, too, in a way, if "sweet" stretches to mournful. These Oscar-nominated short films advance the concept of brevity as good and worthy.
In "Pearl" in about five minutes, Patrick Osborne tells the story of a girl and her father, of their music, their life in a car), their cries for grace. "Pearl" was made in the US. So was "Borrowed Time," a Western directed by Andrew Coats and Lou Hamou-Lhadj about a father/son lawman team.
Canada offers a few minutes with "Blind Vaysha," made by Theodore Ushev and based in folklore of Eastern Europe. This short, unlike the first two, includes a narrator, and its mythic theme is hopelessness. The images are woodcuts.
The longest of the set is a heart-breaker from Canada: "Pear Cider and Cigarettes." Robert Valley, the director, voices over the story of his childhood friend, Techno Stypes. Techno's dad sends Valley to China to save Techno, whose kidney no longer supports his habits. First, Valley has to dry out his friend before surgery, and then he has to nurse his friend, a most unbidden help. The animation is all angles, and for all its sadness, "Pear Cider and Cigarettes" stays longer than it plays; however, it is not for children, unlike the littler films.
One of those is the last film, "Piper." This little film, only six minutes long, comes from the Pixar studio, now sheltered by Disney. "Piper" was directed by Alan Barillaro and Marc Sondheimer, and like most things Pixar, it is a triumph. Feathers and foam surround a fledgling piper, who's cute as a button as it learns the ways of fearsome water. Such a treat!
Related Articles