Film Reviews
Film Reviews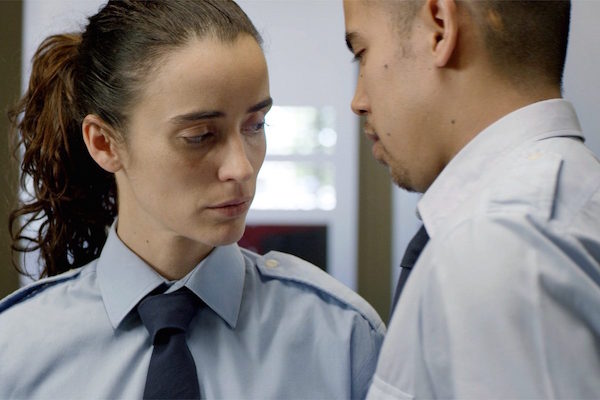 'Oscar-nominated Short Films: Live Action'
By
There's not a bad seed in this barrel of apples. All five, mostly a half-hour each, offer resounding stories -- well told, acted and filmed. They come from France, Hungary, Switzerland, Denmark, and Spain. Two of them swirl around the predicament of refugees in Europe. 
"Internal Enemies," directed by Sélim Azzazi, centers on an interview -- or investigation or interrogation, depending on the point of view -- between two Arab-Frenchmen in 1998. Their conversation considers terrorism, fatherland, and religion and could not be more pertinent, and the filming includes backgrounds of history. It's chilling.
"Silent Nights" is a story about compassion and tenderness in the face of foreignness. Directed by Aske Bang, "Silent Nights" tells a complicated love story of a Danish woman, Inger, and a Ghanian man, Kwame, who meet at a homeless shelter. 
The Swiss offering stars the luminous Jane Birkin as a woman who waves a Swiss flag at the passing train, the TGV. She lives in a blue-shuttered house by the tracks and her life is dwindling. The music is mawkish, but the story is kind of sweet. 
"Timecode," a Spanish film directed by Juanjo Pena, is a dancer's delight. Two security guards, who know each other only in passing, that is, as the one leaves his shift and the other assumes hers. But they find each other on the video tapes of the various garages they monitor, and they find each other in dance.
The girls in "Sing," the Hungarian short directed by Kristof Deak, find each other in song. "Sing" is largely about the warmth and wealth of girls' friendships, as the new girl is befriended by Liza. They are warned about singing, but they persist.
So many movies go on for far too long, but these shorts prove that length is not necessary for brilliance.
Related Articles