Inside KDHX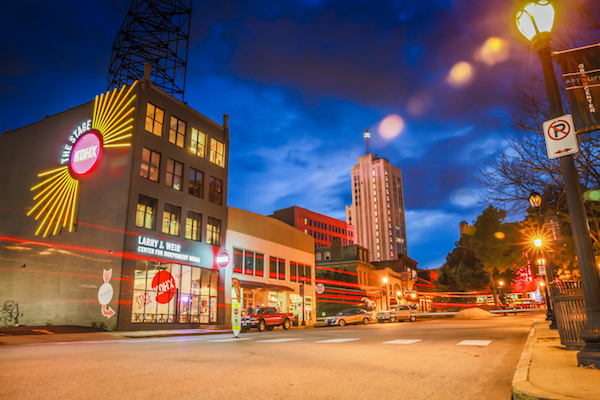 The Stage at KDHX
The Stage at KDHX, located on the ground level of the Larry J. Weir Center for Independent Media, is a beautiful, listening room style venue and community space in the Grand Center Arts District of St. Louis. 
With unobstructed views of the stage from any seat in the house, an incredible sound system and sound diffusing walls that look more like art installations, The Stage is a great place to see a show or host a private event. The two-tiered seating area is able to accommodate 120 people for seated events. The dark wood and brick motif create a warm, inviting and stylish atmosphere. Drink service available at the bar in the café area during events.  
The Stage is available to rent for private events such as: fundraisers, film premieres and showings, private parties, speaking events, corporate meetings & events, wedding receptions or post-wedding parties. Email This email address is being protected from spambots. You need JavaScript enabled to view it. for more information. As a music venue owned and operated by KDHX Community Radio, The Stage is not available to rent for music performances that are ticketed or open to the public. Musical acts must be booked by KDHX. For information about booking please refer to this FAQ page.
Events at The Stage include local and national touring musicians, live broadcasts on KDHX, dance parties, films, theater, partnered events with other nonprofit organizations, and more. To see what's happening at The Stage, visit our Events Calendar. We hope to see you here soon. 
Related Articles