KDHX Listen Live and Local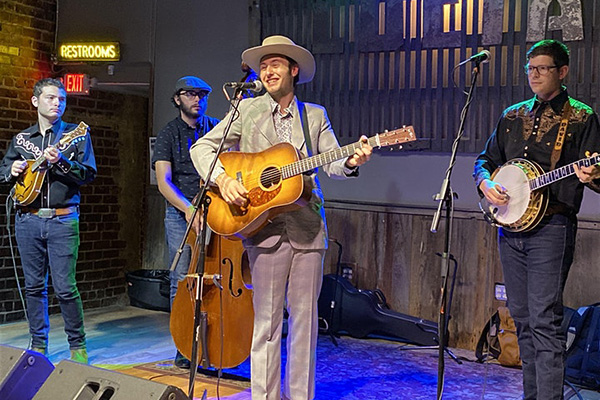 Listen Live and Local: Julian Davis and the Situation
The KDHX Listen Live and Local series sponsored by Urban Chestnut Brewing Company featuring a live performance by Julian Davis and the Situation.
Come be part of the live studio audience for FREE!
Tuesday, March 3, 2020, 7:00 PM CST
Doors at 6:45 PM
KDHX
3524 Washington Ave
St. Louis, MO 63103
Julian Davis and the Situation:
Julian Davis is a traveling musician, plying his trade through guitar and mandolin on the roads of this country. Since 2016 he has been proving that Bluegrass isn't only an old man's game, giving the traditional style a clean new treatment. Julian enjoys playing the classics that have stood the test of time, and ensuring they last a little longer by giving them one more spin on the dance floor. In 2017 he started traveling solo, singing to concert halls and theatres, and select bars-anywhere a road can go. In 2018 he started traveling more with a band that came to be known as The Situation. After a six month run as the lead guitar player in The Jeff Austin Band in 2019, he and his band have released a live LP and hit the road playing a mix of jam grass and traditional bluegrass featuring a mix of original songs and timeless covers. With tour runs scheduled from Texas to Montana to Michigan to North Carolina and many places in-between, options to catch Julian are numerous.
---
Listen Live
Listen Live at KDHX combines KDHX's unique multi-platform capabilities to highlight local and national musicians both on the airwaves and through live performance. This program is both an extension of and a combination of our live in-studio performances and our live concerts.
Listen Live at KDHX is an important program both for musicians and for St. Louis. By elevating the visibility of independent voices, Listen Live will celebrate the art of discovery, bolster community wellness through inclusive access to cultural enrichment, and reflect human and musical diversity.
Listen Live at KDHX features one local artist and one national artist each month. Each Listen Live event is free for all to attend and will be broadcast live on 88.1 FM and on our YouTube channel.