Listen Live
KDHX Listen Live and Local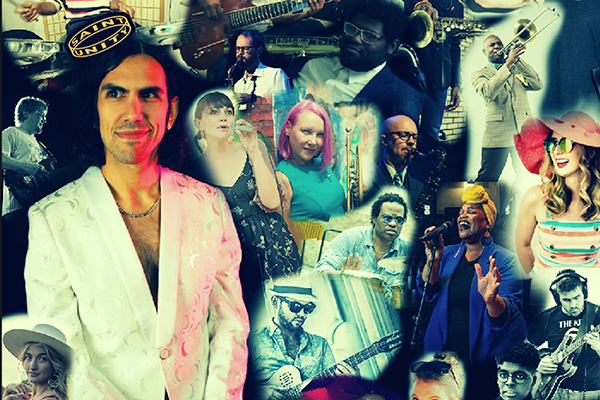 KDHX Presents Listen Live & Local With Ryan Marquez's "Saint Unity" feat. Anita Jackson & Lola Kristine
KDHX Presents Listen Live & Local With Ryan Marquez's "Saint Unity" feat. Anita Jackson & Lola Kristine
Join us on Tuesday, September 7, at 7:00 PM ct for Listen Live with Ryan Marquez's "Saint Unity" feat. Anita Jackson & Lola Kristine. This online event will stream live on the KDHX YouTube page at YouTube.com/KDHX with a portion also broadcasting live on 88.1FM.
Sponsored by Missouri History Museum.
---
From ryanmarquez.com
Missourian Ryan Marquez is a keyboardist, producer, songwriter, arranger, and vocalist baptized in blues, indoctrinated by jazz and raised in hip-hop culture. "Passionate in everything he does" (WSIE 88.7, "The Sound''), he "truly embodies the creative collaboration…essential to moving St. Louis forward full steam ahead." (Regional Arts Commission of STL) His music represents a diverse ecosystem of  "feel good vibes" that he channels by infusing his fluent Jazz piano skills, a Pop songwriting style influenced by Stevie Wonder & Gil Scott Heron, with extracted flavors from Progressive R & B & Conscious Hip-Hop. 
His recording and performance credits include Grammy recognized artists such as Terence Blanchard, Kirk Whalum, Fred Wesley, Chance The Rapper, Ernie Isley & more. Ryan's production credits include work with Grammy recognized producer/engineer(s) Carl Nappa & Tony Black. (The Hit Factory) His original music has been featured on The CW, ESPN & FOX networks.
Ryan's jazz trio, projects Fresh Heir (Pop/Soul), The Belief Cycle (Pop/Dance) & The People's Key (Jazz/Funk) have been staples in the Midwest for nearly 2 decades with an extensive show list, discography & accolades respectively. No matter the outfit, Mr. Marquez sits squarely in the center of the upswing of creative energy in St. Louis. His new album "Saint Unity" brings together an all-star cast of STL jazz musicians.
 The eldest member of his projects, Fresh Heir (pop/soul), serves funky spirited messages with rippin horns, blazing guitar/keys and features groove master Nick Savage on drums/vocals. The band has had the opportunity to open up  for jam band legends John Scofield, Medeski Martin and Wood, Dumpstaphunk, The Nth Power and more.   For the "Feel Good Music"  vibes, tune into The Belief Cycle, his Pop/EDM production team with Drew Mantia.  Featuring house styled beats with emotionally driven lyricism, the duo combines the "fun at the club" atmosphere with inspiring messages of love.
For jazz lovers, his organ group, The People's Key, creates reimagined versions of popular classics from a modern songbook.  With four releases to their credit the soul jazz group is the best of the KC jazz and STL soul sound. He also has released 3 albums in the piano trio format, the most recent being "It's About Jam Time" (2020) featuring music from artists Chicago, Dave Brubeck, Spiral Staircase and more.
In the year of "The Corronassaince", aka 2020, Ryan released 2 full length Pop albums.  His first full length release as a vocalist: "I AM RAM" features his original music, projects Fresh Heir, The Belief Cycle, and best gal pals Lola Kristine & Sara Vicemore. (tinyurl.com/2d298y23) "Celebrate", a collaborative release with Drew Mantia/The Belief Cycle is a dance party front to back and features Ryan's keyboards/synths throughout and voice on "Boogie Tonight". (https://tinyurl.com/58a6hcxw)
Currently Ryan is campaigning a new jazz/pop release "Saint Unity'', a record that incorporates the spirit and larger narrative of the current artistic renaissance and cultural climate present in St. Louis. Produced by the legendary Carl Nappa (Hit Factory) and Lenny Mink for Lotown Records, the album features 20 vocalists and musicians powering Ryan's originals and jazz interpretations of hits from the world of rock - including songs from Smashing Pumpkins, 311, The Beatles and more.
Mr. Marquez sits squarely in the center of the upswing of creative energy in St. Louis, and brings together an all-star team of musicians in the name of "Saint Unity."