Music News
Music News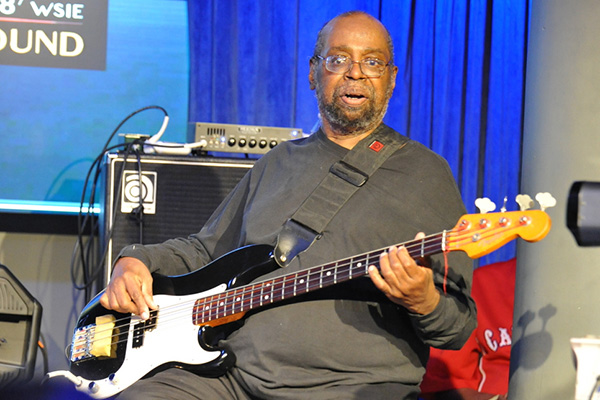 Jimmy Hinds: The Sound of St. Louis
By Ronnie Wisdom
Jimmy Hinds was a young teenager in early 1960s when he and his brother discovered a record store on Natural Bridge Road in north St. Louis. They would hang there for hours looking through the record bins. Hinds sensed something special about the place, but didn't know what it was. What he did know was that when they got to the cash register with records and no money the owner, Oliver Sain, would smile, sell them the records on credit and tell the boys, "I know where you live." It was the start of a relationship that would define the sound of St. Louis.  
Born on January 9, 1950, Hinds was a Homer G. Phillips baby who grew up with a mother who loved art, a harmonica and guitar-playing father, five brothers and two sisters. In their North Market Street home his dad would only allow records by Howlin' Wolf, Lightnin' Hopkins, Muddy Waters, B.B. King and Bobbly Bland to be played. No James Brown for him. Hinds, the second oldest boy, was one of the six siblings who would become musicians. Four of them, including Jimmy, were drummers. However, he was always the music director in their legendary third floor "Music Room" which was also doubled as his bedroom.  
The Third Floor Education
The 45s from Sain's record store became the tools that Hinds used to learn music. To this day, his brothers are still amazed at how good Jimmy was with tools and needles. "He would break down records on their stereo into individual tracks," his brother Jerome said, "so he could learn each part." His brother June Hinds remembers the many times he would find "Jimmy laying on the floor surrounded by 45s listening and practicing."  His ear for the right sound and precision would become a career-defining work ethic.  
Music, the third floor, and Sain's record store (which became Archway Studios in 1965) were central to the Hinds family life. June Hinds remembers how "the music grabbed all of us and kept us out of trouble and if we were doing wrong my mother would threaten, 'I'll go tell Oliver.'" Jimmy Hinds controlled all the music on the third floor, as well as downstairs at his parent's card parties where he played DJ for tips. As he learned the music he would go back up to Natural Bridge to show Sain his moves. "I knew there was something more going on there from the first time I went in and I knew he saw something in me," Hinds reminisced. 
At the beginning of high school (1964-68) Hinds was singing doo-wop as part of a group called the Concepts with his brother Leonard and two other brothers, Andre and Michael Jones. They achieved a fair amount of local recognition. He said he learned the bass out of frustration. "Our bass player was so bad I would take his Gibson EB2 bass home to learn the songs and teach him." But, his drive for perfection wasn't just the bass as his brother Jerome Hinds tells it, "During a show Jimmy would stop singing if the music was wrong and turn his back to the audience and fix the band."
That got Hinds started on the bass, but it was the sound from Motown's legendary Funk Bothers bassist, James Jamerson, that got him hooked. Self-taught through records and constant practice, he said, "I mastered Jamerson's open string technique and learned how to control the strings so they don't hum and bump into each other."  Chuck Rainey, a legendary New York bassist and studio musician who played with Aretha Franklin, The King Curtis All Stars and toured with the Beatles was another favorite.   
The third leg of Hinds musical stool was jazz bassist Ron Carter, whom he met through an Oliver Nelson Jazz Clinic at Washington University. "I was all ear and didn't know anything about notes," Hinds recalled. "He taught me to respect the neck of my bass and how scales were executed in different positions. He taught me how to spell – the musical notes. It opened the door of knowledge for me about knowing your music and knowing what you're doing."  
Going Pro
By the end of high school Hinds was making a name for himself playing with The Magnificent Seven in east side clubs. He laughs when he says, "at the time we were Oliver Sain's nemesis for popularity in town." At 19 he turned professional, began playing in Sain's band, The Oliver Sain Revue and started recording for him. One night in 1969 Sain's band opened for Bobby "Blue" Bland. When Bland's bass player was a no-show he grabbed Hinds to fill in. He liked what he heard and offered him the slot in the band. "Oliver wasn't happy, but he understood because he was a pro," Hinds said, "he knew it was a step up for me, the same way Little Milton was for him." 
Unfortunately, with the Vietnam War raging, the government had other plans. After his first show as a member of Bland's band, his draft notice arrived back home. By the end of the year, he had been inducted into the U.S. Army 2nd Division. He was stationed at Ft. Hood, Texas as an MP and band member. He had never played upright bass, but when auditioning he proved he could. The assignment turned out to be a lucky break. To keep the core of the band intact, the Army kept its best musicians like Hinds stateside.  He once was pictured on the front page of the Army Times exiting a Huey helicopter holding his bass overhead.   
Following his two years in the service Hinds returned to St. Louis and immediately headed to CMC and KBK studios to see about staff musician opportunities. They had no idea what he was talking about so he headed over to Archway. Hinds knew he wanted to record but even more than that he wanted to become a producer and arranger. That was fine with Sain who knew Hinds focused approach to his Fender Precision bass and his ear for music. 
Oliver and Archway Records
Being a studio musician takes a different temperament according to Hinds. "People who think playing in a band will get you into a studio are wrong. There's a much higher standard in recording," he said. "You gotta play with precision, no raggedy unkempt sound. The engineer will tell on you."
His friend Bob Lohr, who played piano for Chuck Berry for years, agrees and thinks Hinds is one of the best: "It's like playing under a magnifying glass. I consider him the St. Louis answer to James Jamerson. He can play any kind of music although his first call is for blues, soul and R&B" 
Working at Archway gave Hinds the full range of experience. It was a business where time was money and there were always others waiting to record. Bands wanted to make 45s and sell enough of them to get an album. Sometimes Hinds would see something in a band, but other times he had to learn to let go and follow Sain's business advice: "Leave it alone Jimmy, don't try to fix it. You can't polish or perfume a turd."  
In the studio he became an arranger and music director working closely with guitarist Phil Westmoreland under the tutelage of Oliver Sain. "He helped me and I helped him, we exchanged favors" Hinds said. "I filled in with his band as needed and he gave me authority in the studio." Sain also kept an eye out to be sure Hinds had the respect of the other musicians. "I did," Hinds noted, "because I learned the musical material better than anyone else and Oliver knew that I knew."
On the business side, Sain managed the relationships with the stars and kept the studio filled with state-of-the-art recording equipment. In the studio, Hinds was the musical director with both engineers and musicians, playing their instruments as needed for a recording. They found their differing styles to be complimentary. "Oliver had a country boy ear, but was a stone bluesman," he said. "I had my blues, but I was a Motown baby with clarity in hearing everything. We had two different ears so our mixes sound different, but there was no conflict because we came from the same place. We were bluesmen."  
The 30 years at Archway were rewarding. Hinds became everything he aspired to be. Even as the most-recorded bass player in town, he was better known for his arranging prowess. His stamp is on generations of bass players because if you wanted to play in Sain's band you had to learn Hinds' bass lines. Others, like Sharon Foehner, another outstanding local bass player, were drawn in just watching him play. She tells how that technique and control dazzled her when she moved to St. Louis in 1987. "I went to see The St. Louis Kings of Rhythm – a supergroup with Jimmy Hinds on bass. It was mind-blowing. I stared at him all night and between breaks we would talk and he would teach me bass lines."
What Hinds admires most about Sain was the fact he brought his record industry experience (and Fontella Bass) from Chess to St. Louis. "A lot of us would never have seen the technology or how to use it. White studios were very uncomfortable to work in. They didn't want us [black musicians] learning the business. Oliver opened the doors for the black community to learn about music and music production."  
Remembering the Good Times 
When you ask Hinds about any favorite memories you get a long pause and an admission that, "as a band leader there was so much going on and I was so focused that it is hard to single one event out." Then the memories start to roll: the first Fontella Bass European tour, the 1982 Larry Davis album "Funny Stuff" with Johnny Johnson (piano), Billy Gayles (drums), Jimmy Hinds (drums/bass), and Oliver Sain (sax/horns), playing with Percy Mayfield in 1984 in Long Beach CA (he died the next day), the Oliver Sain Soul Reunions at Mississippi Nights (1988-1998, musical director), and the 2006 Bo Diddley tour.   
The 1986 and 1987 St. Louis Kings of Rhythm European tours got a special mention from Hinds.  It was an all-star cast of St. Louisans including several veterans of the original Ike Turner's Kings of Rhythm line up: Clayton Love (keyboard), Billy Gayle (drummer/vocalist), Robbie Montgomery (vocalist), Stacey Johnson (vocalist), Oliver Sain (sax), Jimmy Hinds (bass) and guitarists Darrel Darden (1986) and Marvin "Buzzy" Morton (1987). The band was officially appointed as ambassadors for the City of St. Louis by Mayor Vincent Schoemehl.   
Another favorite was the extended Phil Driscoll gig at the Chase Park Plaza Hotel in the early 70s. At the time, Driscoll was a national figure in R&B and rock. Hinds said the job made him the envy of every bass player in town. "They paid $600 a week and it came with a room. It was big money and set me apart." Getting the room was an issue. June Hinds laughs when telling how the Chase owner, Hal Kopler, eventually had to give in saying, "he gets one room, only one room."  The Hinds brothers loved hanging there while making good use of the room service.  
And, there are memories of other studios along the way. There was a job with Ike Turner's studio in Los Angeles where he ended up playing drums because Turner knew he could. Then there was the one that didn't happen. In 1978 he signed a deal with Motown and Gwen Gordy Productions (Barry Gordy's sister) to produce some girl groups. But, without telling anyone, Gordy abruptly sold Motown. The sale immediately cut off all the funding and Hinds had to walk away. It didn't matter, Archway was always his home, he said.  
Commitment and Family
The one thing you learn when interviewing Jimmy Hinds is that he prefers long-term commitments. While he traveled and played with many acts over the years, he liked regular jobs. Archway was his day job and at night it was Hilary's in Soulard. He formed Hilary's Coalition in 1977 to be the house band. Five years later, when the club owner told Hinds he needed to get a female vocalist, he knew exactly who to ask. It was that sweet girl he met in fourth grade, his buddy Marvin Evans' twin sister, Marsha.  There was never a doubt in Hinds mind. "In music," he said, "the one they [other singers] fear is the one you want and they all feared Marsha." In 1982 the band became Marsha Evans and the Coalition. They would play 4-5 times a week for decades. 
Evans had grown up in music. Her father, Leonard Bolar, was the lead trumpet in the jazzy George Hudson Band when his 16-year-old Marsha joined their singers, The Georgettes. Becoming a big band jazz soloist and working with the acclaimed mini Motown East St. Louis model cities program, the Young Disciples, paid dividends. It led to a lifelong-friendship with another extraordinary bassist, Gus Thornton and ultimately to meeting Oliver Sain. She became a mainstay at his Archway Records (vocals and background) and with his band. 
Ironically, Evans and Hinds never really saw each other at Archway. Marsha was a full-time teacher so their schedules put them in the studio at different times. But, they were always aware of each other's music. When Hinds approached her about joining The Coalition she jumped at the opportunity. Once they started, Hinds said, "I knew I would never want to work with anyone else." Evans smiles when she talks about how easy it has been. "We always understood each other musically since the beginning and he allows me to be a creative artist. He is the very best at his craft." Getting married sealed the deal for life. 
No surprise there because, in Hinds' world, music and family have always gone together. Evans remembers her brother and Jimmy drawing pictures and talking music in grade school. He and his brother Leonard started the Concepts in high school. His brother Kent was The Coalition's drummer for many years until he moved to Los Angeles. June, a percussionist, has played with Jimmy through the years and Jerome fills in on drums as needed. But, it is Evans that is his musical muse. They were so attuned to one another through background and decades with OSain that both have said, "we did all kinds of music so we never had to rehearse." 
A St. Louis Story
Hinds 50-year career has been a search for musical perfection. It took a good ear, hard work and endless practice to get it right. His good friend, Thornton, another renowned bass player, knows he found it. "His tone is distinct, solid, and strong. It's directional like James Jamerson," Thorton said. "He is a leader; somebody you would follow." 
And, if you don't, Hinds will let you know. "I'm the old guy who gets on you heavy if you can't shuffle." He worries that young players make a mistake in going for speed and that the rise of the keyboard bass is replacing real bass players.
When asked, "what is the St. Louis sound" Hinds answer is simple. "Listen to my music."  
This article is co-published by the St. Louis Blues Society and KDHX.
Be sure to check out a collection of photos featuring Jimmy Hinds.