Music News
Music News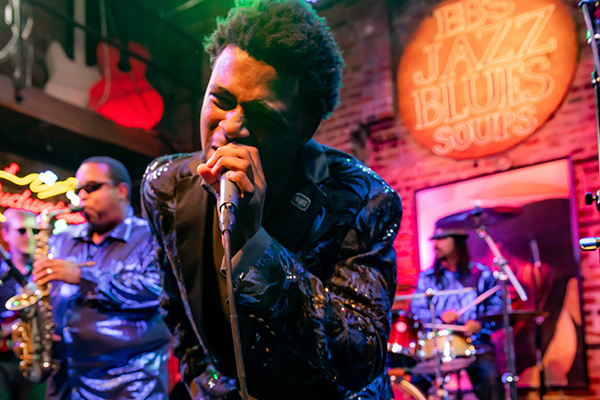 The St. Louis Blues Keep on Rollin'
By Bob Baugh and Bill Motchan
St. Louis sits at a big bend in the Mississippi River. Our blues, like the Big Muddy, may twist and turn and change direction but they keep rollin'. One bend might reveal the traditional acoustic driven blues of the Bottoms Up Blues Gang, Tom Hall's resonator or Brian Curran's finger pickin'. At another it's the blues soul of Roland Johnson, Eugene Jackson, Renee Smith and Kim Massie. A landing might bring the electric blues of Jeremiah Johnson, Rich McDonough, Jeff Chapman or the jump blues of Sweetie and the Toothaches and the horns of the Funky Butt Brass Band. 
All our blues play well together. They keep rollin' with established players being joined by a newer generation. Here's a sampler of the variety of blues to look for when you visit. It begins with our up and coming talent. 
Dylan Triplett
Little Dylan Triplett has the stage presence and confidence of an old pro, but he only recently turned 19-years-old. "My entire family is pretty much musical," he said. "We've always been singing to one another, some of us have picked up instruments, too. My brother plays keyboard and drums in my band, my father plays sax in my band."
One of Triplett's early R&B performances came early in 2017 when he sat in with Carolyn Mason, another reemerging St. Louis soul artist with Motown roots. "I was doing regular spots with her at the National Blues Museum," he said, "and I kind of branched off on my own after a year or so of doing it."
Triplett's father, Art Pollard, has been an important booster of his talent. He still remembers when his father told Dylan, "You got a voice on you!" He recommended his son listen to a variety of genres and musicians, from Michael Jackson to Stevie Wonder to George Benson and Al Jarreau.
That may explain Dylan's affinity for different styles. He's currently working on a new album that will include the blues, but also include jazz and a little rock, too. Triplett considers as influences St. Louis legends like Henry Townsend, David Dee, Kingfish and Charles "Skeet" Rodgers. His mentor is another St. Louis blues master, Marquise Knox, who recently opened for ZZ Top. 
Matt "The Rattlesnake" Lesch
Matt "The Rattlesnake" Lesch's electric blues guitar can be heard in two versions. One is playing lead guitar for Big George Brock and the House Rockers; the other is with his own band. In either case, he can groove or shred with the best of them. His first album, Furious Strike, drew the praise of Big City record reviewers last February. 
What began with a video game, Guitar Hero, at the age of 10 turned real with a guitar at 12. Stevie Ray Vaughn, Jimi Hendrix, Albert King, Freddy King, and BB King all influenced his development. By age 15 he was sitting in with local bands and at 17 Big George Brock put him on the payroll.  "Blues is about a feeling," Brock told one reporter, "Matt can feel the blues, and he can play the blues."
Now 21, Lesch is a talented work in progress. He continues playing as much as possible while attending Webster University as a music major. He is adding jazz to his repertoire and expanding his improvisational skills.  Onstage he is backed up by two previous House Rockers, Tecora Morgan (bass) and her brother Riley Morgan Jr. (drums) and Luke Sailor (keyboards).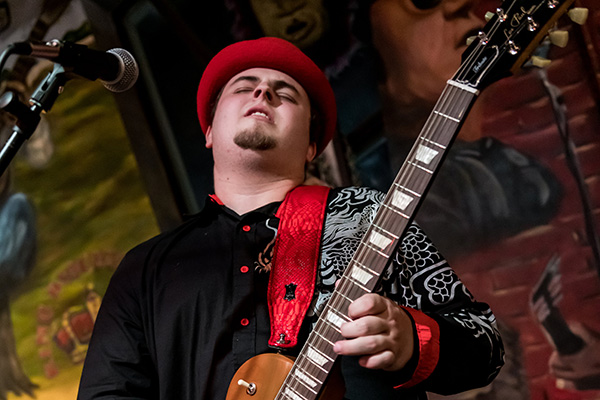 Annie and the Fur Trappers
When Annie Linders takes the stage and plays the first few notes on her trumpet, she enters a Zenlike state. "All your troubles seem to melt away when the music starts," she said. "That's a pretty cool sensation when it happens."
Linders is the 29-year-old leader of St. Louis-based trad jazz band Annie and the Fur Trappers. Their new album, released in late November, is a mash-up of blues and jazz. The ability to improvise is one of the benefits of being a St. Louis band, she said. "Our new album leans more to a blues ear but it's a blend, and that's kind of a cool thing about St. Louis, that we take influences from the Chicago style and a New Orleans style and combine it to our own style."
Linder's began playing trumpet when she was in the 5th grade. Through high school and college, she honed her musical skills. She sticks with brass, her primary instruments being the trumpet and trombone. She also is the Fur Trappers lead vocalist.
She takes inspiration from the greats of trad jazz like Memphis Minnie, Louis Armstrong and Bix Biederbeck.  "Lately I've been listening a lot to Fats Waller," she said. "I like Bunk Johnson and Lonnie Johnson as well, a St. Louis guy!"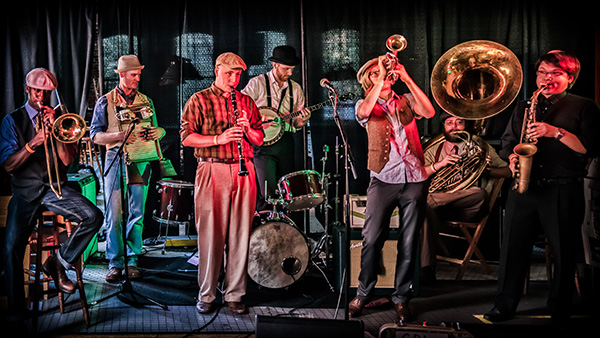 Al Holliday 
Experiencing Al Holliday and the East Side Rhythm Band for the first time is a revelation. When all ten band members begin to play – my-oh-my. Holliday leads, attacking the keyboard while the rhythm section pounds out a relentless beat, the horns reply and as his gravelly growling voice ramps up and the backup singers weigh in, it's magic. Your body begins to sway and your feet start moving.  
According to 31-year-old Holliday, the big sound he has developed, "is inspired by the regional and R&B sound and artists that do their own natural thing." Leon Russel, Joe Cocker, Allen Toussaint, Bonnie Bramlett (Delaney and Bonnie) and Taj Mahal are on that list. But the eastside holds a special place in his heart because it's the place Ike and Tina Turner defined blues, soul and R&B.
Holliday, a prolific writer/arranger/producer, leads the show with electric vocals, guitar and keyboard work. He is backed by an ensemble of talented local musicians: Alexandra Sinclair (keyboardist/vocalist) Hilary Fitz (vocals),  Ania Cook (vocals), Ryan Torpea (trumpet), Derick Tramel (baritone sax), Zac Minor (tenor sax/flute), Caleb Klinger (bass), Matt Lyons (guitar) and Jared McFarland (drums). 
Holliday has six albums to his credit with two more in the works. His September release, All St. Louis Revue Vol. 1, was a collaborative project that features his band and array of local artists. He recently toured Germany and the Netherlands.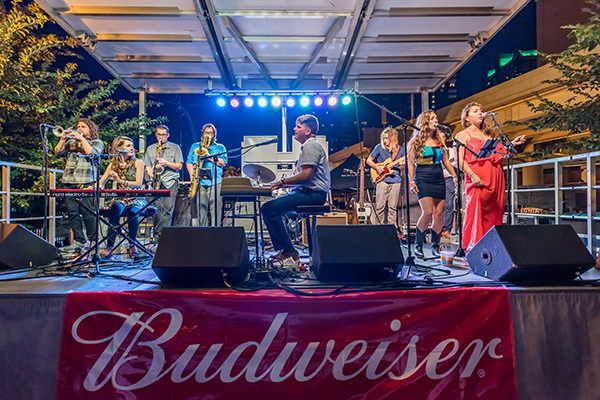 Ethan Leinwand and Valerie Kirchhoff
Five years ago, Ethan Leinwand bought a one-way ticket to St. Louis, in his quest to master barrelhouse blues. He has achieved solo success, and as a member of three bands: the Bottlesnakes, the St. Louis Steady Grinders and Miss Jubilee and the Yas Yas Boys. The latter is fronted by the remarkable Valerie Kirchhoff, who possesses a magnetic personality and a golden voice. Kirchhoff sings low-down blues, hokum, and hot jazz.
Leinwand, now in his mid-30s, had tinkered with the piano on and off for years, which he was doing at a party. "It turned out that someone who was there was building a piano bar in Brooklyn. A few months later I got a call, with a question: 'Hey, I heard you play piano, will you play our soft opening?' I started playing there four nights a week. I quit my job as a waiter, and that really started me on this journey." Kirchhoff started her band Miss Jubilee in 2007. Her influences include blues singers like Bessie Smith and Victoria Spivey.
Leinwand and his Bottlesnakes band will be releasing a new album before the end of the year with all original blues and jazz songs. The Steady Grinders, who specialize in blues and jazz form the 1920s and 1930s, are planning a trip to California in February. Miss Jubilee will be heading into the studio in January to cut a new album.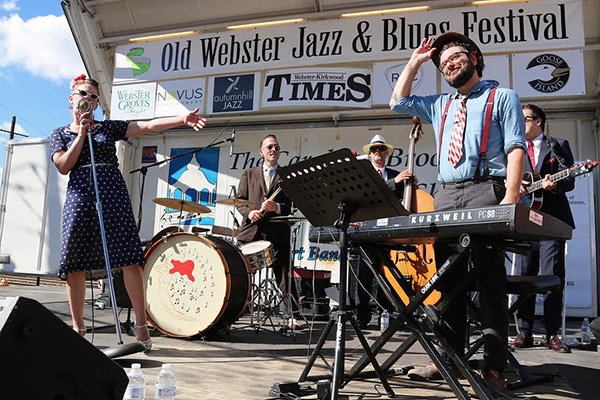 Jake Curtis
When the Jake Curtis Blues Band launches into a cover of Bo Diddley's "Who Do You Love?" regular audience members have come to expect just about anything. Like when Jake segues into a call-and-response military-style cadence. 
Curtis, who won this year's regional IBC competition, fronts a stripped-down three-piece band that interprets the blues in their own unique fashion. They take their inspiration not only from a drill sergeant but jazz and any other genre of music that strikes their fancy. That's not surprising, given that Curtis' day job is working for the U.S. Army. He's led a compartmentalized life for some time now. "Got my blues hat on right now," he said, "and tomorrow, I'll have on a camouflage cap."
At age 22, Curtis joined the Army, a career that's taken him from Decatur, Illinois, to Germany, to Indianapolis. Early on in his military life, Curtis decided he needed a creative outlet. He went to a pawn shop, bought an acoustic guitar, and the rest is history.
Curtis now lives, works and plays in South St. Louis, also home to one of his favorite venues, Hammerstone's. It's located in the historic Soulard neighborhood in a building where – according to legend – a drug store sold bootleg liquor from the back door during Prohibition. Hammerstone's is also where Curtis released his first album in early December, titled "Tales From The South Side."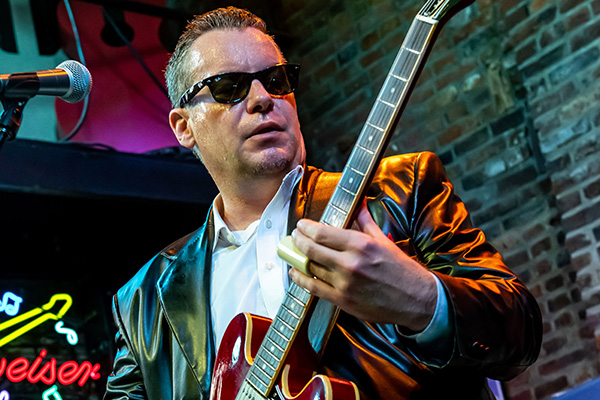 The Fabulous Foehners
The Fabulous Foehners bring the basics to their performances, two great guitarists and terrific vocals. Doug, a superb slide guitarist and Memphis Minnie addict, says Sharon "likes to pick songs that are pleasant to the ear and to mix it up, a little blues, a little jazz." A recent show included Memphis Minnie, Louis Jordan, Big Bill Broonzy, Howlin' Wolf and Son House. 
Sharon, an exceptional bass player, learned her licks beginning in the mid 80's from jam sessions and legends like the great ragtime piano player, James Crutchfield. In 1989 she sat in on bass with his band at the Venice Café and kept coming back until the band demanded she become a member.  
Foehner went on to blaze a musical trail forming the Urban Blues Express with Bennie Smith in 1995.  She has performed with Oliver Sain, Johnnie Johnson, Rufus Thomas, Etta Baker, Henry Townsend, Kenny "Blues Boss" Wayne, Big Bad Smitty, and many more. 
Both Foehners play in other bands as well. Sharon regularly plays with Rich McDonough in his band, Rough Grooves. Doug slides in with Raw Earth and their Casbah-ssippi style, blues with a twist of West African pepper and North African spice.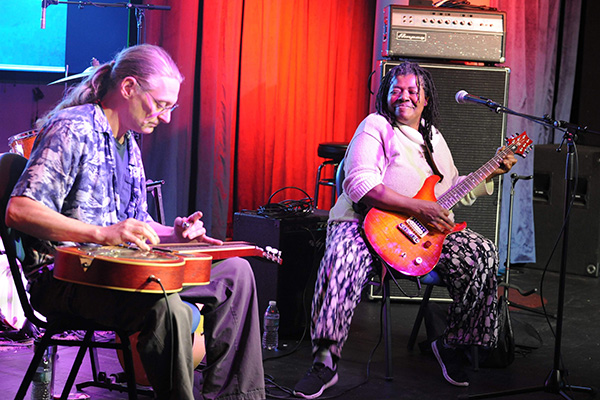 Lady J Huston
When Lady J whips out that trumpet and begins to blow you know the show has started. This multi-talented multi-award-winning artist with ties back to Albert King brings an easy rapport, an outstanding band and a mix of Jazz, Blues & Classic Soul to the stage.   
A 1980 performance with Johnnie Johnson led the 19-year-old to an audition with Albert King. He liked what he heard, clean notes, and the fact she could write music. The advice of bassist Frank Dunbar was essential, "learn vocals so that you can open the show." Over three years she moved from trumpeter to horn section leader to Music Director and Opening Act. She left the band to go to Howard University as a music major. 
Life and work would take her to Las Vegas for 25 years where she won awards for Best Blues Band and Best Blues Performer and was heralded as "The Las Vegas Queen of the Blues." A debilitating illness brought her back home in 2013. It wasn't until mid-year 2018 that she was able to return to the stage.  
Recording her own song, Hide Away, for the STLBS 18 In 18 CD helped announced her return. "The foundation is a blues ballad that expands the standard blues chord progressions," Lady J explained, "and mixes in some jazz elements like Duke Ellington and Count Basie and some upbeat funk." St. Louis fans are happy to have Lady J's blues and funk back in town.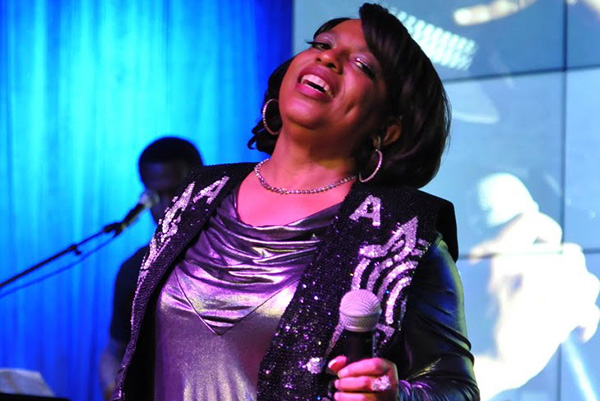 Photo credits: Little Dylan, Annie Linders, Annie and the  Fur Trappers, Al Holliday, Al Holliday and the East Side Rhythm Band, Jake Curtis - Reed Radcliffe/TripleRPhotography 
Miss Jubilee/Ethan Leinwand - Bill Motchan
Fabulous Foehners and Lady J Huston - Bob Baugh
This article appears courtesy of Big City Rhythm and Blues magazine.