Music News
Music News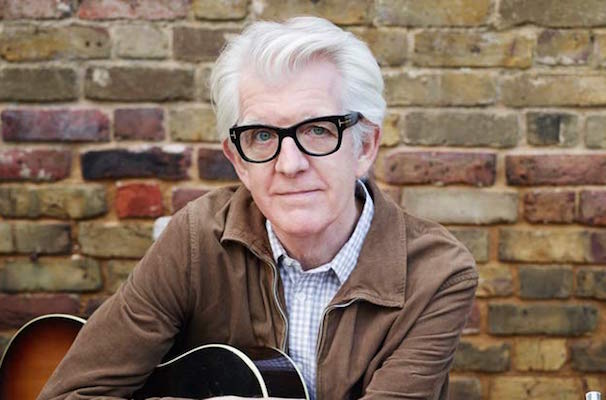 New Old Magic: An Interview with Nick Lowe
By Robin Wheeler
Nine years ago, singer-songwriter-producer Nick Lowe told the New York Daily News that he didn't want to turn into a "tragic" aging rock star caricature, doing the same act he did as a young man. At age 67, Lowe's commitment to age gracefully is as revolutionary as the clever, melodic songs he wrote and artists he produced almost 40 years ago. A few hours before kicking off his current tour in Minneapolis, Lowe spoke about his current preference for songwriting over recording, his love of American music in the hands of British musicians, and how his work continues to evolve. He'll perform a solo acoustic set at The Pageant on Tuesday, October 18 with opener Josh Rouse.
Robin Wheeler: Aside from the Christmas albums it's been five years since The Old Magic came out. I'd like to catch up with what you've been doing creatively since then.
Nick Lowe: Rather disappointingly, not much. [laughs] I haven't exactly been idle. I suppose I'm not so driven to make records of my own at the moment. I'm still writing songs. I've started going to Nashville, for instance, and writing for other people. I've made a lot of records, and they all make a profit eventually. It's incredibly expensive to make the kind of records I make, with real musicians in a recording studio. That's why no one is doing that anymore. They're doing it all with computers -- and there are some great records made like that -- but I just don't know how to do that and I'm getting a bit too long in the tooth to learn how to do that. I'm much more interested in writing for other people and getting other, younger artists to record my songs. I might change my mind. I've got quite a good store of songs. I'm much fussier now than I used to be. I'm not as prolific now as I used to be. Or maybe I am but I'm much quicker to say, "Ah that's not good." I do have a few pretty good ones, so there might come a time when I change my mind.
RW: Who have you been working with?
NL: I arrived in Minneapolis the day before yesterday [October 9], and I met with a fantastic act of two brothers called The Cactus Blossoms who opened for me when I was touring with the Christmas album, backed up by Los Straitjackets. I came to town a bit early to see if we could write something before they left for Australia today.
RW: I've always been interested in how you came up as part of this group of British artists who, in the late '70s and early '80s, were making American music better than Americans were making it. What motivated you from the beginning to work with these strongly American influences, like early country and rockabilly, and what continues to motivate you?
NL: You mean that mysterious connection that Brits seem to have with American music [laughs]? It's something that comes from my mother. She was very musical. She taught me how to play the guitar, just two or three chords. She had a few really good records that most middle-class families had in the 1950s -- Frank Sinatra, Doris Day, Peggy Lee, show tunes. I played these records over and over again. In amongst them, I don't know why she had these records, but she had two records by Tennessee Ernie Ford. I'd never heard anything like that. Something happened when I heard that. I thought he was so fantastic, and still do. I never got over it.
When I got a little bit older we had this fellow in the UK called Lonnie Donegan who started skiffle. We didn't know it at the time but he was playing a lot of Leadbelly, so we were getting this lesson as well in how this stuff went. It was very easy music to play and you could get a groove going very, very easily without much talent. It was the best thing, really, that we had on the radio unless other American music was playing. The pop from England, aside from Lonnie Donegan, was really hopeless.
In my case my father with in the RAF [Royal Air Force] and I spent my youth abroad, wherever he was stationed. There was usually an Armed Forces Radio Network nearby, and you could pick it up. That's when I heard people with names like Howlin' Wolf and Ferlin Husky. I mean, what the hell is a Ferlin Husky? Howlin' Wolf? What does he look like? I just thought it was the most fantastic thing. I never got over it.
Nowadays, I know a bit more about it and how it works. As much as I still love American music, I love what happens to it when it goes across the Atlantic and we sort of mess with it. That's the way it should be. It's ridiculous for someone like me, someone who comes from the south of England, to try to sound like he's from Alabama and went to Nashville. Some people can do that, like The Shires. Good for them, but it's silly for me to do that.
RW: The last few times I've seen you, I've appreciated that you're not being a traveling greatest hits act. I know the changes you've made to "(What's So Funny 'Bout) Peace, Love and Understanding" have been discussed, how you've taken the cynicism out of it and turned it into something very poignant. How did that come about?
NL: I did make up my mind at one point that, if I was going to have any longevity in this business, I was going to have to learn how to write songs -- this was quite a long time ago -- and I'm going to have to find a way to use the fact that I'm getting older as an actual advantage, instead of trying to disguise it. We all do that, no matter what walk of life we're in, but in music especially. I didn't want to just play to the same people, the people who, God bless them, discovered me when they were kids -- and when I was a kid -- and have stuck with it, and I'm still trying to behave like I'm a kid so they can relive their youth. There's plenty of people who do that, and I feel very sorry for them, but I really, really don't want to do that.
RW: When I see artists doing that, all I can think is that it must be exhausting.
NL: It's exhausting. That's quite right. And humiliating as well. I thought if I get this right, and sometimes I do and sometimes I don't, but if I can mostly get it right, I won't just play to my old fans. I'll be able to bring new people in, younger people who'll dig it and get a kick out of it. You won't see much stodgy old folk stuff. It'll be funny and entertaining. Really, that's how it's turned out to be. I get quite a few younger people, people in their late 20s, and they have a great time. They really enjoy it, alongside the older people. I've lost quite a lot of my old audience, because they're not rocking anymore, but I can cope with it.
RW: What can we expect to see from you in St. Louis?
NL: When I say I have to do some songs, I don't feel like there are nooses around my neck. I love some of these songs that are really well-known. Strangely, though, this touches on something you said earlier; sometimes I'll hear my old records, the original versions played on the radio, and I can't believe how much they've changed. It's not because I set out to change them. I suppose if you set out to play acoustic versions of them, you can't really copy what the full amp sounded like. But if the song's good, I think it can take that and people can still enjoy it.
At any rate, I play quite a few of the songs I'm known for, but also a lot of others, some that I haven't recorded but people seem to really enjoy them. They fit in with the other songs so it's a real mixture of old stuff, like "Peace, Love and Understanding," which is the oldest song I do, to brand new stuff. I don't do too much unfamiliar stuff because people get sick of it, but I do ones that are fun.
Related Articles