Music News
Music News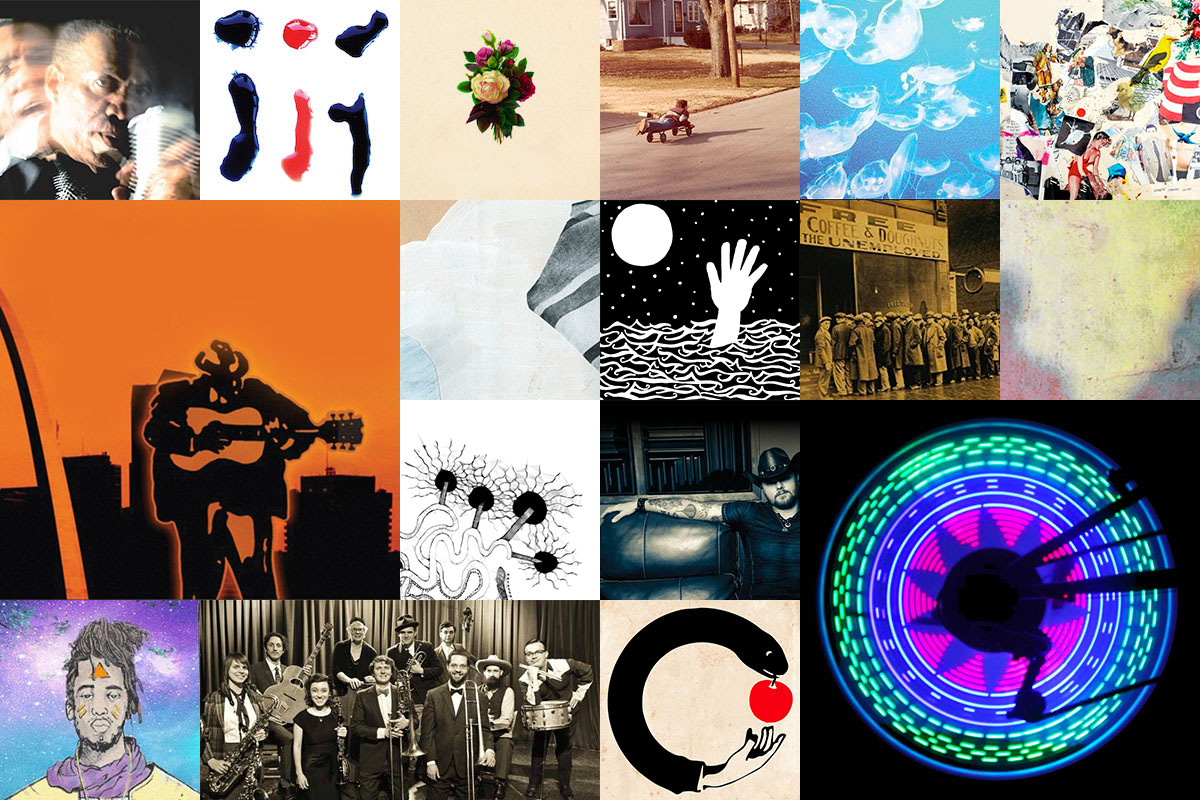 KDHX Top Local Spins of 2016
By
We always champion numerous local bands and artists on our airwaves, but 2016 marks the first time a compilation of local artists has been the most-spun album of the year. The St. Louis Blues Society's second annual compilation of its kind, features some of the best new blues coming out of the city, including Marquise Knox, Renee Smith, Rum Drum Ramblers and twelve others who contributed new recordings that have gotten a lot of attention here. It's with pleasure we announce its position at the top of the list. Read more about the release and what KDHX DJs had to say about it's representation of the city's blues scene in Bob Baugh's article, "'15 in 15' at the top of the charts for KDHX in 2016."
Other showings of note include St. Louis' Middle Class Fashion, who surprised us with an electronic indie-pop album that we couldn't stop spinning, but their new album iii isn't the band's first release to rank high on a KDHX year-end lists. And longtime St. Louis soulman Roland Johnson took a big leap forward with his stellar first album of originals, Imagine This. Guitarist, songwriter and producer Paul Niehaus was not only heavily involved with Johnson's album, but also recorded all of the new songs on the local 15 in 15 compilation. Relatively later in the year releases have also made a strong showing in only a little time, including Aquitaine's Transformation and Sidney Street Shakers' Laugh My Weary Blues Away as well as Goodbye Terrible Youth from American Wrestlers.
Browse the Top Local Spins below and you'll recognize many of the names from our Top Album Spins of 2016, which includes artists from all over. But dig into any entry on this list and you may come across a new St. Louis favorite.
| | | | |
| --- | --- | --- | --- |
| SPINS | ARTIST | ALBUM | LABEL |
| 159 | Various Artists | 15 in 15 | St. Louis Blues Society |
| 99 | Middle Class Fashion | iii | self-released |
| 71 | Roland Johnson | Imagine This | Blue Lotus |
| 57 | Sleepy Kitty | Flux EP | Euclid |
| 50 | Cave States | True Life | Undertow |
| 47 | The Green McDonough Band | The Green McDonough Band | self-released |
| 43 | The Vondrukes | On This Ride Together | Single Street |
| 40 | The Fade | The Fade - EP | self-released |
| 36 | Kenny Rice | House Party | Jam Jar |
| 36 | Kingdom Brothers | Times Hard | Groove Ready |
| 35 | Southwest Watson Sweethearts | Endless Horizon | Big Muddy |
| 34 | Brothers Lazaroff | Dangerous Times | self-released |
| 34 | The Aching Hearts | Tell It To Me | self-released |
| 33 | Aquitaine | Transformation | self-released |
| 29 | Kip Loui | The Hill Recordings with JJ Loui | self-released |
| 28 | Brian Andrew Marek | "Drowner" | Rubberstamp |
| 28 | Jeremiah Johnson Band | Blues Heart Attack | Connor Ray Music |
| 28 | Mvstermind | Cusp | MM |
| 25 | American Wrestlers | Goodbye Terrible Youth | Fat Possum |
| 25 | Illphonics | Gone with the Trends | The Record Machine |
| 25 | Jon Valley | Pacific Communication | Fervid Seed |
| 24 | Jack Grelle | Got Dressed Up to Be Let Down | Big Muddy |
| 24 | Whoa Thunder | Hop to It - EP | self-released |
| 22 | The Trophy Mules | Sunset Collapse - EP | self-released |
| 22 | Town Mountain | Southern Crescent | Lohi |
| 21 | Ivas John | Good Days a Comin' | Right Side Up |
| 21 | Kevin Bowers | Nova | self-released |
|  20 | Letter to Memphis | Come on Home | self-released |
| 20  | Rev. Sekou & the Holy Ghost | The Revolution Has Come | Elevate |
| 20 | The Educated Guess | Another Educated Guess | self-released |
| 19 | Accelerando | Accelerando! | self-released |
| 17 | The Grooveliner | The Grooveliner - EP | Sweater |
| 17 | The Harmans | In the Time That You Gave Me | self-released |
| 17 | The People's | Songs from the Chicken Shack | self-released |
| 16 | Keokuk | Keokuk | self-released |
| 16 | Miss Molly Simms | Borrowed or Sold - EP | self-released |
| 16 | Old Salt Union | Cut and Run - EP | self-released |
Related Articles