Music News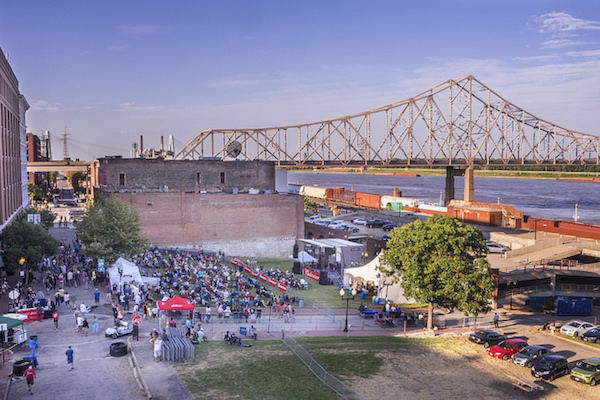 Big Muddy keeps a-rollin' along
History and music come together Labor Day weekend, September 1-3, on the cobblestones of Laclede's Landing when the 22nd Annual Big Muddy Blues festival docks by the Eads Bridge with an all local crew. The success of last year's festival and the 50 plus local bands playing this year are a testament to work begun more than 30 years ago and carried out today. KDHX is a proud sponsor of the 2017 Big Muddy Blues Festival. Look for KDHX DJs at the Lucas Stage and the KDHX Blues Band, performing from 3-4pm at the Main Stage. 
Thinking Blues and Community Building 
As documented in the second volume of Bruce Olson's wonderful history That St. Louis Thing, Big Muddy traces its roots the 1980s and a time of change in the St. Louis music scene. By the beginning of that decade Gaslight Square had been extinguished and the club scenes in North St. Louis and East St. Louis were in decline. However, new opportunities were opening up south of the racial divide of Delmar Ave. 
New clubs like Broadway Oyster Bar, Mike and Mim's, BB's, Mississippi Nights, and The Venice Café became mainstays for Tommy Bankhead, Silvercloud, Bennie Smith and many more. Capturing that energy and opportunity led to the 1984 formation of the St. Louis Blues Society. It grew out of conversations with John May, Ron Edwards, Frank Babcock and Sam Valenti. John says their goals were simple: "to organize blues fans, musicians and clubs with events to keep the music in motion." They would also be helped by the seeds of an old community radio station, KDNA, that sprouted again in 1987 as KDHX with blues musicians like Ron Edwards, Art Dwyer and others at the mike keeping the blues alive.     
Their first big event came in 1986 with first Blues Fest, a 14-hour 17 band show, held at Mississippi Nights that featured a who's who of the St. Louis Blues scene. Its success led to series of Benson Hedges Blues fests but the Blues Society wanted a larger event. So in 1992 the Society with John May and Mark O'Shaughnessy in the lead organized the 1st Annual St. Louis Blues Heritage festival on the steps of the closed Kiel Auditorium. "We made magic," May says, "with people who were magic and we did it together." 
As May can tell you in detail "putting on festivals takes money, organization, experience, crisis management and having friends help." Most people don't know that the 1993 festival was almost cancelled. Dave Beardsley remembers it well: "I was still a working fireman. That year all the Red Cross emergency services you need to have available for a festival event were tied up with the flood and unavailable. That meant no insurance. No insurance, no festival. They called the Fire Department and I helped organize a big group of volunteer doctors, nurses and paramedics to help and the show went on."  
There's the crisis moments and then there are the times when everything comes together. John May smiles when he talks about the first Heritage Festival: "I booked Lowell Fulson from California to headline. The schedule was tight so there was no practice or dress rehearsal and he was really worried about the backup band. I kept telling him 'don't worry we got it covered.' When he went on stage, Oliver Sain, Bennie Smith, Gus Thornton, Kenny Rice, Tom Maloney and Johnnie Johnson, were waiting. When they hit their first notes Lowell just stared. Slowly a huge gap toothed grin spread across his face. It never left. He couldn't believe how great they were and after the show he said 'I want to do this again.'" 
Blues Heritage to Big Muddy 
While the first Blues Heritage festival was a rousing success attracting thousands the city's response was a blanket refusal for any future access to Kiel or Forest Park. But Laclede's Landing with its historical authenticity and atmosphere would fill the bill. Moving there opened the door to more stages, more talent and more days. The festival quickly grew to two and then three days. The STL Blues Societyhad succeeded in solidifying the music community as the festival incorporated jazz, gospel, R&B, rock and blues as a community.
The rapid growth also brought problems. Working out of offices in Laclede's Landing, John May and Mark O'Shaughnessy were trying to run a major festival with volunteer labor. Even with debts rising to $150,000 in 1996 the Laclede's Landing group refused to charge any entrance fees to help offset the costs. As a result, the Blues Heritage festival rights were sold to eliminate the debt and Big Muddy was started. 
The new promoters ignored everyone's advice and moved it to Fenton. The event went bust with the promoters leaving town soon thereafter. At the same time the Laclede Landing buisinesses realized they had lost a golden goose. That led to the formation of the current Laclede Neighborhood Association which took responsibility for organizing the Big Muddy. They built a new relationship with the Blues Society which benefitted both. It gave the association ties to the music community and the society a purpose but not the fiscal and organizational responsibility. 
John May is proud of what the thirty-one years of festivals have achieved: "The festivals helped do what the founders intended. They encouraged local musicians to grow with the community of music lovers -- more professional, dress the part, act professional, play original music, and recording. That created a real product for the export of STL music." 
Great Recession to Local Direction 
The Big Muddy enjoyed a good run until the Great Recession hit in 2007. Laura Tobey the Executive Director of the Laclede Neighborhood Association and Big Muddy co-producer spelled it out: "Sponsorship dollars had dried up in the years that followed. The crowds were smaller and the demographics were 50+ in age. The Laclede Merchants were considering dropping the event. They had to find another way."  
Ann Chance from the St. Louis Office of Special Events encouraged the Association to consider other options. The city recognized the benefits of the revenue generating event but even more Chance says, "these events strengthen the city. People in neighborhoods coming together in their communities and parks eat together, listen to music together and become friends. Police say it really helps. The more active the neighborhood the lower the crime rate." 
They asked their partner the St. Louis Blues Society for suggestions. Their president, Jeremy Segal-Moss, came in with a locally oriented plan. He told them, "doing it with an all local talent base that built upon the local community and each bands fan base was the way to go. We have national touring acts and headliners like Jeremiah Johnson, Marquise Knox and Pokey Lafarge but this is their home. They are also local homegrown bands."
Moss outlined the problem with the traditional festival structure: "Most festivals around the country operate with a model that is 2/3 national/big name acts and 1/3 local. It's expensive." He also noted that the "Bug Muddy was still operating as a free event covered by sponsor fees and the association. There had to be an agreeable price point to raise revenue." 
The Association with encouragement from many others slashed the budget and rolled the dice. With Laura and Jeremy serving as co-producers they took the model and ran with it booking 45 Acts on 6 stages. They needed to work with lots of partners beginning with the bands who could help promote the festival. The Blues Society, KDHX, STLBlues.net, The Missouri Arts Council and private sponsors and vendors all stepped up to help.    
The newly opened National Blues Museum promoted the festival and sponsored pre events honoring St. Louis legends Johnnie Johnson and Henry Townsend. The Lumière Place used their Jumbotron to post festival notices and provided a fireworks show at the end of the festival. Ann Chance and the city worked them through the permitting process and obtaining services from stages and barricades to water, trash and security.    
Success, Community and a Buzz
When Labor Day weekend arrived the weather cooperated and the crowds returned in numbers the Landing hadn't seen in years. The estimated 30,000 people who came over the two days was more than double the number of previous years. The $10 admission fee didn't keep people away from a peaceful crime free family event. The age demographics skewed younger with a range of 25-75 and it played to the theme of a family event on a holiday weekend with free admission for kids under 15. The only reported incidents were two purses that went missing and even those were returned fully intact. The gamble had paid off big time with the festival turning a small profit.  
Alonzo Townsend, the MC for the 2016 festival, loved every minute of it. The son of Henry Townsend and newest Blues Society board member saw the fest as a chance to "build a community by breaking down the barriers." So in concert with Jeremiah Johnson who was playing the last set, he says, "We called the people to stand elbow to elbow, shoulder to shoulder, all together as a family. We mixed the entire audience from the front of the stage to the cobblestone street with pumping fists. It showed what we can do together, have together. It captured a moment in time that defined the future of Big Muddy and this city going forward."
Looking back, Tobey says her best memory of 2016 "was seeing the first day crowd and knowing it worked and seeing the full hillside off people chillin and enjoying the whole vibe."  Ann Chance was just as happy: "Last year was the best blues fest in the country, all local. No complaints about the lack of national names. People loved it. They came out in very big numbers and saw what great local talent we have. There is a buzz for this year." For the Blues Society it was acknowledgement that going local worked because in Moss's words, "The city turned out and stayed." 
Bigger and Better in 2017
Big Muddy 2017 co-producers Laura Tobey and Jeremy Segel-Moss are working full tilt to deliver an even bigger and better product this year. The planning got underway the week after the close of the 2016 festival. While Tobey, Segel-Moss and the sponsors were ecstatic about the success of the event they had learned a few lessons and it shows.    
The 2017 Big Muddy offers a stellar line up of more than 50 local bands and solo performers appearing on six stages. The co-producers have made a few tweaks that allowed them to expand the offerings and provide a better listening experience for the fans. 
There will be pre events on Friday, Saturday and Sunday. The National Blues Museum will again host tribute shows on their Legends Room stage starting at 12:30 pm events on Saturday for Tommy Bankhead and Sunday for Albert King. Dion Brown, the Executive Director of the NBM says "this is a great partnership that recognize these musicians while giving the thousands of fans coming to the festival a chance to hear something up close and intimate at the Blues Museum." There will also be a Friday night Lucas Stage show on the Landing that features Boo Boo Davis and Kim Massie and the Solid Senders.  
The shift to three indoor stages (Big Daddy's, Morgan St. Brewery, and Joey B's) will help in case of bad weather while avoiding having one stage play over another. Joey B's will offer a smaller more intimate setting for solo and acoustic performers. The second floor at Morgan Street Brewery has a nice wooden floor which is perfect for dancing and dance oriented bands like Sweetie and the Toothaches, The Sidney Street Shakers, Tommy Halloran's Gorilla Swing and more. The Main Stage will shut down at 11pm but the festival continues at Morgan Street Brewery with performances from 11:00pm to 1:30am. 
The broad line up features our homegrown national acts and a number of newcomers to the Big Muddy stage. It highlights the unique nature of this blues festival. There are very few cities of any size with a pool of quality talent big enough to cover a festival of this scope and size. As Segel-Moss notes, "Variety is what makes St. Louis special. We are trying for an all-encompassing expression of the blues. There will be a little something for everyone." That should sound familiar. It's just the kind of community John May, Mark O'Shaughnessy, Ron Edwards and so many others set out to build thirty years ago. 
And Now a Word from Some of the Players...
Torrey Casey has been to the last 16 Big Muddy's but this year he and 5-piece R&B band, The South Side Hustle, will be struttin' their stuff on stage for the first time. Casey has been performing all over Jefferson County for over 20 years. Torrey says, "Every Big Muddy has been a blast, but this year we get to play." "We are excited and ready," he says, "We'll be bringing our new 5 song EP Can't Knock the Hustle and our awesome vocalist Teec'a Easby." Torrey promises to deliver "plenty of soul, James Brown and lots of energy."  Torrey Casey and the Southside Hustle will play Saturday 4:45-6pm at Morgan Stage. 
Brian Curran is no stranger to the Big Muddy stage with a history that goes back to playing with harmonica master John Erblich at Blues Heritage festivals. He really "appreciates what Jeremy Segel-Moss and the St. Louis Blues Society have done for blues and the community," and says "This year feels good if not better than last year." His band, The Dust Covers, are planning a "more blues oriented selection with new material from the early '20s but nothing after 1935." See the Dust Covers Sunday 5:15-6:30pm at the Morgan Street Stage. See Brian solo Saturday at Joey B's from 4:30-5. 
Eugene Johnson has great memories from last year's festival. While performing with his R&B oriented Eugene and Company Band they went into the audience and began dancing with the crowd. A picture taken at the time ended up in a calendar. He says, "I'm excited for the opportunity to play again this year and do my original music." He plans to do "That's Albert King" his new song now on iTunes and others from a CD he is working on tentatively titled Play One More. Johnson and company will play Sunday 8:15-9:30pm at Big Daddy's.
Al Holliday loves "the completely organic St. Louis music scene," he says, "we have a real thing here, a good thing." He's really excited to bring his East Side Rhythm Band for the first time: "Lots of my favorite acts will be on stage at Big Muddy. It's so cool to appear on stage with them." The full 12-piece band is coming and "a bunch of new music that may even include a reggae version of 'Summertime." Al Holliday will play Sunday 8:30-9:45pm at Lucas Stage.
Alice Monroe and the East Side Revue Band will be making their first appearance at Big Muddy. The tight three-piece outfit with its rock 'n' roll, R&B and blues focus features Alice on drums and vocals. Bassist Nate Logan and John Higgerson, who played with David Dee for a decade, also take their turns on the vocals. Alice says she is "really excited to be on stage" and promises part of the show to be in tribute to the Allman Brothers." Alice Monroe performs Sunday 3-4:15pm at Morgan Stage. 
The Ground Floor Band has been a mainstay of the St. Louis music scene for more than 20 years playing regularly at Beale on Broadway. Every member contributes to their mix of blues, R&B and soul with individual vocals and sweet four part harmonies. Bandleader Charles Hunt says, "We are excited to be at Big Muddy again and want to do a 'just' job and do what we gotta do." For the festival they plan to play some originals like "Poor Man" and "The Older I get the Better I Get" as well as some Albert King and B.B. King. The Ground Floor band takes the Morgan Stage from 4:45-6pm on Sunday.
Sweetie and the Toothaches will be playing Big Muddy for the first time and hope to fill the Morgan St. dance floor with dancers for their jump blues. Sweetie, Emily Richards, says "It's such an honor and a privilege to be asked to play. We have worked really hard the past two years and now we get to showcase our music." The Toothaches pianist and arranger, Chase Garret, echoes Emily's excitement and says, "We are already practicing to get our stuff up to snuff and we may showcase some new original material we are working on for a CD." Sweetie and the Toothaches will play Saturday 3:30-4:45pm at the Morgan Street Brewery Stage.
This year Marsha Evans & the Coalition will take the Main Stage with their blues, R&B and jazz. Marsha has played nearly every Big Muddy and Jimmy Hinds, her spouse, bassist and band leader, goes back to the first Mississippi Nights blues fest. Marcia is reminded annually why she loves this family oriented fest: "One family who brought their kids to my first appearance (she was their teacher) comes back every year. Now those kids bring their children." Jimmy remembers how shocked out of town musicians would be to find their local backup band was filled with all stars. They both appreciate the renewed local spotlight of Big Muddy. Marsha says to tell he fans, "We can't wait to perform for all of you." Marsha Evans & the Coalition play the Main Stage from 8-9:15pm on Sunday.
Editor's Note: This article was first published in the July/August 2017 BluesLetter by the St. Louis Blues Society.
Related Articles