Music News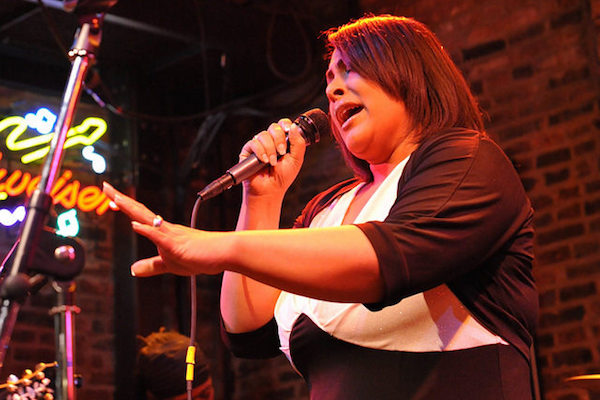 Thanksgiving Treats: The Baby Blues Showcase returning to BB's, Sunday, November 26
When you feel the air chillin' and see the leaves a fallin' then you know the Baby Blues Showcase is about to come callin'. The 16th annual showcase has its usual reservation in place at BB's Jazz Blues and Soups for the Sunday after Thanksgiving. Our chef, Jeremy Segel-Moss, has put together another delectable menu for the end of the holiday weekend. 
The November 26 show will once again feature some of St. Louis's best young blues talent. Its line up will mix some well-known Baby Blues graduates like, Marquise Knox, Aaron Griffin, Matt Lesch, Beulah Flakes and with an interesting group of new faces. The School of Rock will lead off at 5 PM with its ever evolving group of talented players. 
The Second Time Around
Matt Lesch and Beulah Flakes both had their first and only Showcase experiences in 2013. Matt has been active ever since working as Big George Brock's lead guitarist and with his own band while attending Webster University. Matt says he "was really excited to get the call from Jeremy asking him to headline this year" and that he "ordered a new red blazer for the show." One of the songs he plans to play is an original composition "Rattlin" that he recently recorded for the STL Blues Society upcoming 17 in '17 CD. He will be joined onstage by Doug Foehner/guitar, Tecora Morgan/bass and Riley Coatie, Jr./drums. 
Beulah Flakes, the daughter of Sharon and Doug Foehner, says "I have been singing with my parents as long as I can remember." She also points out that "I was mentored by Bennie Smith and Henry Townsend (piano lessons) and went to many blues clubs along the way." A five-year stint in the Army after high school and three kids took her life away from the music. Her 2013 appearance in the Showcase singing her own song "Injured Hearts" showed her potential but other priorities held sway. 
Flakes signaled her emergence with her recording on the STLBS 16 in '16 compilation on which she sang Sharon's song "Homeless Child." Her real coming out party was a stellar performance as the vocalist for her Mom's band, Sharon Bear and the Golden Licks at this year's Big Muddy. She wowed the crowd and made her folks proud. 
Beulah says she has learned that "I am more dynamic than I thought" and that she felt "Big Muddy was a rite of passage for me in the St. Louis blues scene, a confidence builder." She'll promises to bring her "emotional/sultry style" to the stage where, backed by her Mom and Dad, she hopes to honor them "by having everyone see the fruits of their labor." 
Young Blood
This year Baby Blues attendees will meet Little Dylan Triplett a 17-year-old vocalist and honors senior at Edwardsville High School. His father, Art Pollard, is a local saxophonist who encourages his son's education and musical development. Dylan has been singing gospel in church choirs since he was five, classical with the Edwardsville Chamber Choir as well as playing organ and keyboards. It is his command of R&B, Soul and Blues that has caught everyone's attention. 
It led to opportunities to sit in with The Carol Mason Band, Rolland Johnson and Skeet Rodgers and in recent months a regular set on Sunday nights at the Red Door in East St. Louis. Dylan says that experience "has helped him learn different styles and how to work a stage." It caught the attention of Marquise Knox and Michael Battle who invited him to sit in with the band. They will be backing up Dylan for the Showcase where he "hopes to leave a legacy with an experience people will remember." 
The Blues Society has its own new entrant into the Showcase. The St. Louis Blues Society Youth Band is a creation of Michael Battle a STLBS board member/education director and drummer for the Marquise Knox Band. The current band consists of four youth between the ages 12-16: Nathan marks/bass, Marcus Lane/drums, Keller Anderson/guitar/vocals and Sam Castro/guitar. 
The Youth Band is part of a bigger vision for Battle and the STLBS to engage kids in creative activity. Additional components include Blues in the Schools and working with Paul Niehaus and his Lotus Studios to give kids an inside look at song writing and production. KDHX and the National Blues Museum are also partners in these efforts. The Youth Band uses the museum's Legends Room stage for practice. They have played at the NBM, Blues in the Schools, and the St. Louis Art Fair. 
The STLBS efforts go hand in hand with Battle's creation of a non-profit, The Center for Artistic Expression. With music at its heart the idea behind the Center is to help kids identify and develop their artistic interests. It isn't only about playing music; It's about all forms of creative expression from writing, photography and performing to radio and stage production and more. "The point is to help kids find their interests and help them pursue it," Battle says, "this gives kids something to do, it teaches them discipline and commitment and helps build the life skills kids need."
Jeremy Segel-Moss looks back with pride at 16 years of Baby Blues Showcases: "I believe in building institutions that outlast my own performance. Each year continues to reaffirm our belief that we are doing the right thing by cultivating young musicians helps build the St. Louis music scene." The Baby Blues Showcase is all about the Blues Society mission to support and advance the blues. And, as you can see there's quite a sampler platter to enjoy. 
Come on down and keep the tradition alive at BB's Jazz Blues and Soups on Sunday, November 26 from 5-11 p.m. 
Editor's note: This article is an extended version of the one published in the Nov/Dec issue of the St. Louis Blues Society BluesLetter. 
Click below to see all of Bob Baugh's photos of the evening.
Related Articles