Music News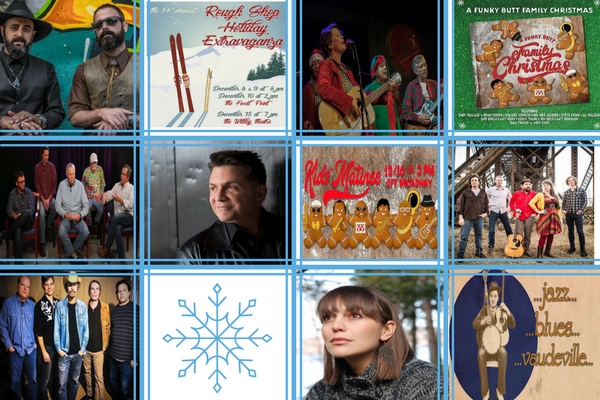 St. Louis Holiday Concert Roundup
St. Louis' eclectic music scene lights up venues across the region with holiday cheer and concerts aplenty. Your favorite local bands create their own spin on seasonal favorites old and new and often feature guest musicians from the area to really bring the St. Louis music community together for the holidays! Many of these special shows have become longstanding annual St. Louis holiday traditions. Check out these holiday highlights.    
The 14th Annual Rough Shop Holiday Extravaganza at The Focal Point 12/8 & 12/9 at 8PM w/ matinee on 12/10 at 2PM
Rough Shop rolls out their fourteenth annual Holiday Extravaganza. In addition to the band's five-person lineup, confirmed guests include Auset Sarno (Auset Music Project), Danielle Aslanian (One Take Band), Merv Schrock (Ransom Note), Chris Grabau (Magnolia Summer, Cave States), Steve Carosello (Love Experts, Palaver), and Michael Ludwig playing pedal steel guitar. The concerts feature classic Christmas numbers, lesser known tunes and the many Rough Shop-penned holiday originals from their Christmas albums. 
12/9 Brothers Lazaroff's Hanukkah Hullabaloo at Joe's Cafe at 7PM (Sold Out)
This year's Hanukkah Hullabaloo is the seventh installment of two sets of wide-ranging music at Joe's Cafe. The Brothers Lazaroff bring a variety of styles to the table including jazz, folk, rock, and "psychedelic klezmer funk." Joined by Rabbi James Stone Goodman and the Eight Night Orchestra, all event proceeds go to the Anti-Defamation League of Missouri. This organization helps in combating anti-semitism and hate crimes with the overall goal of keeping communities safe for everyone. 
12/10 KDHX's Musical Merry-Go-Round Presents: Celia's Yuletide Express at The Stage at KDHX at 1PM
Celia's Yuletide Express provides a modern take on a classic group of Christmas carolers. Since 2005, this evolving collection of singers appear at a variety of venues during the holidays. Fortunately enough, this year they bring their traditional holiday spirit to The Stage at KDHX. In true Christmas fashion, anyone from the audience can join in on the fun and sing with Celia's Yuletide Express!     
12/14 Tim Schall Holiday Swing at The Stage at KDHX at 7PM
Renowned for his singing ability and proficiency at performing a wide variety of styles, cabaret crooner Tim Schall brings this special performance to The Stage at KDHX. Pianist Carol Schmidt and bassist Ben Wheeler join Tim for a palette of holiday necessities. Selections include Let It Snow, Little Drummer Boy, What Are You Doing New Year's Eve? and many other favorites.  
12/14 The Erin Bode Group Holiday Concert at The Wildey Theatre in Edwardsville at 7:30PM
Intrigued by Tim Schall's Holiday Swing? This concert at the beautiful Wildey Theatre in Edwardsville, Illinois may pique your interest as well. Erin Bode tours extensively and remains widely regarded for her cross pollination of jazz, folk, and pop music. The show features Christmas favorites, original compositions, and standards that will surely provide an intimate and extensive performance for the audience. 
12/15 Rough Shop Holiday Extravaganza at The Wildey Theatre in Edwardsville at 7PM
In case you missed the three dates at the Focal Point the previous weekend, Rough Shop also performs their Holiday Extravaganza show at the historic Wildey Theatre in downtown Edwardsville. This marks Rough Shop's first performance outside of St. Louis, which will be a memorable one. Expect over a decade of musical prowess as they merrily plow through their Christmas originals and holiday standards in the ornate theatre and former opera house.    
12/15 & 12/16 (3 SHOWS) The 9th Annual Funky Butt Brass Band Holiday Brasstravaganza at Off Broadway at 9PM 12/15 & 12/16 w/ KIDS Matinee on Sat. 12/16 at 3PM (12/16 and Kids matinee Sold Out)
The always highly anticipated Funky Butt Brass Band bring their annual Brasstravaganza to Off Broadway for three shows in two days. This marks the release of their new album, 'A Funky Butt Family Christmas' featuring Roland Johnson, Steve Ewing of The Urge and other heavy hitters. Holidays can be a stressful time of year for many, so leave your funk behind and let Funky Butt put you in the Christmas spirit. Have fun and wear PJs. There's also a show for the kids on Saturday at 3PM.
12/16 Jake's Leg Annual Acoustic Holiday Show at Focal Point at 8PM
The Jake's Leg Annual Acoustic Christmas Dance Party has also become a time-honored tradition in St. Louis. Bringing some forty years of experience to the table, the concert will be all acoustic, but dancing will be encouraged at this Focal Point show. The acoustic space of the Focal Point will still provide an invaluable listening experience.
12/22 Diesel Island Christma(ish) Show at Focal Point at 8PM
Fans of the local rockin' country group Diesel Island keep Christmas(ish) shows alive at the Focal Point. Band members Brian Henneman, Kip Loui, Richard Tralles, Carl Pandolfi and Spencer Marquart perform original cuts from their debut album and throw in some seasonal favorites to keep the holiday spirit alive and well all night long.
12/23 Cree Rider Family Band's Annual Christmas Hangover featuring guest Misisipi Mike Wolf at Focal Point at 8PM
If you're in the mood for skilled songwriting and an engaging performance, Cree Rider Family Band delivers their take on a Focal Point holiday show. The night will feature guest Misisipi Mike Wolf, whose known nationally for his songwriting and has drawn comparisons to John Prine and Merle Haggard.     
12/29 TJ Muller's Holiday Banjo Extravaganza at Focal Point at 8PM
To finish off the month of December, T.J. Müller brings his Banjo Revue to the Focal Point. See St. Louis' most renowned jazz banjo players augmented with musical accompaniment of tuba and stride piano. Although this concert occurs after Christmas, you can still expect some best-loved Christmas tunes along with T.J.'s masterful takes on foundational music from the Great American Songbook! 
Related Articles