Music Reviews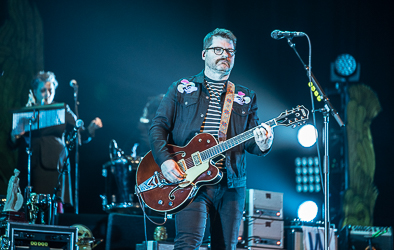 The Decemberists Show Up in Force
Written by

Caron House
Taking the stage to a demented rendition of "Ride of the Valkeries," The Decemberists were seven strong on Wednesday night at The Peabody Opera House. Lead singer Colin Meloy acted as master of ceremonies, acknowledging the crowd and launching into "Everything Is Awful" from their newly released album "I'll Be Your Girl." Not only did they make the bold choice to begin with a new tune, but insisted on a sing-a-long with the audience during the bridge. Meloy goaded the at-first timid singers to get out full-throated exclamations of "Everything Is Awful" with reminders like "a white supremacist lives in the White House!" and "you're being forced to sing on the first song!" 
From there, the group performed two more from the new album, "Your Ghost" and "Sucker's Prayer" with Meloy noting to the audience a plan to play the new stuff, which was featured throughout the set. However, they did make time for new and old favorites with a jammed out version of "Make You Better" leading to a later twangy rendition of "Grace Cathedral Hill." Later in the set, five of the seven band members took on percussion duties to perform "The Rake's Song" – a tune cheekily dubbed "dad rock" by Meloy.
One of few interjections by the lead singer, Meloy did regale the audience with a romantic tale. He noted, while walking through St. Louis earlier in the day, that many places hold the name Peabody. As it would happen, he once dated a Peabody, but the Peabody-Meloy romance was cut short due to differences in financial stature. While his paramour hunted the market for cornichons, Meloy lamented, he would be in search of bottom-shelf peanut butter.
One of the singular joys of catching The Decemberists that evening was the cape-clad Jenny Conlee. Her mastery of the keyboards and piano surpassed only by her sheer joy at performing music. Her joi de vivre was infectious.
Tennis opened the show with the swagger of a well-seasoned pop foursome. Lead singer Alaina Moore held court behind her keyboard, snapping and rocking to the dancy bits while husband Patrick Riley stalked the stage in a leopard-print shirt. In addition to anecdotes about stage fright and a bad Washington Post review, the audience was regaled with a journey through the Tennis catalog, with a strong emphasis on "Yours Conditionally" tracks, including "Ladies Don't Play Guitar" and "My Emotions Are Blinding."
See Doug Tull's photos from the concert on our Flickr page.