Music Reviews
Music Reviews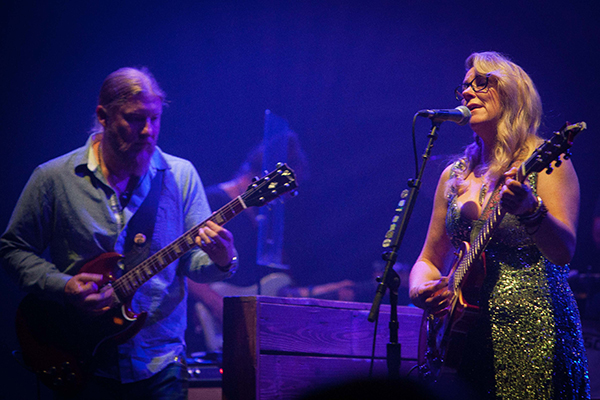 Triple-billed "Wheels of Soul' tour rolls through St. Louis
By Ronnie Wisdom
A triple bill of some of today's finest touring musicians dazzled the crowd at the Fabulous Fox on Thursday night. Under the moniker "Wheels of Soul," the lineup included rising blues act The Marcus King Band, rock and roll road warriors Drive-By Truckers and headliners Tedeschi Trucks Band (TTB). 
The four-hour show kicked off with a brief, but impressive set from The Marcus King Band, hailing from Greenville, South Carolina. The band's namesake and front man is 22-year old singer/songwriter/guitarist Marcus King, whose skills far exceed his years. Groomed by Warren Haynes, who released the band's first album on his label and produced and played on its second album, King has been steadily growing a strong following in the blues world. 
The six-piece band more than earned its place in the lineup with King displaying his thrilling guitar work combined with rich, gravely vocals that echoed some of the great blues legends who came before him. Groovy "Ain't Nothin' Wrong With That" was punctuated by the brassy sounds of trumpeter/trombonist Justin Johnson and saxophonist Dean Mitchell, segueing into an Allman Brothers –esque solo by King. The band previewed a soulful number called "Side Door Open," which King noted would appear on an upcoming album. With so much talent at such a young age, it will be exciting to see what King and his band have yet in store. 
Next up was veteran rock act Drive-By Truckers. DBT's placement in between the two Southern blues rock bands was interesting as their sound leans more on the heavy alt-country side; but the crowd seemed to enjoy the diversion. What DBT ultimately has most in common with its fellow acts on this tour is a foundation of strong songwriting and musicianship. The core of the band has always been the dynamic duo of Patterson Hood and Mike Cooley, who are easily among the finest songwriting teams of the past 20 years. 
Known for its "three axe attack," DBT is a guitar-driven rock band with Hood and Cooley joined by the outstanding Jay Gonzalez, who does double duty on guitar and keyboards. Bassist Matt Patton and drummer Brad Morgan round out the hard-driving sound. The band played a well-rounded set of recent tunes paired with old favorites, Cooley taking the spotlight first with "Zip City," from the band's seminal album "Southern Rock Opera." 
Cooley's laid-back twang was balanced by Hood's haunting, tortured wail on another DBT classic, "The Living Bubba," as he sang the quintessential lyrics, "I can't die now, 'cause I got another show to do."
What DBT are best at is storytelling. Hood compellingly weaves dark tales through both lyrics and spoken word, painting a vivid picture of the lives of the perpetually downtrodden, such as on the thunderous, anger-fueled "Sink Hole."
Particularly inspiring was a performance of "What it Means," a thought-provoking tune from DBT's most recent album, "American Band," inspired in part by the police shooting of Michael Brown and subsequent protests in Ferguson, as well as similar instances around the country. A spotlight shone down on a "Black Lives Matter" sign affixed to the side of the organ as Hood belted the gut-punching lyrics, "If you say it wasn't racial when they shot him in his tracks; well I guess that means that you ain't black, it means that you ain't black." 
Cooley obliged with two politically driven songs he wrote for the same album, "Surrender Under Protest" and "Ramon Casiano," both upbeat tunes about not-so-upbeat subjects. Patton stepped into the spotlight to sing lead vocals for a fun cover of the Ramones' "The KKK Took My Baby Away" before the band closed with fan-favorite "Let There Be Rock," a tune Hood says is "about how rock 'n' roll saved my life as a teenager." 
The crowd was eager for the main event as TTB finally made their way onstage. For the next two-plus hours, the band, powerful in both sound and numbers, delivered a hearty dose of its one-of-a-kind blend of southern blues-rock. Helmed by the über-talented husband and wife team of Derek Trucks and Susan Tedeschi and backed by 10 incredible musicians and vocalists, TTB continues to cement its place as one of the best touring bands playing today. 
A petite powerhouse, Tedeschi greeted the crowd, looking festive in a sparkling silver mini-dress. Humble and quiet Trucks seemed content as always to let his wife do the talking, choosing to "speak" only through the dizzying guitar solos he injected into each song.
The band kicked things off with a mellower tune, "Anyhow," which allowed Tedeschi's incredible voice to soar in the acoustically amazing Fox and gave keyboardist/flutist Kofi Burbridge his first flute solo. After that warm-up, they dove headfirst into the heavy blues territory they are best known for with "Do I Look Worried," Tedeschi howling as Trucks' slide tore across his fretboard at lightning speed. 
Typically playing two full sets with a break in their headlining tour shows, the band packed as much as it could into a single set, performing both original favorites and inspired covers. Highlights included the lovely "Sweet and Low," which Tedeschi noted the band had not played in quite some time; joyful "Laugh About It," getting fans on their feet with hands in the air; and danceable "Don't Know What it Means," giving Tedeschi a turn to shine on the guitar before a wildly fun sax solo by Kebbi Williams. 
Vocalist Mike Mattison took the microphone for a cover of Bob Dylan's "Down in the Flood," which he recorded on The Derek Trucks Band album "Already Free." Marcus King joined the band for an outstanding version of Elmore James classic "The Sky is Crying," culminating in King, Tedeschi and Trucks lined up and displaying each of their unique styles of guitar playing in an absolute shred-off. 
They ended the main set with a recently debuted cover of Bob Dylan's "Going, Going, Gone," joined by Patterson Hood and Mike Cooley from Drive-By Truckers. A two-song encore followed, starting with "High & Mighty," a catchy new song the band has unveiled on this tour, with DBT's Jay Gonzalez joining in. They closed the show with a fantastic cover of  "Space Captain," written by Matthew Moore and famously recorded by Joe Cocker, Trucks once again melting faces with his guitar solos as Tedeschi and the band's stunning back-up singers belted the joyous chorus, "Learning to live together."
"Wheels of Soul" made for a highly entertaining evening of musical entertainment and a great opportunity to see three uniquely skilled bands share their talents individually and together. 
Head over to the KDHX Flickr page to see the full set of photos from the show by photographer Joanna Kleine.