Music Reviews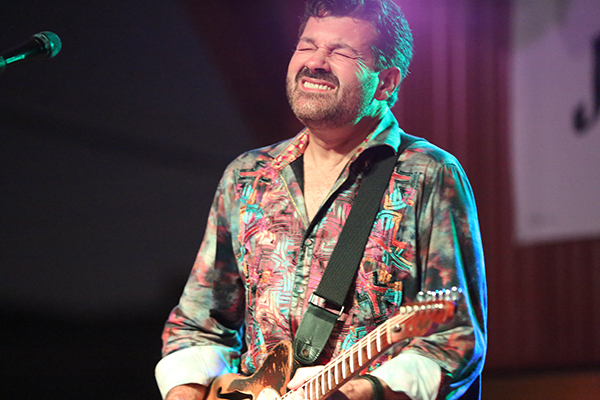 Tab Benoit and Eric Johanson at Atomic Cowboy
Written by

Bill Motchan
A curious thing happened during the opening act prior to Tab Benoit's set at Atomic Cowboy on Aug. 24. Johanson, a master of blues guitar, took the stage alone and tuned his own guitar. Johanson then introduced his stripped-down backup band, which included Corey Duplechin on bass and the drummer: headliner Tab Benoit.
One audience member near the stage, seeing Benoit drumming, shrugged and said aloud: "Gig economy?"
Johanson doesn't smile a lot onstage. Truth be told, he's had his share of misfortune. The New Orleans-based artist lost his home and possessions to Hurricane Katrina in 2006. Unsurprisingly, his original songs are a bit moody and dark. He ran through his repertoire, including "Till We Bleed," "Bang Against the Wall" and "Burn It Down." Then he facetiously explained that he frequently sings about "happy things like sunshine and rainbows."
In addition to opening for Benoit, Johanson has played lead guitar for major New Orleans artists like Cyril Neville, Terrance Simian, Eric Lindell and Anders Osborne. Johanson also has a year-old release on Benoit's Whiskey Bayou recording label. He played an energetic, bluesy, stripped-down set, going to the fuzz pedal only for a couple of songs. Then he shook hands with nearby fans, headed to the Atomic Cowboy kitchen for a bite and climbed into the tour bus.
After a short break, drummer-turned-guitarist Benoit took the stage, again with Duplechin on bass (also playing a double shift) and Jeffrey "Jellybean" Alexander on drums. Benoit started out with a mellow version of Annie Lennox's "I Put A Spell On You." Then things sped up. In fact, his right hand and forearm appeared to be in hyperdrive for much of the 90-minute set.
It's no wonder Benoit's Fender thinline Telecaster looks pretty beat up. And he sticks with one for basically the entire show. No roadies to tune up spare instruments. Not much in the way of extraneous stage stuff either for Benoit and his band. It's nothing like a Dr. John show where Mac Rebennac's piano and organ are usually decked out with a few dozen voodoo tchotchkes. The only sign of the bayou and Benoit's Houma, LA roots was a random alligator open jaw atop am amp.
Benoit has been nominated for three Grammy awards. He's a regular presence in the Blues Music Awards, having been named Entertainer of the Year in the Blues Music Awards on four occasions and Contemporary Male award honors five times. During the Atomic Cowboy show, he ran through a dozen-and-a-half songs over a rocking set, including his familiar tunes like "Sac-Au-Lait" and "Night Train." 
Benoit didn't get too chatty, allowing the music to do the talking. He did give thanks for choosing his profession.
"It's fun – that's why I chose this job," he said. "I've had other jobs that weren't fun, mostly because of the boss. But this job makes me happy."