Music Reviews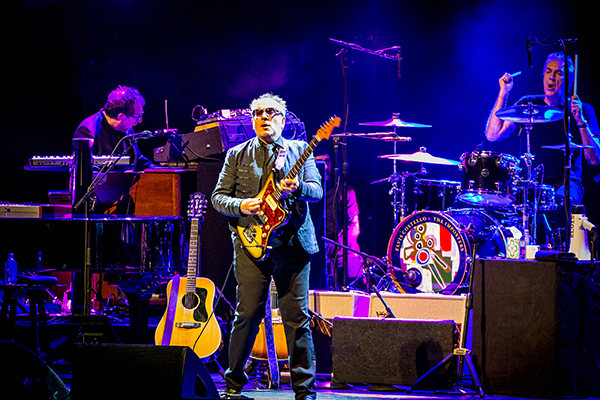 Elvis Live!
To say that the career path of Declan McManus, better known as Elvis Costello, has been prolific, highly successful, and has withstood the test of time would be a bit of an understatement. For the past 42 years, he has created 28 studio albums; ranging stylistically from the nerdy new wave of his earlier releases, to the roots rock of his mid-career era, to the mellower, jazz influences found on his more recent work. He has collaborated with numerous well-known artists, is both a Grammy-winner and a Rock and Roll Hall of Fame inductee, and is on Rolling Stone's "100 Greatest Artists of All Time" list.
The 64 year-old is currently on a 20 date North American tour in support of his latest release, 'Look Now' (Concord), which brought him back to St. Louis on Thanksgiving eve, for the first time since he shared a bill with Steely Dan in the summer of 2015. With no opening act on this tour, audiences are being treated to an entire evening's worth of a well-balanced blend of old, not-so-old, and very new material, spanning the past four decades.
Costello took the Stifel Theater's stage promptly at 8:05 along with his current backing band, The Imposters, which features two thirds (the bassist is different) of his former backing band, The Attractions. They were accompanied by two very talented female background vocalists; both wearing little black dresses and thigh-high red boots.
Digging deep into his back catalog, the show began with "This Year's Girl", from way back in 1978, making it one of the evening's oldest tunes. Each band member received an introduction by Costello before playing the evening's third selection, a calypso-flavored version of the classic "Clubland." Following that, things were slowed down a bit with the stark, introspective, piano-based title track off of his latest release.
A more upbeat pace and level of familiarity returned a few songs later with back-to-back versions of "Girls Talk;" a pop gem made popular in 1979 by Dave Edmunds, followed by one of Costello's better older tunes, the multi-layered, complex "The Beat," which was, like most of the evening's songs, perfectly executed.
Other stand-out selections included "Unwanted Number," the new album's catchy first single, the reggae-tinged "Watching the Detectives," and a sitting-down, solo acoustic version of "Radio Radio," which was the only audience requested song played. One of my personal favorites, "Alison," ranked quite high as well, and "Don't Let Me Be Misunderstood," the Nina Simone-penned song made popular in the late sixties by The Animals, was the evening's only cover tune.
But the crown jewel of the 22 song main set was saved for last; an approximately eleven minute version of the bluesy, epic "I Want You," which featured a brief vocalization of the Beatles' song of the same name. Costello played many outstanding guitar solos throughout the night, but the best one, by far, was in this song. I'm fairly certain that even if it didn't close out the set, the nearly sold-out crowd would still have given this superb song the standing ovation that it received.
A four song encore featured energetic, highly-danceable versions of "Pump It Up" and "Peace Love and Understanding," and the two-and-a-quarter hours long concert came to a final close with a tear-inducingly lovely "A Face In The Crowd," the title track of a Broadway musical score Costello wrote a few years ago.
Costello connected well with the crowd; often telling brief stories, both serious and humorous, behind the songs' inception before playing it. His vocal ability is still strong, and showed no signs of age-related decline, other than a few barely-noticeable cracks during some of the higher-pitched moments.
Despite a bout with cancer that Costello thankfully overcame earlier this year, he demonstrated consistently throughout the entire show that he is still at the top of his performance game; knowing quite well, after many years of experience, how to deliver a truly fantastic, highly-entertaining, no-frills rock concert in its purest and most genuine form.
To see more photos of Elvis Costello at the Stifel Theater, check out the KDHX image gallery.