Music Reviews
Music Reviews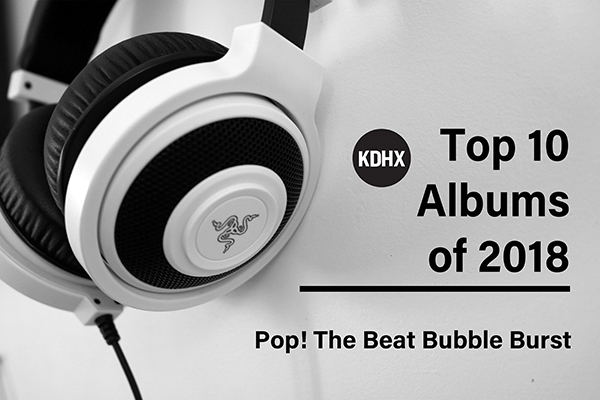 Top 10 Albums of 2018: Pop! The Beat Bubble Burst
By Ronnie Wisdom
Pop! The Beat Bubble Burst
After more than 10 years with KDHX, I find that the percentage of music I play from the 1960s has shrunk and the percentage of music from today that reflects that older sound has grown. It has been a natural, and welcome, evolution. 
The albums on this list have received the most spins on my show, and all carry the torch for the melodic, well-crafted pop songs that are the core of what I play. The Sixties, power pop and Brill Building influences abound. 
Elvis Costello & the Imposters / 'Look Now' / Concord
The Grip Weeds / 'Spinning Round the Sun' / Jem
Groovy Uncle / 'Meanwhile Back in Medieval Britain…' / Trouserphonic
Paul McCartney / 'Egypt Station' / Capitol
Lisa Mychols / 'Sugar' / Strataplastic Records
The Popdudes / 'Maximum Rock Stupidity' / Not Lame Media
Sloan / '12' / Yep Roc
Smash Palace / 'Right as Rain' / Zip Records
Summer Magic / 'Sharks and Other Dangers' / Self-Released
This is one of my favorite records of the last five years. Kevin Bachman, Benjamin Marsh and company created an album chock-full of infectious pop gems that glisten and shimmer with the help of David Beeman's production. The songs hint at many influences without being being slavish to any of them – a sign that those influences were fully ingested and are now part of the band's DNA. They are in the studio now working on their sophomore release. It can't come soon enough. 
Zuider Zee / 'Zeenith' / Light in the Attic 
Zuider Zee is one of those stories in rock 'n' roll that is both reaffirming and maddening. The band released one album back in the early 1970s. The production was slick and polished to a sheen. Led by Richard Orange, they felt the record did not accurately reflect their sound. They had songs in the can that did reflect their sound and recorded a few more for good measure. Well, those songs were never released, until Light in the Attic Records unearthed them years later. What fate would have awaited Zuider Zee if this record was released in 1974? We can only imagine. It's an amazing blend of T-Rex, The Raspberries, Big Star and Wings. The story proves: it's better late than never. 
Listen to Pop! The Beat Bubble Burst with Rich Reese on Thursdays from 10 am - 12 pm.