Music Reviews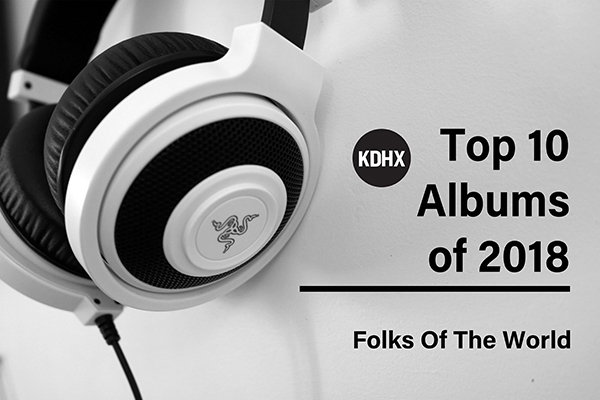 Top 10 Albums of 2018: Folks of the World
Written by

KDHX
Folks of the World
The 2018 Top 10 list from Harriet Shanas, host of 'Folks of the World,' demonstrates why KDHX is unique – even among independent radio stations. The performers range from Jim Kimo West, a Hawaiian slack-key guitarist who tours with "Weird Al" Yankovic, to Kiran Ahluwalia, an Indian singer-songwriter who fuses North African blues with Western musical traditions.
The number one pick, 'Deran' by Bombino, is the kind of album that rarely makes end of year lists, though it belongs on more. The Nigerian artist tours with legends like Robert Plant and records albums with top-notch producers like Dan Auerbach and David Longstreth. Beyond that, he makes transformative music that challenges international perceptions of Islamic culture. If you add any album to your 2018 playlist, consider 'Deran.' 
Kiran Ahluwalia / '7 Billion' / Kiran Music
Orquesta Akokan / 'Orquesta Akokan' / Daptone
Rahim AlHaj Trio / 'One Sky' / Smithsonian Folkways
Altan / 'The Gap of Dreams' / Compass
Bombino / 'Deran' / Partisan 
Jim Kimo West / 'Moku Maluhia' / Westernmost
Nefesh Mountain / 'Beneath the Open Sky' / Nefesh Mountain 
The Mystery of Bulgarian Voices / 'BooChiMish' / Prophecy Productions
The Turbans / 'The Turbans' / Six Degrees
Yiddish Glory / 'Lost Songs of World War II' / Six Degrees
Tune into Folks of the World from 8 - 10 am every Sunday.