Music Reviews
Music Reviews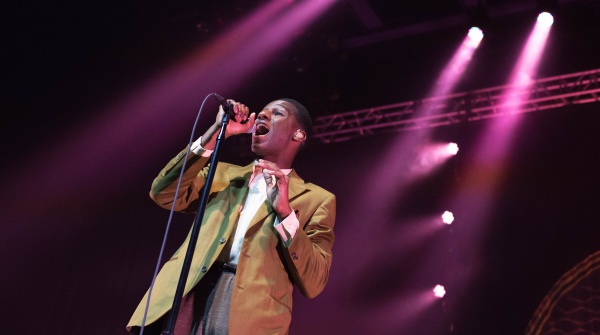 Leon Bridges brings tons of soul and doo-wop to the Pageant, Wednesday, June 8
By
When you overhear a dad say to an acquaintance "This is my son's first concert" and the guy responds, "This is a great show to call your first," and then the kid flashes a huge smile, you know you're in for a good night.
With a sold-out, all ages crowd packed into the Pageant on Wednesday night, New York City-based newcomer Solo Woods had his work cut out for him. As the opener Woods introduced a handful of original tunes and mostly got the audience to interact upon command but only truly recovered by adding "Burnin And Lootin'" by Bob Marley and The Wailers into his 45-minute set.
With a five-piece band and backing vocalist Brittni Jessie, Leon Bridges hit the stage and brought visuals to the record-hop stories my mom used to tell me as a kid. The after-school dances, usually held in school gyms, were the place to be in the 60s if you had any ounce of cool; the place to get down to James Brown, Jackie Wilson and Aretha Franklin.
Sporting his signature dapper style of a blazer, button-down and slacks, the Texas native has been sort of a savior to classic soul in the last year. Having released his acclaimed debut Coming Home in 2015 -- for his hour-long set of 50s doo-wop and 60s soul, Bridges took everyone back in time to a moment when soul music was smooth and guys wore suits and ties just cause.
The singer moved with an ease and excitement that only studying the greats could create. Performing crowd favorites, including "Better Man," "Brown Skin Girl" and "Lisa Sawyer," to which many couples slow-dragged to, the 26-year old songwriter included new songs, all which are available on the deluxe version of Coming Home.
Stating early on, "This is my first time in St. Louis and I'm having a good old time," Bridges sang about his love for an uptown girl on "Daisy Mae" and simply having "Mississippi Kisses" down in New Orleans, a song that really got the audience moving and shaking.
Picking up his guitar one of only two times during the night to perform the minimalist "River" and to tackle Chuck Berry's "You Never Can Tell" with surprise guest and St. Louis fave Pokey LaFarge, it's safe to say good times were had by all. By the end of the night, the entire crowd was chanting "Leon, Leon, Leon." 
Photos by Monica Mileur.
Click here to see the complete collection of photos.
Related Articles