Music Reviews
Music Reviews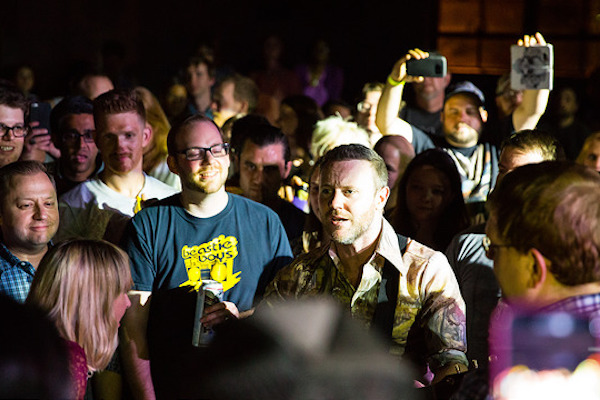 Cool for Cool: The Joy Formidable, with Drowners at the Ready Room, June 12
By
As I paid for an upon-arrival beer at the Ready Room last Saturday night, the bartender looked at me for an extra second or as he sought to determine whether I was someone whom he recognized or, more precariously, whether I was someone whom he should recognize. (Spoiler alert: I was neither.)
Him: "Hey, do I, uh, are you in a band?"
Me: "I wish! Those guys are cool."
Him: "Yeah, I guess."
We were both right. People in bands are sometimes kind of cool, and then they are also sometimes just whatever; in this respect, people in bands are exactly like people in anything.
What people in bands do well, though, is projecting confidence of one sort or the other. With my own image misinterpreted in the truth-obscuringly dim lights of the bar, I ruminated on how music takes on its human forms. Who literally embodies the making of music and how we can tell. To be fair, I may have appeared at least a little band-possible that night--black T-shirt, professionally concealable tattoos, visible sleep deprivation. I'm pretty sure, though, that difference between me and people in bands is more than just a shared inattention to formalwear and healthy habits. People in bands make music--nightly, loudly--and I, on the other hand, spend a lot time alone with a computer. For example, you can be sure that I'd already fact-checked the grammatical tic by which the adjective "Formidable" follows the noun "Joy" in the name of the band that I'd come to see that night. (Spoiler art: postpositive adjective.)
The opening band, Drowners , not only looked likeguys who are in a band, but also attained a near-pinnacle of look itself--effortless, uncaring, confident, cool. (To an almost profound lack of surprise, I later learned that singer Matthew Hitt is also a professional model.) If I resembled these guys at all, it was in t-shirt color only, but at least they sounded good live. Almost too good, actually. I couldn't help but feel that this New York-based five-piece lacked a certain damage--that unaffectable out-of-placeless wherein even the most seemingly banal actions take on desperate stakes. Damage, in other words, is the constant state of near-failure that no amount of practice or experience can ever console. Drowners, on the other hand, had a magnetic cool reminiscent of The Strokes, both sound-wise and style-wise. Their sound straddled an insouciant 1960s and a retro-futurist 1980s with enviable ease; the problem was that they didn't even seem to even have to try.
The Joy Formidable pulled off much more with much less. Over the span of four albums, this Welsh trio have established an almost cinematic sonic vocabulary that is at once audacious and vulnerable. Their stadium aspirations are grounded in an emotional urgency, and their pop-sensible songwriting antagonizes conventions of structure and sustainability. Loud, long, and occasionally obvious, The Joy Formidable transpose the ordinary subject matter of songs--the inscrutability of the other, the inscrutability of the self--into something larger than everyday life. On stage, they carried that burden with little room for mistakes. Led by singer and guitarist Rhiannon "Ritzy" Bryan, the trio featured no additional guest players but pursued a stripped down self-reliance. The headphone-ready textures, synths, and strings that prop up their records were either rebuilt into the riffs or jettisoned altogether, as though traveling light is the best way to sound heavy. (Drummer Matt Thomas did have a gong, but he used it judiciously.)
Their set alternated between focused songs that are almost aggressively enjoyable ("Cradle," "I Don't Want to See You Like This") and meandering, lost-sounding tracks ("Silent Treatment," "The Last Thing on My Mind"). In both cases, though, the band performed with force and life. Too polished to be considered improvisational, one sensed instead that The Joy Formidable are profoundly open to one another--listening and responding, playing and being playful. As an encore, Bryan and bassist/pianist Rhydian Dafydd stepped down from the stage for an unplugged version of "The Brook" from their most recent record, Hitch. The otherwise okay song came alive in this context as the encircling audience self-silenced: "You're here with me / Alive with me / A glowing heart that blinds the tired game." We listened carefully as they sang without the safety of volume, and there, on the floor, the band could have easily been mistaken for one of us--not the other way around.
Click below to see the full set of photos by Dustin Winter. 
Related Articles