Music Reviews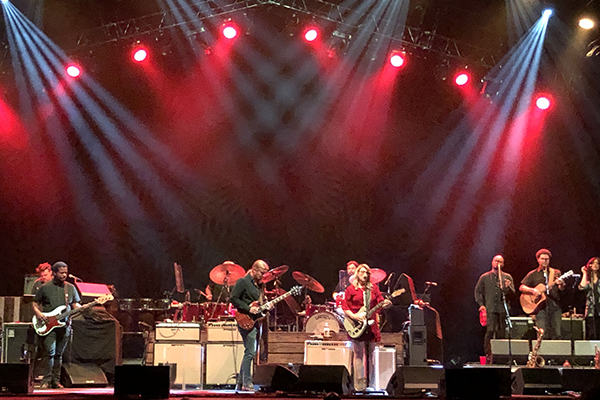 "Wheels of Soul" Tour Rolls into The Fabulous Fox
Written by

Amy Burger
A triple bill of some of the South's top touring bands played to a packed house at the Fabulous Fox on Tuesday night. The annual summer "Wheels of Soul" tour featured headliner Tedeschi Trucks Band (TTB) supported by Blackberry Smoke and Shovels & Rope. 
Susan Tedeschi and Derek Trucks weren't the only musical power couple on this year's bill. Multi-instrumentalist spouses Michael Trent and Cary Ann Hearst, a.k.a. Shovels & Rope, kicked off the show with a short but powerful set highlighting songs from their new album "By Blood," as well as fan favorites. The South Carolina duo never disappoints, filling the venue with a sound as rich as a full band as they traded off on vocal duties as well as guitar, drums, keyboard, piano and harmonica – both more than adept on each. Their cute-as-pie rapport and laid-back banter with the audience made them even more endearing. "This may be the most beautiful theatre I've ever seen," Hearst declared of The Fox.
Shovels & Rope began their set with "I'm Comin' Out," the opening track from their new album, harmonizing to perfection. Trent is the more reserved of the pair, with Hearst's aching drawl dominating the vocals. Other standout tunes from the new album included "C'mon Utah!" upbeat "Mississipp Nuthin" and sublime "Carry Me Home," with Trent at the piano. Longtime fans were treated to a few of the duo's most popular songs like "The Devil is All Around," "Hail Hail" and "Birmingham," which invokes the band's name in is lyrics. 
Next up was Atlanta-based rock band Blackberry Smoke, which had the unenviable position of being sandwiched between the highly original Shovels & Rope and the always-stellar Tedeschi Trucks Band. Unfortunately, they never seemed to live up to the level of either despite their numbers (seven band members, including three guitarists). 
While all perfectly capable, they lack in originality, having a fairly generic and derivative Southern Rock sound that failed to leave much of an impression other than "loud." Even when they brought out TTB's horn section to join them for "Believe You Me," it failed to ignite more than a faint spark.
TTB took the stage shortly after nine, kicking off with "Signs, High Times," the opening track from its most recent album, "Signs," which dropped the very same day the band unexpectedly lost one of its original founding members, keyboardist/flutist Kofi Burbridge. Burbridge's presence was noticeably missed, though touring keyboardist Gabe Dixon did a more than fine job filling such big shoes.
Typically spreading their headlining shows across two full sets with an intermission, spanning three plus hours, TTB packed as much punch as it could into a single set half as long. 
The heart of the band is, of course, the husband and wife super team of slide guitar master Derek Trucks and soulful songstress Susan Tedeschi, backed by ten incredible musicians and vocalists. They wasted no time exploring the heavy blues rock territory they are best known for with "Do Look Worried," Tedeschi howling as Trucks' fingers tore across his fretboard at lightning speed in one of many of the evening's dizzying solos. 
The set featured inspired covers as well as choice cuts from the new album including heavy hitting "Shame," "Still Your Mind (featuring another virtuosic guitar solo) and the gorgeous "Strengthen What Remains." The later, written by vocalist Mike Mattison, seemed an unspoken tribute to Burbridge, as the band has spent the past five months learning to carry on and remain strong after losing a critical member and friend. The recorded version of the tune features Burbridge's signature flute, markedly absent from the live performance. Tedeschi's voice absolutely shines in these quieter moments, absent of Trucks' guitar.
A pair of mid-set Bob Dylan covers was a highlight. Trent and Hearst of Shovels & Rope joined the band for a lovely rendition of "Don't Think Twice, It's Alright," followed by "Down in the Flood," with Mattison lending his soulful growl on lead vocals. Equally inspired was a cover of The Beatles' "Within You Without You," Trucks mimicking the sound of a sitar with his guitar slide.
The band brought both its openers out for an all-out jam of a three-song encore including Leon Russell's "Stranger in a Strange Land," followed by Sly and the Family Stone's "Sing a Simple Song" and "I Want to Take You Higher" that had the entire audience on their feet and dancing.
While the "Wheels of Soul" format is an entertaining evening of combined musical talent, TTB is a tremendous force that is best experienced in its full-length solo shows when afforded the time to really dive in deep. With each performance, the band continues to prove itself as one of the best touring acts playing today. 
Tedeschi Trucks Band Setlist (courtesy of Setlist.Fm)
Signs, High Times
Do I Look Worried
Within You Without You (The Beatles cover)
Just as Strange
Shame
Strengthen What Remains
Still Your Mind
Leavin' Trunk (Sleepy John Estes cover)
Volunteered Slavery (Rahsaan Roland Kirk cover)
Don't Think Twice It's Alright (Bob Dylan cover)
Down in the Flood (Bob Dylan cover)
I Wish I Knew How It Would Feel to Be Free (Billy Taylor cover)
I Want More
Encore:
Stranger in a Strange Land (Leon Russell cover)
Sing a Simple Song / I Want to Take You Higher (Sly and the Family Stone covers)
(Sly & the Family Stone cover)
Cover photo by Amy Burger