Music Reviews
Music Reviews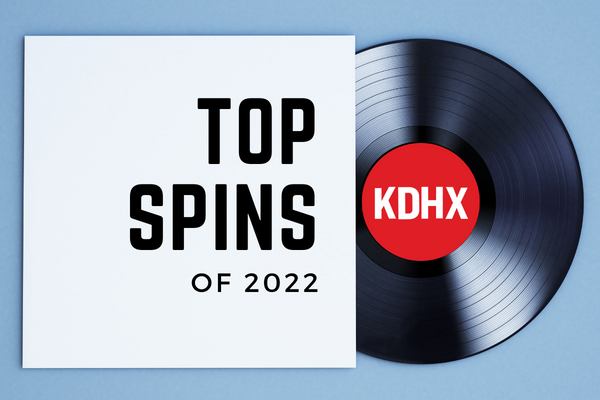 KDHX Top Album Spins of 2022
By KDHX
KDHX is built on music and education facilitated through individual joy of discovery. 
And with that joy of discovery, KDHX uses the power of music and education to engage and unite individuals and communities.
Year after year, many listeners and supporters reach out to let us know how much they appreciate the variety of music that one can discover on KDHX. Listeners continue to grow their knowledge and appreciation of music thanks to the many genres introduced to them by KDHX DJs.
Below is a list of the Top 20 albums spun by KDHX DJs in 2022. And as always, KDHX continues to champion the local music scene. Read on for the Top 10 local bands that were most spun in 2022. 
See if your favorites made the lists or make your own music discovery today.
KDHX TOP 20 Album Spins of 2022
Artist | Spins | # of Albums (if more than one)
1. Delvon Lamarr Organ Trio | 67 | Two albums
2. Calexico |61
3. King Gizzard & The Lizard Wizard |52| Five+ albums
4. Spoon |51
5. Wet Leg |48
6. Willie Nelson |48| Two albums
7. The Beths |46
8. Charley Crockett |45| Two albums
9. Riverbend | 44 | - Local
10. Bruiser Queen |42| -  Local
11. Bonnie Raitt |40
12. Robert Glasper |40
13. Wilco | 40
14. Big Thief | 39
15. Molly Tuttle | 39
16. Horsegirl | 37
17. Toro Y Moi | 37
18. Hurray For the Riff Raff | 36
19. Kiwi Jr | 36
20. Brennen Leigh | 36
KDHX TOP 10 Local Album Spins of 2022
Artist | Spins
1. Riverbend | 45
2. Bruiser Queen | 42
3. Boxcar | 33
4. The Welders |  31
5. Kevin Buckley | 29
6. Jeffy & The Sunken Heads | 27
7. Jeremiah Johnson | 22
8. Hard Bop Messengers | 18
9. Sleepy Kitty | 18
10. Cave States | 18