Music Reviews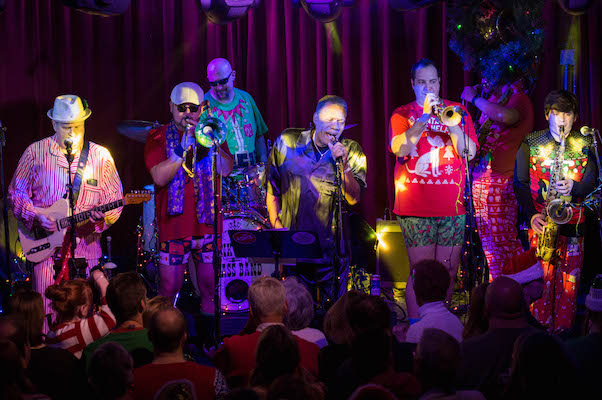 Funky Butt Brass Band and friends bring holiday cheer to Off Broadway
Only two kinds of people. Those sick puppies who find joy in the winter holidays expanding like the NHL season, and sane people. The wack jobs who pre-set the all-Christmas radio station, and sane people.  Thanksgiving Day tree decorators, Black Friday campers, Cyber Monday employee fraudsters, elf-on-a-shelf tableau-ists, lighthouse candlepower home-lighters, all of these barmy nutters, I say. . . .  and normal, well-adjusted people, like me.
In such a polarized world, how can mankind possibly achieve the peace that Christmas promises? You do as I and hundreds of other St. Louisans did on Friday, Dec. 15, when we followed a glistening star (could have been the Arch's aircraft warning light; some of us had hit the frankincense already) journeying from St. Louis's 160 or so micro-kingdoms to the humble beauty of Off Broadway where, behold, awaiting us on stage: The Funky Butt Brass Band. Performing with special musical guests on the first of two sold-out nights, in its ninth annual Holiday Brasstravaganza, the Funky Butt Brass Band united Grinches and givers, Scrooges and sweater enthusiasts, Burgermeister Meisterburgers and wiggy Uncle Drosselmeyers, transforming the red-staters and the green-staters into one joyful, carol-belting mass of holiday happiness.
As it happens to all of us during the holiday season, the band had bulked up, adding to its usual six piece lineup Dave Grelle on keys, Derick Tramel on baritone sax, Ben Reece on alto sax, and Matt Henry on percussion. They came out swinging with a horn-heavy "Carol of the Bells," popping the audience in the chest as only a brass band can, and moved deftly into the raunchy blues tune "I'll Be Your Santa Baby," Aaron Chandler on vocals. "O Holy Night" rolled out as a second-line funeral dirge until drummer Ron Sikes "cut the body loose" with a hiccupy drumline into a funky take on "Deck the Halls" which swung somehow (and awesomely) into "O Come All Ye Faithful," featuring a fine sousaphone solo (naturally) by Cody Henry. The band moved the crowd to fever pitch with a New Orleans-traditional style rendering of "Christmas in New Orleans", sung by guitarist Tim Halpin with ripping solos by trumpeter Adam Hucke and trombonist Aaron Chandler before introducing the first guest of the evening, Big Mike Aguirre.
Funky Butt's newest release, "A Funky Butt Family Christmas," features all of the guests who performed on Dec. 15 and a few more. It's pretty certain that "Every Day is Like a Holiday," a William Bell soul classic that Aguirre led off with Friday night, will make everyone's holiday playlist. Phil Wright joined Aguirre next to sweep sweet harmonic licks over "Blue Christmas" and to punctuate special guest Bob Bennett's version of "Backdoor Santa." Next, blues guitarist Al Holliday joined the band for a crowd sing-along of Robert Earl Keen's "Merry Christmas from the Family" before moving to the keys to accompany the Sleepy Rubies' Emily Wallace in "Have Yourself a Merry Little Christmas." Wallace has a powerful, soulful voice and exquisite phrasing, and when she finished the Mariah Carey classics "All I Want for Christmas is You" and "Baby, Please Come Home," I would have traded my last candy cane for one more tune. Not to worry, though, the night was just getting started. Dave Grelle's keyboards led the band in a funked up version of the Nutcracker march before Brian Owens joined the band for a consummately groovy treatment of "Rudolph the Rednosed Reindeer." Owens' perfect pitch and Maurice White-like soul falsetto on Stevie Wonder's "Heaven Help Us All" made for an exquisite crescendo to the first set.  
In the second set, the band demonstrated its Latin chops with "Feliz Navidad" before Adam Hucke set his trumpet aside to sing Tom Petty's "Christmas All Over Again." Special guest Roland Johnson joined the band for a James Brown-like treatment of "Merry Christmas, Baby," and after a few other grooved-up holiday classics the band headed for home for an all-guest-in finale, "Because It's Christmas", a Funky Butt original. With the crowd cheering for more, they closed down the night with a three-song encore of "Last Christmas," "Christmas In Hollis" and their traditional finale, "Santa Claus Is Coming To Town".  
For all of those sane, normal, well-adjusted people in the audience that night, all of those modest, non-melodramatic, non-hysterical holiday makers. . . . well, they say their hearts grew three sizes that evening and all because of the Funky Butt Brass Band and their holiday revue. 
Click below to see all of Monica Mileur's photos of the evening.
Related Articles