Theatre Reviews
Theatre Reviews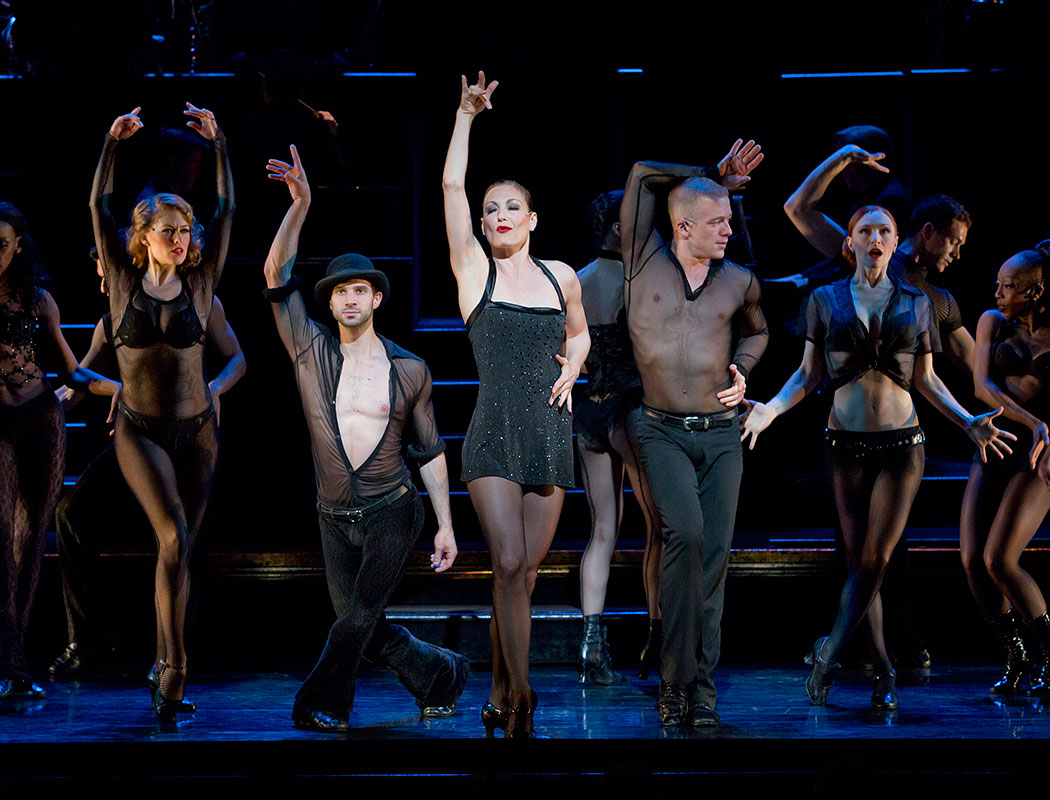 'Chicago' delivers the razzle-dazzle with Fosse-inspired song and dance
By
The touring version of "Chicago the musical" at the Fabulous Fox channels the influence of Bob Fosse to turn a familiar story into a must-see event. With a well-synchronized, smartly choreographed ensemble and leads fully invested in their roles, the thin tale of tabloid-murder and fame seeking bursts into life with a thick layer of sizzle and pop that's visually spectacular and thoroughly entertaining.
Roxie Hart, a bored housewife and part-time chorus line dancer with more ambition than talent, murders her boyfriend in cold blood when he threatens to leave her. Roxie's husband realizes he's been duped and double timed, and she ends up on murderess row in the Cook County Jail. Her arrest knocks vaudeville star Velma Kelly off the front pages of the tabloids, and Matron "Mama" Morton and slick-talking lawyer Billy Flynn profit most as the ladies battle for headlines. No one's an angel in this show, not even Roxie's devoted and easily befuddled husband Amos, but that shouldn't stop anyone from enjoying the bold, scandalous story.
Terra C. MacLoed takes over the role of Velma Kelly with a confidant allure and a wiser, more calculating approach to fame and fortune. MacLeod is mesmerizing when she dances, drawing focus while making everyone around her look tighter, more synchronized. "All That Jazz,' my favorite song from the show, purrs and seduces in MacLeod's near-whisper, but it doesn't lose any ferocity.
Dylis Croman counters her with perfect timing at every turn as Roxie Hart. Croman ensures that Roxie is believably smarter than she lets on without dropping her saccharine sweet and intentionally naive exterior while mirroring Kelly in precision and control during the dance numbers. Croman effortlessly changes tone, expression, and demeanor to ensure we see that Roxie's real talent is her ability to scheme and manipulate.
Jennifer Fouche, as Matron "Mama" Morton, and Brent Barrett, as Billy Flynn, get the big over-the-top vocal numbers and each delivers. "When You're Good to Mama" highlights Fouche's comedic and vocal abilities and "All I Care About" oozes off the stage with a showman's gleeful touch. You almost want to believe these characters, and it's still a heck of a lot of fun to watch their maneuvers and thinly veiled concern. D. Ratell is cheerfully good and gossipy as Mary Sunshine; Michal Kolaczkowski attention-grabbing as Fred Casely; Paul Vogt pitiful and likeable as Amos; and Sophie Lee Morris and Kate Wesler are standouts among a very watchable and individually interesting chorus.
The framing of this version of "Chicago" treats the musical like a concert, with performers introduced by a dapper, somewhat cynical Robert Billig, the show's music director. The approach, combined with dialogue directed to the audience, creates a false sense of intimacy that's compelling. Details and emotional context are revealed through precise and sensual choreography created and influenced by Bob Fosse. The tabloid fodder stories of the murderous women unfold in evocative and sensuous musical numbers and obsessively stylized movements. Oozing with sexuality, the show entices audiences to journey down a sleazy rabbit hole to a world where fame and paparazzi matter more than truth, integrity, or even money.
Honestly, tthe plot and characters are completely transparent and even the satirical commentary about story-chasing newshounds, jilted women, and the constant grab for fame is stereotypical and familiar. It's the dancing we've come for, and the show succeeds in capturing our attention, keeping audiences mesmerized from the opening snap to the last gyration. Fosse told stories of human emotion and psychology through choreography that is at once sinewy, fluid, and fanatically precise.
Ann Reinking, a Fosse muse and choreographer for the original New York production, and David Bushman, recreating the original choreography for the touring production, stay true to style and intention in their interpretations. Fosse's imprint is instantly recognizable, creating a mood that's sexy and bold. Every member of the ensemble is essential to a successful production and this touring cast is fully invested in delivering the oomph and sizzle that makes the show a seminal piece of period art.
Not every detail of the show is as close to perfection as the dance numbers. Many of the transition scenes are difficult to hear and the action needs to be adjusted, so key moments and exchanges are clearly visible to the entire audience. Additionally, there were a few scrambles to get in place that create missteps in the background big enough to catch my attention. The one element of the show that is a continuing distraction is the hair, particularly MacLeod's tight, closely pressed curls and oversized bun. Rather than an accurate mix of looks referencing the 1920s and 70s, the hair styling is simply out-of-balance and a few looks miss the mark completely. While none of the errors significantly detract from the production, they are quite noticeable and seem easy to address.
The touring production of "Chicago," part of a highly anticipated season at the Fabulous Fox Theatre, is a short, one-weekend run, closing March 4. The dance numbers are exceptionally well performed, the leading characters are interesting, individual interpretations of type, and the show completely captivates. Highly affected and completely entertaining, the musical is layered with still relevant satire and delivered with smart, dance-driven storytelling that keeps this show a "must see" production for theater lovers.

Related Articles