Theatre Reviews
Theatre Reviews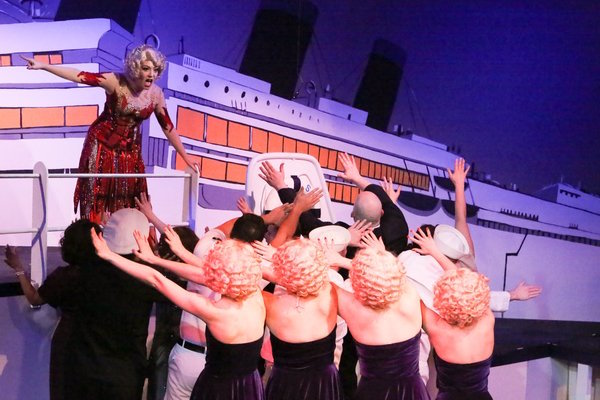 'Anything Goes' really goes!
By Steve Callahan
They're doing "Anything Goes?" Really? How can they get an ocean liner and those big dance numbers on that little stage? Well, somehow New Line Theatre's Scott Miller and his team have done it, and done it superlatively well. 
"Anything Goes," from 1934, is by Cole Porter, P. G. Wodehouse, Guy Bolton, Howard Lindsay and Russell Crouse. Those Depression years made audiences flock to this sort of silly, carefree foolishness. The plots are thin, the songs often have little to do with the story, but such shows are great fun and they form the bedrock of American musical theatre. 
Who could not love a show with such classic songs as "I Get a Kick Out of You," "You're the Top," "Friendship," "It's De-Lovely," "All Through the Night," "Let's Misbehave," not to mention "Anything Goes" and that show-stopper "Blow, Gabriel, Blow!"? Add in a wacky shipboard plot that includes a stowaway who's in love with a socialite, a gangster on the lam disguised as a preacher, and a belting nightclub singer, and you've got a surefire winner.
On opening night Grand Center was bursting with activity, and that excitement flowed into the Marcelle and filled the New Line audience with electricity. The intimate space seemed ever-so-much larger. Scene designer Rob Lippert gives us a very proper ocean liner, nicely stylized, and with railings and levels and ramps yielding a variety of acting spaces. There's an immensely romantic full, realistic moon. In the set, and in Colene Fornachon's costumes, there is much use of white, with happy nautical blue. 
The brilliant cast includes many of the New Line regulars. Evan Fornachon and Eileen Engel are paired as the young lovers, Billy and Hope. The girl, at her mother's urging, is engaged to a very, very  English (and clueless) gentleman. Billy stows away as they sail to England. 
Fornachon shows a fine voice and excellent comic gifts, and Miss Engel, her sweetheart face framed by those charming curls of the era, is adorable. Her lovely voice is perfect for the role. Their moonlight duet, "All Through the Night," is the romantic highpoint of the evening.
Also aboard are the famous singer Reno Sweeney and her backup singers, the Fallen Angels. Sarah Porter plays Reno, a most demanding role, and she knocks it out of the park!  She has beautiful, stageworthy features and a warm, rich voice. She has a figure to wear those glamourous gowns and she can dance with the best.
Zachary Allen Farmer brings his glorious voice to the role of Lord Evelyn, the fiancé. If only he'd been given more songs to sing! Kimmie Kidd-Booker as Hope's mother and Jeffrey Wright as, Billy's Wall Street boss bring great zest and humor to the roles. Michelle Sauer, Larissa White, Alyssa Wolf and Sara Rae Womack are the Fallen Angels -- those jazzy, platinum blonde floozies. Can they sing!  And can they ever dance! The big "Anything Goes" production number that closes Act I is filled with splendidly precise tap dancing.
Two other important passengers are the criminal pair Moonface Martin (Public Enemy #13) and Bonnie Latour. Aaron Allen and Sarah Gene Dowling make these two an endless font of riotous comedy.
There are confusions of identity, disguises, chases by police, very clever bits of business and "groaner" one-liners scattered throughout like confetti. A lot of the gags and the wonderfully brisk pace have an air of vaudeville. A time or two, when a distraction from a minor set change is needed, Harpo Marx chases a Fallen Angel across the stage -- she screaming Olympically.
In the early days I used to nag Scott Miller about not having enough dance in his shows. Well, not anymore! Choreographers Michelle Sauer and Sara Rae Womack have filled this show with terrific, precise, exciting dance. 
Colene Fornachon dresses the cast with perfect '30's elegance, and the crew and officers are handsomely nautical. Miss Engel's evening-blue gown, all aspangle with Art Deco glitters, is stunning, and her soft pink gown turns rose-gold in "All Through the Night". Alas, though, Lord Evelyn appears rather rumpled; he's even sans tie in a final scene, though it contains the line, "...kiss my ascot."
The small band, also decked out as sailors, is bright and brassy, with wonderfully effective keyboard voices to fill out the orchestration. 
"Anything Goes" is a triumph. It continues at New Line through March 24. 
Related Articles