Theatre Reviews
Theatre Reviews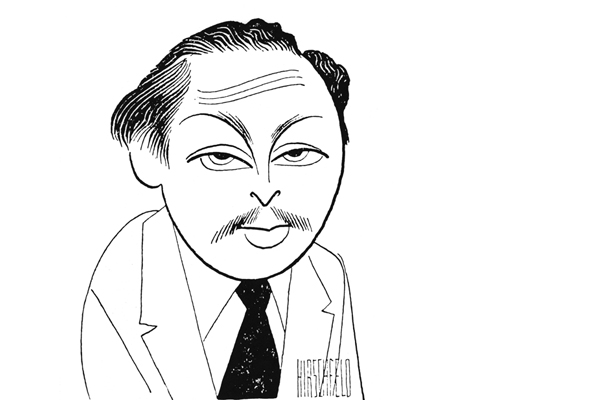 The City's inaugural Tennessee Williams Festival celebrates the playwright's St. Louis years
By
This May, theater lovers in St. Louis have the opportunity to celebrate one of their own during the first annual Tennessee Williams Festival St. Louis. Running May 11 through May 16, 2016, the event showcases the life and prolific work of one of our great American playwrights with a mix of theater, exhibits, scholarly lectures and intimate conversations. In addition to numerous performances by local theater companies and actors, offerings include a basic primer on the author, multiple perspectives on the significance and meaning of Williams' work, and an in-depth examination of two of his most familiar characters, and whether they appear in two different plays.
The festival is the culmination of years of effort and organization by veteran theatrical actor, casting director, producer and coach, Carrie Houk. Last year, Houk headed the team that produced the critically praised, highly successful run of another lesser-known Williams' play, Stairs to the Roof. Drawing upon that success and her extensive contacts in both theater and academics, as well as her participation and attendance at Williams festivals in other cities, she determined the time was ripe for a Williams festival in his hometown. 
Born in Mississippi, Williams spent his formative years in St. Louis, attending Soldan High School, the University of Missouri in Columbia, and Washington University before making his escape from Missouri. Though it's well documented that he couldn't wait to leave the city, it is equally clear from his work that the city never quite left him. It is this deep connection -- and the persistence of St. Louis in his work and themes -- that inspired Houk to found a festival honoring Williams work in the city that informed his early writing and continued to influence him long after he moved away. 
Joe Hanrahan, artistic director of The Midnight Company, producers of The Two Character Play, welcomes the opportunity to celebrate the author and bring his evocative, affecting plays to life for a new generation of audiences. "The Festival is important because not only is it resurrecting for St. Louis the work of a world-class artist whose formative artistic years were spent here, but delivering it in a way - with a range of work and styles - that will offer a meaningful glimpse into the man and what he did." With an understanding that their play is less familiar, the company spent time studying the author and his work to ensure that the show would be relevant and interesting to a contemporary audience. 
The festival, championed by Houk and a supportive board, intends to be a mix of accessible culture. The weekend includes both familiar and less frequently performed plays, provocative storytelling, and informative academic perspectives, satisfying the festival's aim to both entertain and inform. The inaugural edition of the Tennessee Williams Festival St. Louis, a five-day event, is themed "the St. Louis years." The event promises to offer a different tone and content than the festivals celebrating Williams in New Orleans and Provincetown, MA. As Houk notes, "Williams probably needed to leave St. Louis to flourish, but the city was part of his very fiber and his experiences here laid the foundation for his creative output"; the St. Louis festival acknowledges both his familiarity with and desire to leave the city.
A mix of local and national talent was invited to participate in the inaugural event, a tradition Houk hopes will spark interest and keep the St. Louis festival unique and attractive to Williams fans and theater goers from around the country. Philip Boehm, director of Upstream Theater's festival production The Glass Menagerie, says his company was thrilled by the opportunity to be involved, because "the festival invokes a time when theater was very much part of the social fabric -- and challenges us to find new ways to engage contemporary audiences. By celebrating the works of Tennessee Williams it encourages us to honor poetic imagination in the arts." (For more on this impressive production, see Steve Callahan's KDHX review.)
Special festival events include a bus tour of Williams' St. Louis haunts, performances at the venue where Williams performed as part of the Mummers theatrical troupe, and a special art exhibit. A highlight of this year's event is sure to be an evening with celebrated actress Olympia Dukakis, whose moving interpretations of Williams' work have wowed audiences for decades, Thursday May 12 at the Sun Theater in the Grand Center Arts District. In addition, Houk and the board have also arranged for dedicated parking on the lot just west of Grand on Washington Avenue for all events.
With the first annual festival about to kick off, Houk is already turning her attention to next year. The festival has received an invitation to participate in the Provincetown, MA festival, and Houk is already dreaming of locations she'd like to see Williams plays performed in future years, such as the Jewel Box in Forest Park. Considering Williams' deep connection to St. Louis, one might, in fact, wonder why it has taken so long for this city to celebrate one of its most renown and prolific talents. 
For a complete listing of festival events and times, or to make reservations, please visit the Tennessee Williams Festival St. Louis.
Related Articles