Theatre Reviews
Theatre Reviews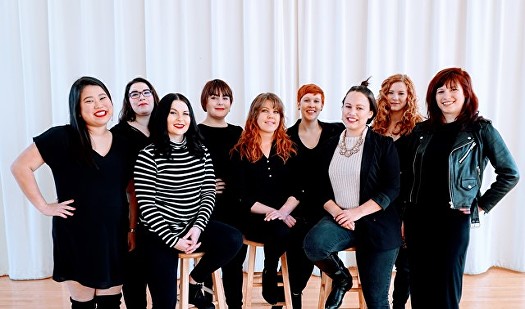 In Performance: This week you can catch 'Caught' at The Rep and celebrate women in theater with a festival and a fundraiser
By
This weekend, the Rep's studio theater opens its final production of the season, Christopher Chen's "Caught," while two other local companies kick-off Women's History month with female-powered original works and plenty of laughter. When you add these shows to the buzzworthy "Anything Goes" and other continuing productions, it's clear to see you have plenty of choices and really should go see a play!
The Repertory Theatre of St. Louis Studio theater presents a provocative exploration of truth with the highly topical play "Caught." The cleverly written show is designed to keep audiences engaged in figuring out the story from the first moment on, and it was a crowd-pleaser that kept even jaded New York audiences enthralled during its run. The intricately structured play examines how we understand truth and change and is intentionally shifting and aesthetically compelling.
An art exhibit by a Chinese dissident is the first piece in this intriguing puzzle play, which challenges notions of truth and questions the boundaries of theater. The show is accompanied by an installation from the Xiong Collective, who collaborated with The Rep for this unique interpretation of art and theater. The one-act play continues through March 25.
Slightly Askew Theatre Ensemble (SATE) celebrates emerging women artists with the Aphra Behn Emerging Artists' Festival. The one-weekend event presents four short plays written, produced, and directed by local women, featuring a cast of familiar faces both on- and off-stage:
"The Accident of Sex," by Lana Dvorak, directed by Lex Ronan
"Bar Fight," by Madelyn Boyne, directed by Grace Langford
"Lady Warrior," by Mollie Jeanette Amburgey, directed by Margaret Christie
"How to Be a Woman," by Amanda Wales, directed by Katy Keating
The festival, named for the barrier-breaking British playwright and author thought to be among the first women knowingly paid for her writing, showcases new work by promising artists. Unfortunately, this is a one-weekend-only show, closing March 11. Luckily SATE has scheduled three performances and tickets are still available.
Solid Lines Productions presents its one-night-only comedy fundraiser "That's What She Said" on March 10. The third annual comedy cabaret is hosted by emcee Christina Rios and features an all-female cast of performers. Acts include stand-up comedy, monologues, humorous poetry, improve, musical comedy, and burlesque. "That's What She Said" details and tickets are still available online, and tickets can also be purchased through their link or at the door.
Continuing this weekend:
Insight Theatre Company's production of Joe DiPietro's "The Last Romance" continues through March 18. St. Louis veteran actor Joneal Joplin is Ralph, a mature gentleman who loves life, opera and sticking to his habits. He's been happily living with his sister since the death of his wife years ago, but one day he shakes things up – taking his daily walk in the afternoon and choosing a new route that just might lead to love.
New Line Theater turns the tables on musicals as usual with a decidedly adult and slightly sinister take on Cole Porter's whip-smart musical "Anything Goes," continuing through March 24 Set among the wealthy elite of the 1930s, the show skewers our obsession with celebrity, wealth and religious hyperbole in a way that holds true nearly a century after its debut.
Menopause the Musical continues at the Playhouse @ Westport Plaza through March 31. Set in a swanky department store where four women meet while fighting over a bra during a lingerie sale, the catchy musical comically addresses "the change of life" while encouraging feminine positivity and support.
To make sure you don't miss an event of note, don't forget to check out the KDHX Calendars for a listing of community art, music, and performance events.
Related Articles